« Happy Passover To All Our Jewish Friends Throughout The World. | Main | The "Slo-Bleed" That Democrats Promised »
April 03, 2007
Mrs. Chamberlain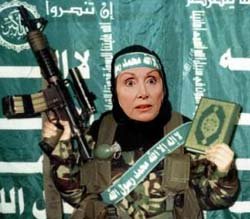 Mrs. Chamberlain By INVESTOR'S BUSINESS DAILY
Axis Of Evil: Speaker Nancy Pelosi leads another delegation of Democratic supplicants to talk to Syrian Baathist thug Bashar Assad. If she needs reasons why talking to tyrants doesn't work, we can give her 15.
In December, when Sen. Bill Nelson, D-Fla., took the recommendations of James Baker's Iraq Study Group seriously and was granted an audience with the Syrian dictator, we predicted he'd be "the first of many appeasers to come."
Pelosi, fresh from passing legislation setting a timetable for our surrender in Iraq, is leading a delegation to the Middle East to talk to the likes of Assad, her office says, as "recommended by the Iraq Study Group . . . to discuss a wide variety of security issues . . . with representatives of governments in the region, including Syria."
The delegation includes Minnesota freshman Keith Ellison, California Reps. Tom Lantos and Henry Waxman, and others. Ellison is the first Muslim congressman and will no doubt advise Pelosi to avoid stereotyping Assad, no matter that he is still on the list of state sponsors of terror.
The group's first stop was in Israel, ground zero in Iran's plan to build a nuclear weapon and place it atop one of Mahmoud Ahmadinejad's Shahab missiles to wipe the Jewish state off the map. Ellison can explain how Mahoud believes this will usher the return of the 12th Imam.
We've seen how well Iran plays with others, capturing 15 British sailors in what in earlier times would have been considered an act of war. It is killing U.S. troops with advanced armor-piercing IEDs it supplies Iraqi jihadists. It plays host to Muqtada al-Sadr, whose Mahdi army has tried to destabilize Iraq's infant democracy.
Still, Pelosi insists we follow the ISG's advice. Come, let us reason together. But we've seen Iran's response to the ISG and to the international community that has rightly sanctioned Tehran for building weapons of mass destruction.
Syria and Iran were partners in crime in Hezbollah's unprovoked attack on Israel and used the democracy of Lebanon as a human shield as it helped provide weapons that rained death and destruction on civilians in Israeli cities and towns. It acted as a conduit for arms flowing to Hezbollah from Iran used in Hezbollah's attacks.
Syria has been linked to the assassination of former Lebanese prime minister Rafik Hariri and a host of other anti-Syrian political leaders as it works to destabilize the country it occupied for over two decades. Pelosi won't be able to talk to Lebanon's former industry minister, Pierre Gemayal. He was assassinated as part of Syria's and Hezbollah's plan to destabilize Lebanon.
The Speaker may be third in line for president, but she is not commander-in-chief. That responsibility, as well as the conduct of U.S. foreign policy, was wisely placed in the hands of the occupant of the White House long ago, not in the hands of a committee of 435.
White House spokeswoman Dana Perino pointed out Syria is a country "that is trying to disrupt the . . . government in Lebanon and one that is allowing foreign fighters to flow into Iraq from its borders." Pelosi, she added, "should take a step back and think about the message that it sends" to our enemies.
That message is "we surrender."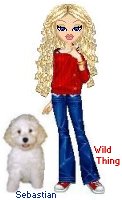 Wild Thing's comment.......
Utterly disgusting! She's a traitor....and really should be treated as such.
The fact that we have no diplomatic relations with Syria show how she is stepping outside the box!! The administration asked her not to go. She didn't even ask for permission. She didn't call up and say, "What would you think of me going over there on a fact-finding trip?" So there she is in Syria. She defies her own government while we are at war, and she tells the president to calm down?
Pelosi goes to bed at night and dreams up ways to destroy the USA

Posted by Wild Thing at April 3, 2007 12:47 AM
---
Comments
She's an old dried up fartface!
And she's upset that they didn't just tell Georgie to step aside and let her take over.
She's jealous and trying to undermine this administration.

Posted by: Lynn at April 3, 2007 06:38 AM
---
It is difficult to comment on something as traitorous and illogical as Pelosi's trip to Syria. The White House should be ranting and yelling about this, and having the Justice Dept preparing charges against this group of Congressmen. There is so much going on now to undermine this very serious war, whether it is catering to moslem imans acting like terrorists at an airport or elected personalities cavorting with the enemy, or refusal by our government to secure our borders.
Perhaps the greatest fault lies with our President's inability to communicate, rally and lead America in a nationwide war footing like he did briefly after 9-11. Hell, Bush was a cheerleader in college. Maybe he should have been studying Teddy Roosevelt more.
Posted by: TomR at April 3, 2007 09:44 AM
---
I wonder if she flew there on an Air Force plane and sent a C-130 to fly her back to the states. It would be one long ride and uncomfortable one at that.
The audacity of this female dog to tell the president to calm down. You've never seen Bush ranting and raving on TV like we've all see this mutt doing.
Posted by: BobF at April 3, 2007 12:14 PM
---
Liberalism is a pre-emptive surrender to every easy path and evil in life. When you realize this, nothing surprises you. Liberalism reached its perfect state in the ruinous piece of garbage known as Jimmy Carter in recent times, it pampered, first, and then unleashed the spreading evils of World War II, it prolonged the life of the Soviet Union and the misery of its client states, and is directly responsible for the monstrous social calamities in the US since the 1960's. The details of its failures, submission, and complicity are all around us. Still, it lives on like a the decapitated head of a snake. Pelosi is the example of the moment.
Posted by: Rhod at April 3, 2007 01:24 PM
---
Lynn, hahahahaha I love your description.
Posted by: Wild Thing at April 3, 2007 11:26 PM
---
Tom, I liked Teddy Roosevelt. :)
Like you said if Bush could communicate better it might help, at least it would get those middle of the road people that can't decide if it is ok with them to go after the terrorists. I guess 9-11 was not enough to prove it to them, or the USS Cole and the numerous other attacks we have seen by Muslims.
Posted by: Wild Thing at April 3, 2007 11:32 PM
---
Bob, I was totally shocked when she said that to Bush to calm down. The nerve that took still shocks me.
Posted by: Wild Thing at April 3, 2007 11:34 PM
---
Rhod, your so right, it goes back to the 60's and we are dealing with it now. All the things you said Rhod, sure have produced a ton of Pelosi's and it has really gotten to me.
Posted by: Wild Thing at April 3, 2007 11:36 PM
---