« Homosexuals Brainwashing Children In Schools | Main | Nora, The Piano-Playing Cat »
April 23, 2007
Basketball Team Miami Heat Greet Soldiers Back from Iraq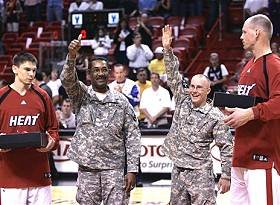 Miami Heat guard Chris Quinn, left, and center Michael Doleac, right, stand with U.S. Army Sgt. First Class Brian Stovall, second from left, and Private First Class Joshua Langley as they are honored before a basketball game Sunday. The Heat are trying to recognize the military by honoring soldiers who fought in Iraq and Afghanistan before every home game.
Heat Greet Soldiers Back from Iraq
MIAMI(AP)
Pfc. Joshua Langley stood at midcourt in Army camouflage, waving and urging Miami Heat fans to cheer louder.
So they did. Not for the Heat, but for him.
And for a few seconds, Langley could think about something besides war.
All season, the Heat have honored soldiers just back from Iraq or Afghanistan before every home game, introducing them to fans immediately after "The Star-Spangled Banner.'' Heat coach Pat Riley came up with the idea, and several NBA teams have similar tributes.
"Those guys, they're not paid like us,'' Miami forward Udonis Haslem said. "But their job is probably one of the most important jobs anyone can do. They defend freedom. It's a privilege to shake their hands and meet them.''
Some soldiers honored at these Heat games are Purple Heart winners. Many received other awards and commendations. Some, like Langley, were back for only a brief time between stints. Langley, an honoree at Sunday's game, was on a 15-day leave from Iraq and is set to return there later this week.
"His uncle is a season-ticket holder and called and said he'd like to go to a game before he goes back to war,'' Riley said. "He's a gunner with the Delta Infantry, riding there supporting the ground troops in live fire. ... That's who this is for. That's what this is about.''
Heat players present the honorees with a wrapped gift box, containing items commemorating the team's ൗ Strong'' mantra used during last season's run to the NBA championship, along with Heat dog tags with the soldier's name engraved.
Most players take a minute during warmups to introduce themselves to the military honorees. Some soldiers spend the entire time snapping photos, marking the night they met Shaquille O'Neal and the NBA champions.
"They're very appreciative of it,'' Riley said.
So, too, are the Heat coaches and players.
Alonzo Mourning always approaches the honorees just after the ceremony, and always delivers the same message: "I appreciate you,'' the center tells each one.
"I've got a military family,'' Mourning said. "My father was in the military. I had two uncles in the military. My dad's uncle was in the military. My uncle fought in Vietnam. People just fail to realize how good we have it over here. Those guys fighting in Iraq, I'm very sympathetic to what they have to do because most of them, deep down inside, don't want to be there. But it's their job.''
Riley, who said he voted for President Bush when the Heat visited the White House a couple weeks ago, insists his motivation behind this program is anything but political. He wants politicians of all stripes to give the soldiers their due.
"They will say they care about the soldiers, but they're not doing anything for them,'' he said.
The Heat, he said, will do something for them.
Riley appears well-educated on the issue. He said the unemployment rate for Americans is around 5 percent, while noting the unemployment rate for disabled returning veterans is 17 percent. And that makes him seethe.
"I have my beliefs,'' Riley said. "I'm very proud, so much, to be an American. I am pro-government. I am for who I elected, all of those things. I am an advocate now for our troops, period. It's something I feel very strongly about. ... I just cannot stand the blame game.''
This has become a personal issue for Riley, who a generation ago was disturbed when soldiers returned from Vietnam often without any sort of welcome.
It's personal for Mourning, too.
During an earlier visit to Washington this season, the Heat had the chance to tour Walter Reed Medical Center, one of the nation's premier facilities for treating those wounded in Iraq and Afghanistan. After hearing recent disclosures of roach-infested conditions and shoddy outpatient care, Mourning was angered.
"Ridiculous, man. ... It makes no sense to me,'' he said. "We've got to do more for these guys.''
Doing something as simple as bringing soldiers to midcourt and shaking their hand, Mourning said, is a start.
"It's more than appreciating them. It's more than honoring them. It's more than thanking them,'' Riley said. "It's simply making sure that they understand there's people who really care about what they do.''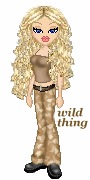 Wild Thing's comment......
I am not a basketball fan, I love baseball, football and hockey. But I LOVE this story and just had to post it. I love how they feel about out troops and that makes my heart smile!
Posted by Wild Thing at April 23, 2007 12:55 AM
---
Comments
This is what we need more of!
We need to put this out front in the media.
The kids need to know we love them and support them, despite what Heartless Harry and his cronies are saying.

Posted by: Lynn at April 23, 2007 06:18 AM
---
It doesn't get a lot better than this. Some pro football teams, their cheerleaders and NASCAR also honor our troops throughout the year with visits, promotions and special events. It is heart warming to see high profile sports figures actively backing our military members.
Posted by: TomR at April 23, 2007 07:45 AM
---

Seeing as how the Idaho steelheads are in the
Playoffs against the Las Vegas Wranglers in the
2006-07 ECHL's National Conference, Mabey Sell
out Reid could sit in the goal at practice and
let both teams shoot pucks at him.For that I
would pay good money to see!!
Posted by: Tincan Sailor at April 23, 2007 10:59 AM
---
You would probably like this also.
Posted by: Dan at April 23, 2007 11:42 AM
---
Posted by: TomR at April 23, 2007 12:01 PM
---
We love our Heat!
I'm bursting with pride!
Posted by: LindaSoG at April 23, 2007 01:03 PM
---
Lynn I agree I would cheer on our media if they would have these on the nightly news.
Posted by: Wild Thing at April 23, 2007 11:17 PM
---
Tom your right all of those do too. Iti always makes me so happy.
Posted by: Wild Thing at April 23, 2007 11:21 PM
---
Tincan Sailor, hahahaaha that would be great.
Posted by: Wild Thing at April 23, 2007 11:22 PM
---
Dan wow that is wonderful, thank you so much.
Posted by: Wild Thing at April 23, 2007 11:22 PM
---