« Democrats Want Gitmo Prisoners Sent to U.S. | Main | Terrorists Groupies The Democrats Want Iraq Pullout By Fall 2008 »
March 09, 2007
Young Americans ~ Living With Snipers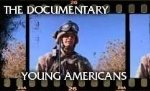 This is a preview from the movie "Young Americans" - it's the chapter from the movie "living with snipers". This is video from an embeded cameraman.
Please CLICK HERE to be taken to site where the video is located. Thank you.
Filmed by Pat Dollard, I have posted his work here before. He does an excellent job and is a wonderful sujpporter of our awesome troops.
Posted by Wild Thing at March 9, 2007 12:44 AM
---
Comments
WT- his site is so busy, it is difficult to open the movie preview. That is a good sign. Eventually I will see the entire movie. Pat Dollard does really great film work. Luckily his fine quality efforts have not been degraded by an Oscat or grammy nomination.
Posted by: TomR at March 9, 2007 12:38 PM
---
That Pat Dollard clip is great. Those guys hold nothing back either.
Posted by: raz0r at March 9, 2007 10:00 PM
---
Tom, thanks for letting me know. I had to wait too the first time I saw it, so like you said that is a good thing a lot of people are seeing it.
Posted by: Wild Thing at March 10, 2007 01:24 AM
---
razOr yes he does a great job and has been right there with the troops. Fantastic.
Posted by: Wild Thing at March 10, 2007 01:24 AM
---