« Deadly Tornadoes Rip Through Alabama...Many Children Killed | Main | When Hollywood Loved America »
March 02, 2007
Vietnam Vet to Receive Medal of Honor 41 Years After Battle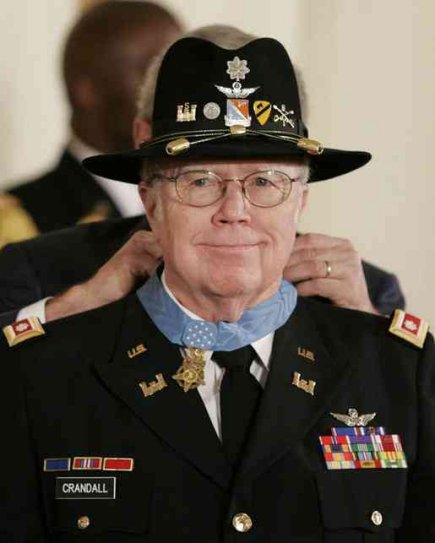 Major Bruce P. Crandall "Snake" was assigned as Commanding Officer of "A" Company, 229th Assault Helicopter Battalion, 1st Cavalry Division (Airmobile) in the Republic of Vietnam in 1965-66. Bruce's heroic efforts in the Ia Drang Valley are well documented in the book and film "We Were Soldiers" by Joe Galloway

This from the comments President Bush made.
A few years ago, Bruce learned he was being considered for our nation's highest military distinction. When he found out that Captain Freeman had also been nominated, Bruce insisted that his own name be withdrawn. If only one of them were to receive the Medal of Honor, he wanted it to be his wingman. So when I presented the Medal to Captain Freeman in 2001, Bruce was here in the White House. Captain Freeman wished he were here today, but he got snowed in, in Iowa. His spirit is with us. Today the story comes to its rightful conclusion: Bruce Crandall receives the honor he always deserved.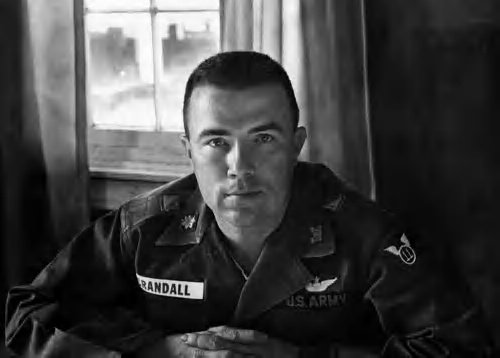 LTC Bruce Crandall (Ret.) received his wings in the first aviator class at Camp Rucker, Ala., in 1955. He participated in mapping operations from Africa to the Arctic and in Central and South America, where he was director of the first project using military satellites for terrestrial mapping. He has been a fixed and rotary wing test pilot and helped to develop and test the airmobile concept and doctrine he so effectively helped implement in Vietnam.

Crandall served in the Dominican Republic and two tours in Vietnam. His 750 combat operations in Southeast Asia included the famed Battle of the Ia Drang Valley, during which he saved more than 70 wounded soldiers and provided ammo critical to the survival of the U.S. ground unit. In 1966, Crandall flew two more night rescue missions which evacuated 12 wounded from a unit in heavy contact with the enemy. He received the 1966 Aviation and Space Writers Helicopter Heroism Award for this daring rescue.

In addition to his many military awards for gallantry and service, Crandall was the seventh Army inductee in the "Gathering of Eagles," a U.S. Air Force organization honoring contributors to aviation, and he received the Silver DeFleury Medallion for his contributions in engineering and aviation.
To READ more of the battle, see the video and other things related to this CLICK HERE for Crandall's site
As a 32-year-old helicopter pilot, he flew through a gantlet of enemy fire, taking ammunition in and wounded Americans out of one of the fiercest battles of the Vietnam War.
Now, a week after his 74th birthday, Crandall received the nation's highest military honor Monday in a White House ceremony with President Bush.
"I'm still here," he said of his 41-year-wait for the Medal of Honor. "Most of these awards are posthumous, so I can't complain."
Crandall's actions in the November 1965 Battle at Ia Drang Valley were depicted in the Hollywood movie "We Were Soldiers," adapted from the book "We Were Soldiers Once ... And Young."
At the time, Crandall was a major commanding a company of the 229th Assault Helicopter Battalion, 1st Cavalry Division (Airmobile).
"We had the first airmobile division ... the first one to use aircraft as a means of transportation and sustaining combat," Crandall said. His unit was put together earlier that year to go to Vietnam and "wasn't as thought out as things are today."
He didn't have gunners for his aircraft. That's why he flew unarmed helicopters into the battlefield.
He didn't have night vision equipment and other later technology that lessens the danger of flying.
The unit had "minimum resources and almost no administrative people" — thus the lack of help to do the reams of paperwork that had to be sent to Washington for the highest medals, Crandall said.
Generals in-theater could approve nothing higher than the Distinguished Flying Cross, Crandall said in a phone interview from his home near Bremerton, Wash, so he received that award. Through the years, he was able to get that upgraded to a Distinguished Service Cross and now to the Medal of Honor.
Crandall was leading a group of 16 helicopters in support of the 1st Cavalry Division's 1st Battalion, 7th Cavalry Regiment — the regiment led by George Armstrong Custer when he met his end at the 1876 Battle of the Little Bighorn, or "Custer's Last Stand."
Without Crandall's actions, the embattled men at Ia Drang would have died in much the same way — "cut off, surrounded by numerically superior forces, overrun and butchered to the last man," the infantry commander, Lt. Col. Harold Moore, wrote in recommending Crandall for the medal.
Moore, now a retired three-star general, later wrote the book about the battle along with Joseph L. Galloway, a former war correspondent now with McClatchy Newspapers.
"This unit, taking some of the heaviest casualties of the war, out of water and fast running out of ammunition, was engaged in one of the fiercest battles of the Vietnam war against a relentlessly attacking, highly motivated, vastly superior force," said U.S. Army documents supporting Crandall's medal. The U.S. forces were up against two regiments of North Vietnamese Army infantry, "determined to overrun and annihilate them," the documents said.
The fighting became so intense that the helicopter landing zone for delivering and resupplying troops was closed, and a unit assigned to medical evacuation duties refused to fly. Crandall volunteered for the mission and with wingman and longtime friend Maj. Ed Freeman made flight after flight over three days to deliver water, ammunition and medical supplies. They are credited with saving more than 70 wounded soldiers by flying them out to safety, and Freeman received the Medal of Honor in July 2001.
Paperwork and other parts of the process delayed Crandall's medal until now, officials said.
Thinking back to the Vietnam battle, Crandall remembers the first day was "very long ... we were in the air for 14 and a half hours." He also thinks of how impressive and calm the unit on the ground remained, saying Moore and his commanders were "solid as rocks" throughout the fight.
And of course, Crandall says, he's also proud of his own performance.
"I'm so proud that I didn't screw it up," he said.
Posted by Wild Thing at March 2, 2007 12:55 AM
---
Comments
This is what we do best--save the world and ask nothing in return.
This makes me really happy.
We should be showing this more in the media.
We should be very proud of our kids in harms way.
They are TRUE heroes and we should be proud for raising such great kids.
Posted by: Lynn at March 2, 2007 06:21 AM
---
LTC Bruce Crandall lives a scant 20 miles north of me, I visit his small city many times each year, I would have never known this if this honor wasn't bestowed upon him. I have the utmost respect for Dustoff pilots, theirs is a true test of courage. This was a long overdue respect for this brave pilot, the travesty is it took 42 years to recognize his exploits. LTC Bruce Crandall was one amongst many who deserve the Medal of Honor.
Posted by: Jack at March 2, 2007 07:53 AM
---
Vietnam was a tough war and tough men fought in it. Congratulation LTC Crandall. Your MOH represents a lot of courage from a lot of good soldiers.
It is a rare sound now days. I miss it. But once in a while I get to hear that sweet wonderous whop, whop, whop, whop of a Huey, probably on a test flight from Bell Helicopter in Ft Worth. Very rare, but always enjoyed and revered.
Posted by: TomR at March 2, 2007 11:45 AM
---
TomR:
You must have been at a few hot LZ's in your time.
Crandall had to wait much too long for the CMH, but its terms are very strict. You tend to think men who've received it acted on impulse, and many of them did, but Crandall was something different. He knew what he was doing every minute, which makes his heroism the more extraordinary.
Posted by: Rhod at March 2, 2007 01:24 PM
---
Congratulations LTC. Crandall! You set the example and lead the way as to what the Cav's Helicopter Pilots should be like. The Cav's pilots were some of the greatest pilots in the world as far as I am concerned.
The receiving of the Medal of Honor by someone that is still living should have been Front Page news for every newspaper in this Country and should have been covered by all the MSN at length. It is the absolute highest honor that can be bestowed on any soldier in this Great Republic. But, it was not, only minor coverage and print. In general I guess it is an indication of what we have become over the years in this country. Less respectful and Honoring to our Military that keeps us free. But I and a small number of others salute you LTC. Bruce Crandall, and all those serving now, and thank you for your service.
The 1st Cavalry Division, Airmobile, "The best damm Cavalry Unit the World Has Ever Seen".
TomR you are so right, the sound of a Huey's whop, whop, whop beating the air can warm you heart, you never ever forget it. My friends and family are always amazed that I can hear a bird way before them. I miss it too sometimes.
Posted by: John 5 (VN69/70) at March 2, 2007 01:39 PM
---
Isn't this the guy they called "Snake" in the movie? This Medal was long overdue and I'm glad he finally was awarded it.
What I'm wondering about is why no living soldier or marine has been awarded the Medal for acts of heroism during the current war. As far as I know, only two Medals of Honor have been awarded and both recipients died in combat. The war against terrorism has been going on for over 4 years now. Billions of dollars have been spent and over 3,000 of America's finest have given the ultimate sacrifice and the Pentagon and President tell us that not one surviving military member is deserving of the Medal of Honor. I've read of acts of heroism, that Wild Thing has posted here, that would make Audi Murphy proud.
Posted by: BobF at March 2, 2007 04:33 PM
---
Whether it be the first gulf war, the present one or the war in Afghanistan, the operative word in Medal Of Honor is Congressional, as in the Congressional Medal Of Honor. Can we count on the current batch of heroes getting a fair shake from the current Congress? Living heroes and crippled survivors are a painful reminder of Congressional failure and the deferral of their basic duties to the United Nations, they can't abrogate that duty fast enough.
Posted by: Jack at March 2, 2007 11:27 PM
---
Lynn, beautifully put my sweet friend.

"This is what we do best--save the world and ask nothing in return."
Posted by: Wild Thing at March 3, 2007 06:32 AM
---
Jack, I agree Dustoff pilots are amazing. But then all of you guys are, you all have made such a huge difference in why I can sit here and live in this great land of the free.
Posted by: Wild Thing at March 3, 2007 06:36 AM
---
Posted by: Wild Thing at March 3, 2007 06:38 AM
---
Bob I agree, I wonder if they have not done so yet from this war if they will soon honor those in the war we are in now.
Posted by: Wild Thing at March 3, 2007 06:40 AM
---
I sat down to watch We were Soldiers just last night and now my youngest is a BIG Snake fan. She wants to be a helicopter pilot--just like him. She thinks he's the coolest guy around.
We need to have more people like LTC Crandall for kids to look up to.
Congratulations, again, LTC Crandall--you've done a wonderful job.
Posted by: Lynn at March 3, 2007 10:49 AM
---
Lynn, my first ride in a Huey was in Vietnam. I loved it. It is like nothing else.
When we were in Hawaii, my husband was working on Magnum P.I. and on his afternoons off from work we used to take chopper rides around the islands. The pilot had been a Huey pilot in Nam and we had such a great time visiting with him.

That is so neat that you watched the film. That movie is so well done. You have an amazging family Lynn, I am truly honored to know you.
Posted by: Wild Thing at March 3, 2007 10:42 PM
---