« Petraeus: Iran Training, Arming Militants | Main | A Visit To FOB Kalsu »
March 13, 2007
U.S. Forces Blow Up Bombs Planted In Baghdad School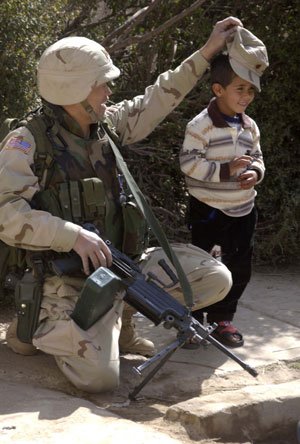 U.S. forces blow up bombs planted inside a school in Baghdad
The Iraqi police said on Wednesday that U.S. forces set off explosives planted inside a primary school in eastern Baghdad after the forces had dismissed all the pupils unharmed.
"We have received reliable intelligence that militiamen planted explosives inside al-Nabaa primary school in Ur neighborhood," the source told the independent news agency voices of Iraq (VOI).
The source added, "Pupils were dismissed unharmed while U.S. forces blew up the bombs."There were no casualties but the school fence was damaged and some windows were broken in the operation, he added.


Wild Thing's comment.......
The insurgents are inhuman beasts. They are driven solely by evil and are devoid of all humanity. They deserve to be hunted down and killed. Thank God someone spoke up of what was planned so our troops could protect the children.
Not that the Democrats would care since they would probably want to sit down with the insurgents over tea, and discuss what motivated them to do such a thing .......while the bombs were going off at the school in the background killing all the chilren.
Posted by Wild Thing at March 13, 2007 12:44 AM
---
Comments
But we can't let anybody know our troops are doing such a good job. It would make America look good.
Shame on us for taking care of it after the school was dismissed. How dare we care for someone other than ourselves?
That IS what we do best! We care enough about the whole world that we would NEVER allow consciously someone else to be injured because of someone else.
Makes me wonder why the dummycraps would not allow us to see these marvelous things we're doing. Do they really care about the family (as they claim they do?) or is it all an act?
That's what the Iraq war is all about--not the oil (we'd have it already if that was the case), but caring for the family--the family of man. We are all one, created by one, to one we return--we are brothers and sisters (even if we do have different viewpoints of religion and we argue over them.)

Posted by: Lynn at March 13, 2007 06:24 AM
---
Great comment Lynn, thank you so much!!
Posted by: Wild Thing at March 13, 2007 12:23 PM
---
Oh, this sort of thing just brings the mama lioness out in me ~
A school full of children ~ what could be worse?
I don't know how anyone can think for a minute that we could "talk" to people who do such things.
Oh wait! To make Bush look bad. Yes, that's it.
Posted by: yankeemom at March 13, 2007 12:32 PM
---
You have to remember what the moslem Chechnians did it Belsan Russia. Over 300 students and teachers killed. Islam promotes death, encourages killing, "rewards" suicide. Islam is bloody.
Posted by: TomR at March 13, 2007 12:44 PM
---
Yankeemom, me too, those children would all have been dead. And our media can't even tell the story about this. So many missed on purpose opportunities by our media to show support. GRRRRRRRRRRRRRRRRRRRR That ticks me off too.
Posted by: Wild Thing at March 14, 2007 01:33 AM
---
Tom it sure is bloody. I honestly think besides loving death like Islam does they also love blood. So sick!!!! And so evil!
Posted by: Wild Thing at March 14, 2007 01:34 AM
---