« Active-Duty Troops Asking Congress To Drop Plans For Withdrawal From Iraq | Main | The Straw That Broke The Camels Back »
March 30, 2007
Saudi King Blasts 'illegitimate occupation' Of Iraq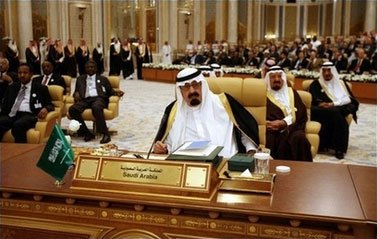 Saudi king blasts 'illegitimate occupation' of Iraq
King Abdullah says Arab nations will not allow any foreign force to decide region's future.
Saudi King Abdullah, whose country is a close US ally, on Wednesday slammed the "illegitimate foreign occupation" of Iraq in an opening speech to the annual Arab summit in Riyadh.
"In beloved Iraq, blood is being shed among brothers in the shadow of an illegitimate foreign occupation, and ugly sectarianism threatens civil war," Abdullah said.
He also said that Arab nations, which are planning to revive a five-year-old Middle East peace plan at the summit, would not allow any foreign force to decide the future of the region.
In the past, Saudi leaders including Foreign Minister Prince Saud al-Faisal have often criticised US policy in Iraq but have never described its presence there as "illegitimate."
If Arab leaders recover trust in each other and regain their credibility, "the winds of hope will blow on the nation, and then, we will not allow forces from outside the region to determine the future of the region, and only the flag of Arabism will be raised on Arab soil," Abdullah said.
Arab foreign ministers meeting ahead of the summit agreed on Monday to call for an amendment of Iraq's 2005 constitution to give Sunni Arabs a greater share of power in the war-ravaged country and prevent its breakup.
But Iraqi Foreign Minister Hoshyar Zebari responded by saying the government did not need a "diktat" from the Arabs on how to amend its constitution and boost national reconciliation.
The Iraqi government has initiated moves to review a de-Baathification law in a bid to woo former members of the regime of executed dictator Saddam Hussein back into politics and government jobs.
Under a controversial de-Baathification law, tens of thousands of members of Iraq's former ruling Baath party were stripped of their posts in government, at universities and in business after the 2003 US-led invasion.
The law has been a major source of grievance for the minority Sunnis, who have waged a deadly insurgency against US troops and the Shiite-led American-backed government in Baghdad.
Iraq's once-ruling Sunnis also want an amendment of the constitution, which they fear leaves their central regions without natural resources and Iraq's oil wealth in the hands of the governing Shiites and the autonomous Kurds.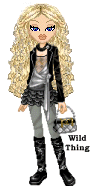 Wild Thing's comment.........
The Saudis have always been our enemy. This sand lizard only exists because the U.S. has protected the Saudi family for decades. How quickly the Saudis forget how we protected them when Saddam invaded Kuwait in 1990. The Saudi royal family has been the primary funding source for Wahhabist schools (madrassas) and mosques that have been cranking out terrorists and exporters of terrorism. They also back the Muslim schools here in our country. Many of those schools on our land and Mosques that are being watched by our government security as we have all read about.
My guess is from the action in Congress they can no longer be sure the US will "take care" of Iran before we leave, so they need to play nice with Imanutjob. One more blow to America's reputation, courtesy of the Rats.
I wonder if this has anything to do with the reason Saudi Arabia's King Abdullah canceled the state dinner at the White House. Article HERE
Apart from the oil, why we are friends with these people is beyond me.
Posted by Wild Thing at March 30, 2007 12:47 AM
---
Comments
It only proves they can't be trusted.
Shoot, we've been protecting the Saudi's since 1980 when we set up Operation Elf One to not only monitor the Iraq - Iran war but to ensure Iran didn't attack Saudi Arabia. Both Vilmar and I were there for that.
Posted by: BobF at March 30, 2007 08:49 AM
---
I thought right after 9-11 that our first strike should have been on several of the palaces in Riyadh. That way they would know that we recognized the center of islamic evil.
Another reason for America to develop independent sources of energy. We should have had a crash program of development in 1973, the first OPEC embargo.
Posted by: TomR at March 30, 2007 10:44 AM
---
The Saudi King is railing for one reason only, the ruling class in their decadent lifestyles are threatened not only from abroad but from within by the "religion of piss" . Saudi Arabia's religion is mostly Wahhabist Sunni Muslim , Saudi King Abdullah's condemnation is an appeasement to the Sunni's who are his ardent enemy, his tenure is tenuous at best. Ironically the King sounds just like a CNN reporter or Rosie O'Donnell. Do you reckon he gets the CNN news by satellite with local ABC, CBS and NBC downlinks along with a morning edition of the New York Times? We need to thank them for providing the King's talking points. With that said we can't trust our media, King Abdullah or any of the Islamists.
Posted by: Jack at March 30, 2007 12:15 PM
---
Bob, thank you for sharing about that.
Posted by: Wild Thing at March 30, 2007 04:08 PM
---
Tom, I agree, we need to have our own source for energy. And stop catering to those in this country that won't allow us to provide it for ourselves.
Posted by: Wild Thing at March 30, 2007 04:10 PM
---
Jack, maybe stinky Rosie is writing his speechs.She might as well.
Good one Jack!
Posted by: Wild Thing at March 30, 2007 04:11 PM
---
I dream of the day we stop taking shi* from these inbred, Islamist sleazebags, and we could start by leaving Iran a mullah-shaped smoking crater surrounded by a pile of charred sandals.
The Saudis aren't worth a bomb.
This incestuous slag heap of Arab scum will, sooner or later, be skinned and boned by their own people. Then we can go after the survivors.
I have no comprehension as to why Bush has any association at all with this treacherous clot of robed and turbaned human waste.
Posted by: Rhod at March 30, 2007 06:09 PM
---
Rhod, me either, I would want nothing to do with them if I were in charge. They cannot be trusted and have proven that time and again for one thing. The heck add in everything else and yuk I am so fed up with all of this.
Posted by: Wild Thing at March 31, 2007 12:17 AM
---
Posted by: beth at March 31, 2007 12:21 AM
---
Never forget that Saddam Insane Hussein invaded Kuwait in 1990 and the Saudi King didn't mind the U.S. Infidels & coalition doing the dirty work for his camel jockey nation! WE also put out the + 800 oil rig fires for his highness as well! Never forget that 15 of the 19 September 11, 2001 hijackers were from Saudi Arabia, and that Osama bin Laden is as well!
Posted by: darthcrUSAderworldtour07 at March 31, 2007 12:26 AM
---