« UK Sailors Captured At Gunpoint | Main | Jeff Dunham and Walter »
March 25, 2007
Iran Plans To Bargain Deal With Sailors and Also Try Them For espionage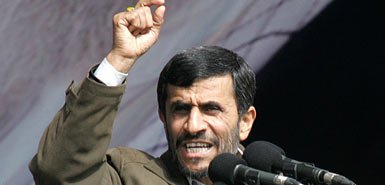 Iran: British sailors 'bargaining chips'
An Iranian military official said Saturday afternoon that the 15 detained British sailors "confessed" to illegally entering Iranian waters.
The sailors, taken at gunpoint Friday by Iranian Revolutionary Guard and Al Quds soldiers were captured intentionally and are to be used as bargaining chips to be used for the release of five Iranians who were arrested at the Iranian consul in Irbil, Iraq by US troops, an Iranian official told the daily paper Asharq al-Awsat on Saturday.

Iran 'to try Britons for espionage'
timesonline
FIFTEEN British sailors and marines arrested by Iran's Revolutionary Guards off the coast of Iraq may be charged with spying.
A website run by associates of Mahmoud Ahmadinejad, the Iranian president, reported last night that the Britons would be put before a court and indicted.
Referring to them as "insurgents", the site concluded: "If it is proven that they deliberately entered Iranian territory, they will be charged with espionage. If that is proven, they can expect a very serious penalty since according to Iranian law, espionage is one of the most serious offences."
The warning followed claims by Iranian officials that the British navy personnel had been taken to Tehran, the capital, to explain their "aggressive action" in entering Iranian waters. British officials insist the servicemen were in Iraqi waters when they were held.
The penalty for espionage in Iran is death. However, similar accusations of spying were made when eight British servicemen were detained in the same area in 2004. They were paraded blindfolded on television but did not appear in court and were freed after three nights in detention.
In addition, a senior Iranian military official said Saturday that the decision to capture the soldiers was made during a March 18 emergency meeting of the High Council for Security following a report by the Al-Quds contingent commander, Kassem Suleimani, to the Iranian chief of the armed forces, Maj.Gen. Hassan Firouz Abadi.
In the report, according to Asharq al-Awsat, Suleimani warned Abadi that Al Quds and Revolutionary Guards' operations had become transparent to US and British intelligence following the arrest of a senior Al Quds officer and four of his deputies in Irbil.
According to the official, Iran was worried that its detained people would leak sensitive intelligence information.
Iran denounced a tightening of sanctions which the United Nations security council was expected to agree last night in protest at Tehran's insistence on enriching uranium that could be used for nuclear weapons.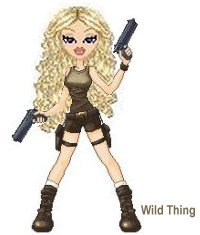 Wild Thing's comment........
There's a certain kind of person who pushes, and tests, just to see what they can get away with. I say slap them down early, and you have far fewer problems.
Please read below for list of SOME attacks by Muslim ( from my Terroists page at my website)...........
PARTIAL LIST OF ISLAMIC TERRORIST ACTIVITIES
1968 Robert Kennedy assassinated
1972 Munich Olympics Sep-5, 1972 (Black September)
1976 Entebbe Hostage Crisis, June 27, 1976
1979 Iran Hostage Crisis, Nov. 4, 1979 444 days
1979 Grand Mosque Seizure, Nov 20,1979
1981 Assassination of Egyptian President, Oct 6,1981
1982 Assassination of Lebanese Prime Minister, Sept 14, 1982
1983 Bombing of US Embassy in Beirut, April 18,1983
1983 Bombing of Marine Barracks, Beirut, Oct 23,1983 (Shiite suicide bombers exploded truck near U.S. military barracks at Beirut airport, killing 241 Marines. Minutes later a second bomb killed 58 French paratroopers in their barracks in West Beirut.)
1984 Hezbollah Restaurant Bombing, April 12,1984
1984 Kuwait Airlines 221 hijacked and American passengers murdered
1985 Egyptian Airliner Hijacking, Nov 23,1985
1985 Madrid Spain - Restaurant frequented by US servicemen bombed
1985 Rome Airport murders
1985 TWA Flight 847 hijacked, U.S. Navy diver murdered
1985 Achille Lauro hijacking, Homicidal maniac lived in Saddam's Iraq
1986 Aircraft Bombing in Greece, March 30, 1986
1988 Pan Am 747 Flight 103 Bombing, Lockerbie, 100's murdered
A bomb destroys Pan Am 103 over Lockerbie, Scotland. (All 259 people aboard the Boeing 747 are killed including 189 Americans, as are 11 people on the ground. Dec. 21, 1988)
1988 Berlin Discothèque Bombing, Dec 21,1988 –disco was full of US servicemen
1992 Bombing in Israeli Embassy in Argentina, March 17,1992
1992 Hotel that housed US troops bombed in Yemen
1993 Attempted Assassination of Pres. Bush Sr., April 14,1993
1993 First World Trade Center bombing, February 26th, 7 Killed, Hundreds injured, bomb exploded in basement garage of World Trade Center killing 6 and injuring at least 1,040 others. In 1995, militant Islamist Sheik Omar Abdel Rahman and 9 others were convicted of conspiracy charges, and in 1998, Ramzi Yousef, believed to have been the mastermind, was convicted of the bombing. Al-Qaeda involvement is suspected.
1993 "Black Hawk Down" incident in Mogadishu
1994 Air France Hijacking, Dec 24,1994
1995 Attack on US Diplomats in Pakistan, Mar 8,1995
1995 Military Installation Attack, Nov 13, 1995 (A car bomb in Riyadh, Saudi Arabia kills seven people, five of them American military and civilian advisers for National Guard training. The "Tigers of the Gulf," "Islamist Movement for Change," and "Fighting Advocates of God" claim responsibility.)
1995 "Operation Bojinka" plot to hijack 12 US airplanes is foiled
1995 Unsuccessful assassination attempt on Egyptian President Hosni Mubarak
1995 US servicemen killed in bombing in Saudi Arabia
1995 Kashmiri Hostage taking, July 4,1995
1996 Khobar Towers attack (June 25, 1996 - A bomb aboard a fuel truck explodes outside a U.S. air force installation in Dhahran, Saudi Arabia. 19 U.S. military personnel are killed in the Khubar Towers housing facility, and 515 are wounded, including 240 Americans.)
1996 Sudanese Missionary's Kidnapping, Aug 17,1996
1996 US Embassy in Athens takes rocket fire.
1996 Paris Subway Explosion, Dec 3,1996
1997 Israeli Shopping Mall Bombing, Sept 4, 1997
1997 Yemeni Kidnappings, Oct 30,1997
1997 Palestinian gunman shoots tourists at Empire State Building observation deck

1998 Somali Hostage taking crisis, April 15,1998
1998 U.S. Embassy Bombing in Peru, Jan 15, 1998
1998 U.S. Kenya Embassy blown up, 100's murdered (Terrorist bombs destroy the U.S. embassies in Nairobi, Kenya and Dar es Salaam, Tanzania. In Nairobi, 12 Americans are among the 291 killed, and over 5,000 are wounded, including 6 Americans. In Dar es Salaam, one U.S. citizen is wounded among the 10 killed and 77 injured.)
1998 Americans murdered in Karachi
1998 U.S. Tanzania Embassy blown up, 100's murdered

1999 Plot to blow up Space Needle (thwarted)
1999 Jordan- Terrorists arrested in millennium bombing plot
1999 Millennium bomber arrested in Washington state

2000 Americans kidnapped in Uzbekistan
2000 USS Cole attacked, many U.S. Navy sailors murdered (in Aden, Yemen, a small dinghy carrying explosives rammed the destroyer USS Cole, killing 17 sailors and injuring 39 others)
2000 Terrorists arrested attempting to bomb Strasbourg Cathedral in Germany
2000-2003 Intifada against Israel - 100's dead and injured
2000 Manila Bombing, Dec 30,2000

2001 Plot to bomb US Embassy and Eagle Base airfield is stopped
2001 Plots to bomb NATO headquarters and US Embassy in Paris are foiled
2001 4 Commercial airliners hijacked, 250+ murdered
2001 World Trade Center attacked, 2800+ murdered
2001 Flight 93 murders
2001 Pentagon attacked, 180+ murdered

2002 Tampa, FL., Fifteen year-old flies plane into an office building in Tampa. Suicide note reveals his admiration for Osama Bin Laden and desire to commit a terrorist attack.
2002 Pakistan - 2 American women killed in church grenade attack
2002 Reporter Daniel Pearl, kidnapped and murdered
2002 Los Angeles, CA., Muslim gunman kills two people waiting at the El Al counter in the LAX airport.
2002 Philippines American missionary, Filipino nurse killed
2002 July 4, El Al attack Los Angeles LAX, several murdered
2002 Bali bombing - 200 dead, 300 injured
2002 Yemen, French Oil Tanker attacked
2002 Marines attacked / murdered in Kuwait
2002 Washington D.C. sniper
2002 Baton Rouge, Muslim sniper shoots a Korean mother in the back
2002 Montgomery, AL, Muslim sniper kills one woman and injures another
2002 US consulate in Indonesia is bombed
2002 Philippines - Bus depot attacked
2002 Russian Theater attacked, 100+ dead
2002 Philippines - restaurant full of US troops is nail bombed
2002 Nigerian riots against Miss World Pageant, 200 dead, dozens injured
2002 Mombasa Hotel Attacked, 12 dead, dozens injured
2002 Falls Church, VA , Muslim sniper kills 47-year-old woman
2002 October, Fredericksburg, VA, Muslim sniper kills 53-year-old man.
2002 October, Maryland, Muslim sniper kills three men and two women in five separate attacks
2002 October, Wheaton, MD, Muslim sniper kills 55-year-old man.
2002 Jordan, October 28, 1 killed, American diplomat shot dead by two al-Qaeda terrorists while sitting in his car.
2002 Israeli Boeing 757 attacked by missiles, fortunately no one injured
2002 August Hotel bombing in Jakarta, Indonesia. 12 dead, dozens injured.
2002 December 30, Yemen, Muslim gunman posing as a father carrying a child kills three American humanitarian workers at a missionary hospital and wounds one other.

2003 Russian concert bombing
2003 Philippines airport and market bombing
2003 Foiled SAM plot in the USA
2003 Neveh Shalom Synagogue Bombing in Istanbul, Turkey
2003 UN Baghdad HQ Bombing
2003 Ticrit Mosque Bombing
2003 (August) Houston, TX, 1 killed , After undergoing a religious revival, a Saudi college student slashes the throat of a Jewish student with a 4" butterfly knife, nearly decapitating the young man

2004 Riyadh, Saudi Arabia: terrorists attack the offices of a Saudi oil company in Khobar, Saudi Arabia, take foreign oil workers hostage in a nearby residential compound, leaving 22 people dead including one American.( May 29–31)
2004 Jakarta , ( Sept.) Car bomb outside the Australian embassy in Jakarta, Indonesia killed 9.
2004 Madrid , Spain, ( March 11 ) Simultaneous terrorist bombs exploded during rush hour traffic in packed commuter trains. Killing somewhere between 190 to 202 and 1500 wounded.
2004 Pakistan has arrested 10 al-Qaeda suspects, including two Egyptians, suspected of planning suicide attacks against government buildings and the US embassy. ( August 23) The plots bore the hallmarks of Osama bin Laden's al-Qaeda network PLOT thwarted.
2004 Russia, (August) two airliners that crashed within minutes of each other after taking off from the same
airport, kills a total of 90 people. The announcement followed a claim by an Islamic group that supports
Chechen rebels saying it was responsible for both crashes.
2004 Baghdad (Sept.) - Insurgents detonated three car bombs near a U.S. military convoy in Baghdad on Thursday, killing 41 people, 34 of them children who were rushing to collect sweets from American troops.
2004 Baghdad, (Sept.) In two other attacks, a suicide bomber blew up his vehicle near a U.S. checkpoint outside the capital, killing two policemen and a U.S. soldier, and a car bomb killed four people in the restive northern Iraq town of Tal Afar.
2004 Russia ( Sept.) Terrorists, Chechen warlord Shamil Basayev claimed responsibility for the Russian school siege at the school in North Ossetia's city of Beslan . The terrorists killed 340 Including 155 Children. The Hamas identifies with and supports Chechen and international Islamic terrorism.
2004 Iraq (October 4) Baghdad Car bomb kills 24 and wounds over 100Insurgents unleashed a
pair of powerful car bombs Monday near the symbol of U.S. authority in Iraq - the Green Zone, where the
U.S. Embassy and key government offices are located, and hotels occupied by hundreds of foreigners.
2004 Iraq (October 7) Rockets hit Baghdad Sheraton hotel Two rockets ripped through Baghdad Sheraton hotel, which houses foreign contractors and journalists late Thursday. Outside Baghdad, roadside bomb
exploded killing two American soldiers.
2004 Iraq, Baghdad, 9/21/04, Two American civilians are beheaded on videotape by an al-Qaeda group called 'Jihad and Unification.'
2004 December, Saudi Arabia, Jedda, 5 killed and 2 injured, al-Qaeda members attack the U.S. consulate in Saudi Arabia with grenades, killing at least five international contractors and injuring several Americans.
2005 London (July) During morning rush hour, explosions ripped through three subway trains and blasted the roof off a crowded red double-decker bus. Police said there had been no warning and that the blasts at three subway stations went off within 26 minutes, starting at 8:51 a.m. in an Underground train just outside the financial district. There is an Internet claim by a little-known group calling itself The Secret Organization of al-Qaida in Europe that it staged the attacks. The blasts killed at least 50 people and at least 700 injured.
2005 (August) Al Queda fired on two U.S. warships docked at the Red Sea port of Aqaba, Jordan , missiles that were launched inside of Jordan. The missiles missed the U.S. ships but had they hit their target it would have been deadly.
2005 ( October 1 ) Indonesia ,Islamic suicide bombers murder nineteen people, mostly tourists, at two cafes and a restaurant in three coordinated attacks. Over one-hundred are injured.
2005 ( October 2 ) American Jihadi straps explosives to his body and heads to a crowded stadium. He changes his mind at the last moment and only kills himself.

2006 ( January 7,2006) Baghdad, Iraq, 1 killed and 1 injured, An American journalist is taken hostage, and her Iraqi translator murdered
2006 ( January 18) Basra, Iraq, 2 killed and 1 injured, Two American civilians are killed in a roadside terrorist bombing
2006 (March 3) Chapel Hill, NC Iranian immigrant plows his SUV into a crowd of students as 'retribution' for American policy overseas., 9 injured.
2006 (June 22) Miami, 7 terrorists caught by FBI and their planned attacks stopped. Their plans were aimed at the FBI building in Miami and the Sears Tower in Chicago.
2006 (July 25th) Seattle, Washington, Muslim gunman, Naveed Afzal Haq, shot up Seattle Jewish Center. Killing one woman and injuring 6 others.
2006 (August 10) plot foiled and arrest of 18 Muslim suspects, and more being sought in the UK and at least 2 other countries. Plot was to use liquid explosives on board of 10 planes. Planes to be headed for New York, Chicago, and Los Angeles.

Posted by Wild Thing at March 25, 2007 12:47 AM
---
Comments
Oh yeah--he's showing his true colors.
Remember--he's the one who got our guys kidnapped back when that peanut farmer was president.
Looks like he has some fetish with kidnapping people--sociopathic monster.
Over here, he'd be locked away for the rest of his life in the loony bin.
Maybe he thinks it somehow makes him look bigger than he is? Maybe he was teased so much for his little stature that he has to make up for it?
Napoleon was a little sociopathic monster, too.

Posted by: Lynn at March 25, 2007 07:25 AM
---
Apparently the French have moved a carrier battle group into The Gulf, which on the face of it seems ridiculous. The last time the carrier Charles De Gaulle took to sea the propellers fell off, but now some sources are praising the ship and the tactical abilities of the French navy, and suggesting that some action is being considered. At the very least, its navy must be destroyed and its leadership killed or maimed. It's inevitable anyway, and the sooner the better.
Posted by: Rhod at March 25, 2007 08:37 AM
---
This is Bullshit, this little fart is going to hold the whole world hostage. And the French have sent a Carrier ? Are they going to be the first to surrender ? We haven't even fired a shot yet.
The whole damn world has gone nuts, a Company of Marines were kicked out of Afghanistan for responding, too violently, to an ambush, And we lock up border agents for doing their jobs.
F***'em drop the A-bomb and be done with it. We don't need this kind of aggravation. This little CS wants to play with the big dogs, lets see how much fight is really in him.
Posted by: Mark at March 25, 2007 09:05 AM
---
"The penalty for espionage in Iran is death. However, similar accusations of spying were made when eight British servicemen were detained in the same area in 2004."
Since this same thing has happened in the same area in 2004, I'm wondering why the British sent the sailors in rubber dingies. Why not have some type of warship nearby to protect the sailors?
Posted by: BobF at March 25, 2007 09:15 AM
---
Go Mark, Go!!!!!!!
Let's let him have it--both barrels right between the eyes!
A girl scout could best him.
Posted by: Lynn at March 25, 2007 10:31 AM
---
I never voted for Carter and totally despise him for letting those people be captives. Now W has a Jimmy Carter moment. I consider those British sailors as being our people and there are no measures too extreme to employ against Iran to get them out. Bush can save his legacy in one fell swoop (a good word, hit them like a falcon or eagle would). Destroy Tehran if necessary. Better sooner than later.
Posted by: horace at March 25, 2007 10:54 AM
---
Lynn your so right, what the heck is it with these tiny guys like this one and Napoleon. I realize not all with a height problem are tyrants and horrible people like this, but we can even add in the N. Korean leader too.
Posted by: Wild Thing at March 25, 2007 12:39 PM
---
Rhod, thanks I didn't know about that. I agree with you something has got to be done.
I would be so embarassed though if the cowardly French actually did something and we and the Brits were still chewing on PC waiting, waiting and waiting for even more to happen. grrrr
Posted by: Wild Thing at March 25, 2007 12:41 PM
---
Mark Yessssssssssssss
I agree!
Posted by: Wild Thing at March 25, 2007 12:41 PM
---
Bob, that is a good question, I wonder why too. This whole thing stinks.
Posted by: Wild Thing at March 25, 2007 12:42 PM
---
Horace, yes we have got to do something, enough is enough.
Posted by: Wild Thing at March 25, 2007 12:43 PM
---
I should know, I'm not tall either--but I wouldn't act like this.
Posted by: Lynn at March 25, 2007 05:23 PM
---
Chrissie - Peanut Kid Carter let our Tehran US Embassy hostages rot (63 originally) for 444 days from 1979-1980. They were released exactly when President Ronald Wilson Reagan was being sworn in on January 20, 1981! This is why the 31 Red States of America vote for a REPUBLICAN president because we are not SOFT on terror like the Demlibloonies are post JFK. Mahmoud Madinthehead
participated in that US Embassy invasion. The Third Reich ( Frau Vader's relatives ) would destroy the Iranian navy, then one city at a time until they were released (hostages)! Arabs only understand POWERFUL USE OF FORCE and negotiation is weakness: Stuka time, ME 109 time, Blitzkrieg time and Panzer time. These 15 Brit sailors and marines are gonna be in captivity for a LONG time,
like our's were. GOD be with them and the Queen!
Posted by: darthcrUSAderworldtour07 at March 25, 2007 05:39 PM
---
PS: Bob F is right on! At 10 am in the morning, where was their back-up? An RAF helicopter never saw the Iranian navy coming? If they did, no protection nor engagement? This isn't what Royal Marines are all about. And we have a USN carrier group (two) in that area? No recon nor intel in broad daylight? This is SNAFU all the way - Situation Normal All F'd Up? www.thesun.co.uk
Posted by: darthcrUSAderworldtour07 at March 25, 2007 05:46 PM
---
Lynn, no way hahahaha..... you are so cute. I am so glad you are all the things you are.
It is what you said in your first post on this, I agree with you I think it inside of himself makes him feel bigger or something.
Posted by: Wild Thing at March 25, 2007 11:42 PM
---
Darth, thank you so much.
Posted by: Wild Thing at March 25, 2007 11:44 PM
---

You know I don't know if I should scratch my
head or my Butt on this one.The HMS Cornwall
is armed with 5"Deck guns and Rockets it makes
you wonder why this ever took place.the patrol
boats were from the HMS Cornwall and I'm quite
sure it has Radar,She should have moved in when
they saw the Iranian Navy comming and hoisted the you can kiss my a$$ flag...
Posted by: Tincan Sailor at March 26, 2007 12:35 AM
---
Tincan Patriot - We on load Liverpool soccer fans and drop them off the shores of Iran with a few cases of ale and Jack Daniel's grog. They'll kick Islamo ass and the 15 Brits will be in the arms of The Sun's Page 3 gals in no time - Operation
Mahmoud Madinthehead Digs Camels 2007!
Posted by: darthcrUSAderworldtour07 at March 26, 2007 10:19 PM
---

As things come to light I have read they did request permisssion to engage but were told
to hold fire.P/C B-S marches on...
Posted by: Tincan Sailor at March 27, 2007 10:23 AM
---