« Jihad! | Main | The Big Ouch Update »
March 01, 2007
Democrats Revamp Anti-War Plan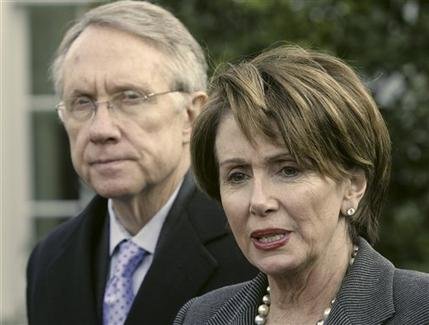 Democratic Leaders Revamp Anti-War Plan
Nation & World...for complete article
WASHINGTON
House Democratic leaders are developing an anti-war proposal that wouldn't cut off money for U.S. troops in Iraq but would require President Bush to acknowledge problems with an overburdened military.
The plan could draw bipartisan support but is expected to be a tough sell to members who say they don't think it goes far enough to assuage voters angered by the four-year conflict.
Bush "hasn't to date done anything we've asked him to do, so why we would think he would do anything in the future is beyond me," said Rep. Lynn Woolsey, D-Calif., one of a group of liberal Democrats pushing for an immediate end to the war.
Democratic protests to the war grew louder in January after they took control of Congress and Bush announced he planned to send 21,500 more troops to Iraq. Earlier this month, House Democrats pushed through a nonbinding resolution opposing the buildup.
Since then, Democrats have been trying to decide what to do next. Some worried that a plan by Rep. John Murtha to restrict funding for the war would go too far. Murtha, D-Pa., is extending his support to the revised proposal.
The tactic is more likely to embarrass Bush politically than force his hand on the war. He would have to sign repeated waivers for units and report to Congress those units with equipment shortfalls and other problems.
In the Senate, a group of senior Democrats wants to repeal the 2002 measure authorizing the war and write a new resolution restricting the mission and ordering troop withdrawals to begin by this summer. But Majority Leader Harry Reid, D-Nev., said Iraq would have to wait until the Senate finishes work to improve homeland security.

"That would mean we would hold off the Iraq legislation for a matter of days, not weeks," he said.
The House Democratic proposal brought a sharp response from Republicans on Wednesday.
Rep. Adam Putnam, R-Fla., called the plan a "fig leaf" to distract the public from what he said was Democrats' ultimate goal of cutting off funds for troops in combat.
"We support full funding for our troops who are in harms way - without strings attached," said Putnam, R-Fla., after emerging from a closed-door conference meeting.
As Democrats met behind closed doors to discuss their options Tuesday, Secretary of State Condoleezza Rice said the Bush administration would talk to leaders from Iran and Syria on stabilizing Iraq.
Rice announced U.S. support for the Iraq meeting, to be held in Baghdad next month, at a Senate hearing in which Democrats pressed her and Defense Secretary Robert Gates to explain what progress is being made in the Baghdad security crackdown and how soon U.S. troops will be coming home.
The decision to engage Iran and Syria on the war in Iraq is a major departure for U.S. policy. The bipartisan Iraq Study Group in December recommended U.S. dialogue with Iran and Syria, but until now the administration has resisted that course.
Former Secretary of State James A. Baker III, Republican co-chairman of the panel, welcomed the shift in a speech Tuesday night. But he went further, urging the administration to include Syria in Mideast peacemaking with Israel and the Palestinians.
Baker and his Iraq Study Group co-chair Lee Hamilton, a Democrat, are expected this spring to participate in a new study on constitutional war powers. Baker will co-chair the independent panel along with Warren Christopher, who was President Clinton's secretary of State.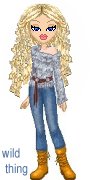 Wild Thing's comment........
What a disgrace these Democrats are, to America and to our troops. They won't just let our military run this war. After such a long time of attacking our military, it's leadership, slandering and the lies about how the war is going, it has to take it's toll on our troops.
And I am sick to my stomach about the fact Bush etc. are going to be considering the decision to engage Iran and Syria on the war in Iraq. WTF?
Posted by Wild Thing at March 1, 2007 12:55 AM
---
Comments
Can't they make up their minds?
Sounds like we need William Wallace in there to "pick a fight" and be a little bit "less cordial than they're used to."
They are so busy fighting amongst themselves for the scraps from the American People's tables that they've forgotten how to be American!
Would they bad mouth their own children? I don't think so.

Posted by: Lynn at March 1, 2007 06:17 AM
---
"Bush "hasn't to date done anything we've asked him to do, so why we would think he would do anything in the future is beyond me," said Rep. Lynn Woolsey, D-Calif., one of a group of liberal Democrats pushing for an immediate end to the war".
Excuse me, Rep Woolsey, but where in the Constitution does it say the President takes orders from Congress?
Posted by: BobF at March 1, 2007 07:21 AM
---
Lynn, oh that would be great wouldn't it, to have Braveheart in there. Yesss
Posted by: Wild Thing at March 1, 2007 10:28 AM
---
Bob, exacxtly, gosh they have a lot of nerve.
Posted by: Wild Thing at March 1, 2007 10:28 AM
---
Are Plosi and Reed Married to each other ? They look like a perfect match. She miserable and he looks terribly miserable.
I can't not imagine being married to such a bitch. He looks like a guy who gets it once a month, maybe, and it he doesn't do exactly what he is told, forget it, Harry wait another 30 days.
Posted by: Mark at March 1, 2007 10:53 AM
---
Mark, LMAO oh gosh they would make a perfect couple. Like you said they both look miserable. I feel sorry for anyone married to them. augh
Posted by: Wild Thing at March 1, 2007 11:09 AM
---
That is funny Mark. Throw in Murtha as their spoiled stepchild and you have a family study for all the psychobabble texts, with horribly graphic pictures also.
Posted by: TomR at March 1, 2007 12:11 PM
---
Their outward garments were adorned with the figures of suns, moons, and
stars; interwoven with those of fiddles, flutes, harps, trumpets,
guitars, harpsichords, and many other instruments of music, unknown
to us in Europe. I observed, here and there, many in the habit of
servants, with a blown bladder, fastened like a flail to the end of
a stick, which they carried in their hands. In each bladder was a
small quantity of dried peas, or little pebbles, as I was
afterwards informed. With these bladders, they now and then
flapped the mouths and ears of those who stood near them, of which
practice I could not then conceive the meaning. It seems the minds
of these people are so taken up with intense speculations, that
they neither can speak, nor attend to the discourses of others,
without being roused by some external taction upon the organs of
speech and hearing; for which reason, those persons who are able to
afford it always keep a flapper (the original is climenole) in
their family, as one of their domestics; nor ever walk abroad, or
make visits, without him. And the business of this officer is,
when two, three, or more persons are in company, gently to strike
with his bladder the mouth of him who is to speak, and the right
ear of him or them to whom the speaker addresses himself. This
flapper is likewise employed diligently to attend his master in his
walks, and upon occasion to give him a soft flap on his eyes;
because he is always so wrapped up in cogitation, that he is in
manifest danger of falling down every precipice, and bouncing his
head against every post; and in the streets, of justling others, or
being justled himself into the kennel.
I found Jonathan Swift's GULLIVER'S TRAVELS aptly describes a democrat.
Posted by: Jack at March 1, 2007 01:02 PM
---
Jack, hahaha oh that is just so perfect.
Posted by: Wild Thing at March 1, 2007 11:39 PM
---