« WW11 Song Candyman | Main | Vietnam Vet to Receive Medal of Honor 41 Years After Battle »
March 02, 2007
Deadly Tornadoes Rip Through Alabama...Many Children Killed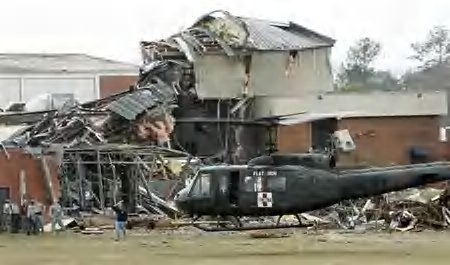 U.S. Military helicopter evacuates a patient from Enterprise High School after a tornado did severe damage to the school.


ENTERPRISE, Ala. (AP) - Tornadoes ripped through Alabama and killed at least 18 people Thursday, including 15 at a high school where students became pinned under debris when a roof collapsed, state officials said. As night fell, crews dug through piles of rubble beneath portable lights at Enterprise High School, looking for other victims.
"The number could very well increase as the search effort continues through the night," state emergency management spokeswoman Yasamie Richardson said.
The storm struck about 1:15 p.m., and Richardson said some students were still trapped three hours later. Erin Garcia, a 17-year-old senior, said students had gathered in hallways around 11 a.m. as a precaution. School officials wanted to send them home around 1 p.m., she said, but the weather turned bad and sirens wailed.
Then, she said, the lights went out.
"I was just sitting there praying the whole time," she said.
After the storm passed, she found the hallway she was in was spared, but a roof and wall collapsed on students in another hallway.
"It was scary. It sounded like a bunch of people trying to beat the wall down. It was complete chaos out in the hallway," she said.
"People didn't know where to go. They were trying to lead us out of the building. I kept seeing people with blood on their faces," Garcia said.
More than 50 people were hospitalized as the violent storm front crossed the state. Two died elsewhere in Enterprise and one in rural Millers Ferry, where a separate storm wrecked mobile homes, Richardson said.
The burst of tornadoes was part of a larger line of thunderstorms and snowstorms that stretched from Minnesota to the Gulf Coast. Authorities blamed a tornado for the death of a 7-year-old girl in Missouri, and twisters also were reported in Kansas.
The high school, about 75 miles south of Montgomery, "appears to have been right in the path," said Paul Duval, a meteorologist with National Weather Service in Tallahassee, Fla., which monitors southeast Alabama.
Martha Rodriguez, a 15-year-old sophomore, said she had left the school about five minutes before the storm hit. When she returned, a hall at the school had collapsed, she said.
"The stadium was destroyed and there were cars tipped over in the parking lot and trees were ripped out. There were trees and wood everywhere. It was just horrible," she said.
At Millers Ferry, 66 miles west of Montgomery, trailer homes were flipped over and trees downed, said Bernadine Williams in the Wilcox County emergency management office.
Several school systems across Alabama closed or dismissed students early as the storm front approached from the west, extending the length of the state.
"The clouds were so dark that all the lights out here came on," said Walter Thornton, who works at the airport in Enterprise, 75 miles south of Montgomery.
President Bush, who visited New Orleans on Thursday, was briefed on the tornadoes by senior staff and called Alabama Gov. Bob Riley and Missouri Gov. Matt Blunt, White House spokeswoman Dana Perrino said aboard Air Force One.
The Federal Emergency Management Agency was working with officials in both states, she said.
In Caulfield, Mo., resident Rick Jarvis heard the storm ripping through his gas station around dawn. His home next door suffered just minor damage, but the twister, described by witnesses as a fat black column, shredded the business, ripping down its roof and back wall.
"It sounded like a herd of horses tearing up stuff. When I came out, it was done," said Jarvis, 48.
Wild Thing's comment......
This is horrifying what has happened. Prayers for these people that have lost loved ones and animals too, this is so very sad.
Posted by Wild Thing at March 2, 2007 12:47 AM
---
Comments
This is such a tragedy, another one occurred when a charter bus crashed in Atlanta killing more students. It has been a bloody week in the South, my heart goes out to the family and friends of the victims. Yes it is so sad.
Posted by: Jack at March 2, 2007 07:59 AM
---
We had the tornado sirens going off Wednesday night as I live in the middle of Tornado Alley. A few touched down but none close to me.
I hate tornado's. With many other types of natural disasters, you know their coming and going to hit but tornado's are iffy. Even though you have tornado warnings, you never know where one is going to touch down. One can demolish your neighbors house and not even scratch the paint on yours. Many people get complacent during tornado warnings and go about their daily business without worry.
During tornado warnings, our county dispatches tornado watchers throughout the area to monitor the skies for rotation and certain conditions. I have a police scanner and monitor the watchers as they call in their reports, along with the National Weather Service warnings.
Posted by: BobF at March 2, 2007 10:54 AM
---
I spent good times at Ft Rucker, with trips all over southern Alabama. Fell in love with the friendly folks of that state. They treated me with that famous "Southern Hospitality". A great time in my life and I pray for them now.
I live in Tornado Alley(Dallas) also and have seen two twisters in my life. Frightnening like BobF describes. I often think of the great Oklahoma City tornado a few years ago. Very devestating with only a few minutes warning. And, how different those Oklahomans were in their response and rebuilding compared to the silly, whining crap of the Katrina group who had days of warning.
Posted by: TomR at March 2, 2007 11:39 AM
---
OK - I see this time and time again in the USA! Why does your government keep allowing people to build in these areas? Why can't you build underground? At Cober Pedy in Australia everyone lives underground because of the horrendous heat conditions there. It's happens to be the world biggest opal mining area. Why can't the US have a similar concept for tornado prone areas? Trailer parks should be banned in those areas completely. Are any of your buildings built to a rigid code to withstand such a force? Trying to help out here guys....
Posted by: Lyn in Australia at March 3, 2007 06:37 AM
---
Jack, your right it sure has been a bloody week.
Posted by: Wild Thing at March 3, 2007 06:41 AM
---
Bob,I am so glad you and your family are ok.
Posted by: Wild Thing at March 3, 2007 06:43 AM
---
Tom,once as a kid I remember we had to go to the basement and wait out a tornado that the news had said was coming our way. I remember how terrified I was as a little kid.

Posted by: Wild Thing at March 3, 2007 06:45 AM
---
Lyn in Australia, that would help in some areas, yes, not to allow trailer parks. But the weird thing about tornadoes is that they can occur in places that had not had them befofe too.
I grew up in Illinois and let's see I think it was only twice that we had tornado warnings in the city I grew up in.
Mother nature can be cruel that's for sure.
Posted by: Wild Thing at March 3, 2007 06:48 AM
---