« New York Post Front Page headline: TREASON | Main | USS New York's Motto "Never Forget" »
February 18, 2007
Treasonous Reid and Hillary Democrat Comrades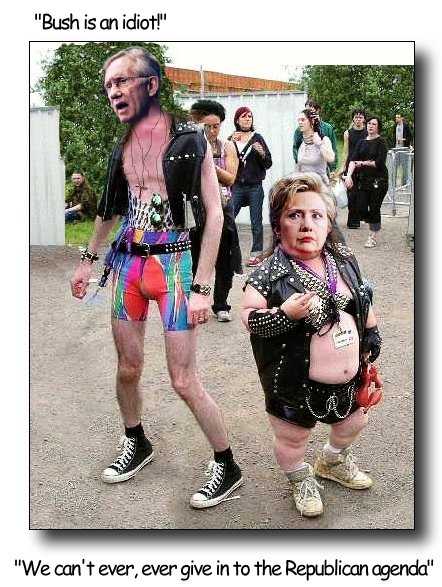 Clinton urges start of Iraq pullout in 90 days
Reuters/Yahoo news
U.S. Sen. Hillary Rodham Clinton, the early front-runner for the Democratic presidential nomination, has called for a 90-day deadline to start pulling American troops from Iraq.
"Now it's time to say the redeployment should start in 90 days or the Congress will revoke authorization for this war," the New York senator said in a video on her campaign Web site, repeating a point included in a bill she introduced on Friday.
In offering what she called a roadmap out of Iraq, Clinton said a visit there last month had made her more determined to start what she called a long overdue withdrawal.
Clinton's bill would cap the number of troops in Iraq at the January 1 level, prior to Bush's decision to add 21,500 to the approximately 130,000 soldiers already there.
Clinton's bill would require congressional authorization to exceed her proposed cap on U.S. soldiers in Iraq.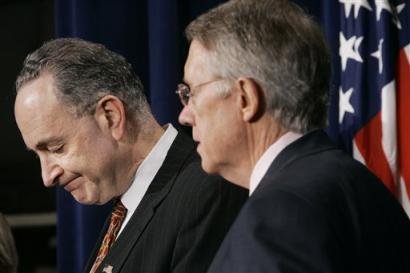 U.S. senators Harry Reid (D-NV) (R) and Charles Schumer (D-NY) hold a news conference about the Senate's failure to vote on a House resolution that opposes President George W. Bush's decision to send 21,500 more troops to Iraq, at the U.S. Capitol in Washington February 17, 2007. (Jonathan Ernst/Reuters)
Senate Majority Leader Harry Reid released the following statement on the Saturday vote in the United States Senate.
"Today, a bipartisan majority of the United States Senate voted against the President's flawed plan to escalate the war. The Senate joined the House of Representatives, put itself on the record, and told the President that America needs a new direction in Iraq. As for the Republicans who chose once again to block further debate and protect President Bush, the American people now know they support the escalation. "
"Today's vote against the escalation is not the end of this Iraq debate in the Senate. This war is too important to permit Senate Republicans to brush it aside. The Bush Administration's failures have put our troops and America in a deep hole, and it is time for this country and this Congress to climb out. The Republican Leadership can run from this debate, but they can't hide. The Senate will keep fighting to force President Bush to change course."
Republicans who did vote for surrender cloture:
Coleman, Norm (MN)
Collins, Susan M. (ME)
Hagel, Chuck (NE)
Smith, Gordon H. (OR)
Snowe, Olympia J. (ME)
Specter, Arlen (PA)
Warner, John (VA)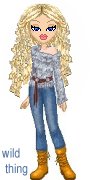 Wild Thing's comment.......
The Democrats have based their entire future on the hopes that we fail in Iraq. So now they're doing all in their power to make that failure happen. Traitors all.
The terrorists in Iraq and Afghanistan must be having quite the party following this traitorous BS happening in the Senate today. It sickens me that our service men and women have to see this Democrat driven treason.
As for LIAR Harry Reid, he assumes the White House will not challenge his statements and the NYT will carry his words all the way until they become accepted as truth. Hey Harry, The Senate is on record for not invoking cloture!!
From Roll Call.....

Despite falling four votes short of breaking a GOP filibuster, Senate Majority Leader Harry Reid (D-Nev.) claimed a symbolic victory in the fight over the Iraq War today as Democrats mustered a bipartisan majority of 56 lawmakers to support taking up a resolution opposing President Bush's plan to increase U.S. troop levels in the war-torn country.

I thought this was good.....It is from Investors.com
So fully have they committed themselves to losing that, should we win, they can take no credit whatsoever.

Having thus stuck their necks out, they will have been politically decapitated. They'll return in the minds of the public to being the party of higher taxes, out-of-control entitlement programs that they refuse to fix, abortion on demand, same-sex marriage and every other item in the far-left playbook.

The Democrats last week may just have voted themselves a one-way ticket back to the political wilderness and minority status.
Posted by Wild Thing at February 18, 2007 12:55 AM
---
Comments
They will take credit when we win because they'll feel that they were the reason Bush kept going--that they pushed him far enough.
They'll ALWAYS turn it to their advantage.
They don't like to share except with others of their ilk.
They will lie, cheat and steal to get what they want--they are power hungry nasty little people.
Posted by: Lynn at February 18, 2007 07:49 AM
---
This is a sickness, how does a virus such as this attack our country? I am told the only cure for a virus is for the body to heal naturally but in this case we may be doomed.
Posted by: sierrahome at February 18, 2007 09:13 AM
---
The quest for political power by overly ambitious people with little or no moral value. Sickening! Don't they care about the future of the country?? We are in a deadly war, and they treat it like a nuisance, or as an opportunity to further their political career. Damn them!
Posted by: TomR at February 18, 2007 01:46 PM
---
Lynn you right, they always turn everything to their advantage, somehow, some way they do it every time.
Posted by: Wild Thing at February 18, 2007 11:48 PM
---
Sierrahome, yes it is like a virus, maybe if it gets so far to the left it will make those with apathy wake up finally.
It would take something horrible to make some people wake up. They sure have forgotten 9-11, the USS Cole and all the other attacks, or they just don't care anymore.
Posted by: Wild Thing at February 18, 2007 11:51 PM
---
Tom, they don't care, I honesly thing their hate has driven them past sanity. And they were lefties to begin with which didn't help.
Posted by: Wild Thing at February 18, 2007 11:52 PM
---