« Shrillary's Back and Screaming A Usual | Main | Democrats Invite Radical Muslim to Speak at Nat'l Committee Meeting »
February 04, 2007
Superbowl XLI Game On Today and It's Showing in Baghdad!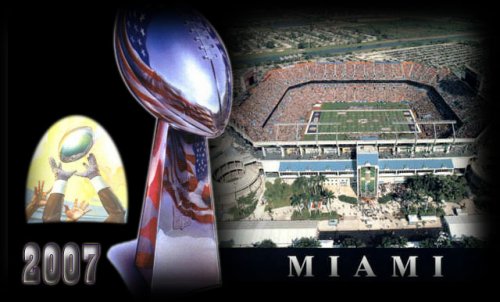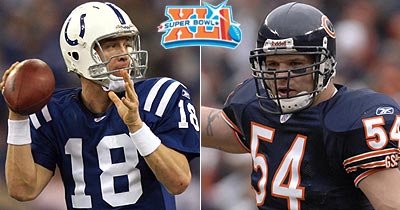 Peyton Manning's Colts and Brian Urlacher's Bears meet in Super Bowl XLI
I will be cheering on the Bears. My two favorite teams are the Bronco's and the Bears. Those of you that will be watching the game I hope your team does well, Colts or Bears and may the best team win.

Now those of you that know me know that not much happens in my life that I am not thinking of our troops and how thngs effect them. Soooo here is what will be happening regarding the Superbowl this year and our awesome troops.
Randy Cross to report live from Iraq with American troops.
Bay area news
Last April, the former 49ers offensive lineman went to Afghanistan for six days to visit U.S. troops after being invited by Ron Barr of the Sports Byline USA radio network.
"I mingled with them, worked out with them, ate with them and talked to them," said Cross, whose dad was a Marine. "Whenever I would meet one of the soldiers, the first words I'd hear were, 'Thank you.' They were just so appreciative that someone had taken the time to visit them. It was an unbelievable experience."
As soon as returned, Cross told his bosses he wanted to go back to Afghanistan or to Iraq to be with the troops on Super Bowl Sunday.
Networks in the past have shown footage of U.S. troops on Super Bowl Sunday, but never sent an announcer to be with them.
Cross, who spent 13 seasons with the 49ers, has lived in the Atlanta area for the past 15 years with his wife, Patrice, and their three children.
Cross won't be making the trip to Iraq alone. Suzanne Smith, a director-producer for CBS Sports, is also going.
"I said, 'You're going to need a producer, aren't you?'" Smith recalled.
The plan for Baghdad will be to arrange a touch football game among the troops on the eve of the Super Bowl, with Cross serving as the referee. The game will be taped and highlights will be shown in a live spot with Cross and military personnel during the pregame show.
Super Bowl kickoff is scheduled for around 3:25 p.m. At that time, it will be 2:25 a.m. in Baghdad.
"I'll guarantee we will have plenty of soldiers there," Cross said. "Military people work on a 24-hour clock. There is always a lot of activity."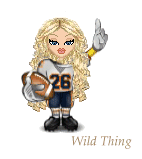 And this is a great story to hear about too.
Chicago news
Two former Super Bowl players got a taste of what real war is like. Two of the 1985 Bears stars traveled to the frontlines recently to pay tribute to the true heroes.
"They sacrifice their lives for our way of life," said former Bears quarterback Jim McMahon. "The least I can do is spend a few hours, a few days with some of these guys that are risking their lives for us."
Former teammate Kevin Butler concurred.
"They're true American heroes and there's no greater compliment I can give them," Butler told NBC5.
They are older and grayer now, and meeting soldiers and Marines who hadn't been born when they rocketed to fame 20 years ago. "Any news from home, any connection with the United States and they're happy to have it," McMahon said of his time shared with U.S. troops.
"It lets you know just how lucky we are to have what we have here in America," Butler said.
"We were ... right in the middle of Baghdad. We land, we get up there with armed guards, and the first thing that pops up over all the speakers is The Super Bowl Shuffle," Butler said.
"The Super Bowl Shuffle will haunt us forever," McMahon said with a smile. "A lot of them still knew about it. A lot them still had posters and Bear paraphernalia."
"These guys are coming over and thanking us for coming over and visiting for an hour or so and, you know, we're trying to say, 'Thank you for sacrificing your lives for us and our families back home,'" he added.
"When we're sitting there signing autographs, I really just wanted to, you know, flip it around and sit them down and get their autograph. Actually, having a soldier (who) just came off of a mission look and me and say, 'How did you go out there at the end of the game and kick a field goal? That's got to be nerve-wracking.'" Butler said. "You know, the humble meter goes straight up."
The two Bears shared pictures of their accomodations in Saddam Hussein's place the night he was hanged.
"It was pretty cool to be in Baghdad the day that all this took place," McMahon said.
Both men called the visit a life-changing experience. Both came home convinced that messages of support are more important than ever, Rogers said.
"I hear a lot of stuff in the media about how bad our youth is," the former quarterback said. "But, every time you talk to these people in the Marines ... our country is in good hands with these kids."
Butler said Bears fans can be especially supportive of the troops.
"If you're a Chicago Bears fan and your team is down at the halftime of the championship game, you're going to be cheering them in the third quarter, no matter how they played those first two quarters. And we need to cheer our soldiers over there and just tell them how much we support them and love them," he said. Rogers said that bother Butler and McMahon have been invited to return and both told NBC5 that they intend to go.
Posted by Wild Thing at February 4, 2007 01:55 AM
---
Comments
This is great!
Go BEARS!!!!!!!!
Posted by: Lynn at February 4, 2007 06:51 AM
---
Outstanding!!! We need more celebrities like that, it makes me wonder why a celebrity Londoner was our most prominent American. Sixtyfive years ago today the USO was founded, many fine Americans voluntarily served for us. Thank you WT.
Posted by: Jack at February 4, 2007 08:13 AM
---
Oh wow, great post WT. McMahon was one of my favorites. Every team should have a Jimmie 'Mack'. The 85'Bears, I think had everything, Da Coach, Da team, they were 'Da Bears'. Since that time many teams have tried to copy the 46 defense, but nobody has been able to play it the way the Bears did. It seems schemes like that are brought together by an idea, a certain coach, Buddy Ryan, and a group of guys who just seem to all come together on the same page. The thing I remember most was their MLB Mike Singletary, and his wild eyed game face, when he played he looked deranged.
Todays game, Da Bears versus the 'Dolts' there are two coaches who worked together Tampa and designed the Tampa 2 defense. I think the Bears have the better defense and Manning will be running alot. If Grossman has his head together, Da Bears Offense will be all right. The Dolts are not playing at home this time so the 12th man will be a non-factor.
The line is Dolts to win it. But the same people picked Buffalo over the Giants by two TDs, (Buffao lost 20-19 and 'wide-right' became known as the Bills) the similarities here are striking, the Offensive coordinator and player personnel for Buffalo are now in INDY with a similar scheme.
I am going with the Bears.
Posted by: Mark at February 4, 2007 08:56 AM
---
Posted by: RWC at February 4, 2007 09:36 AM
---
Its gonna be a soggy game, been raining here all morning.
Posted by: LindaSoG at February 4, 2007 10:30 AM
---
Posted by: John 5 (VN69/79) at February 4, 2007 06:16 PM
---
Well its 4th quarter and Grossman is being, well gross--------man. No Jimmie Mack this year.
Posted by: Mark at February 4, 2007 09:48 PM
---

Game over and I still think Boise State and
Oklahoma in the Fiesta Bowl was far better
game,say by about a 1000 times...
Posted by: Tincan Sailor at February 4, 2007 10:32 PM
---
So sad,I wish the Bears had won. I agree Mark, Grossman didn't play well at all.

sigh
Posted by: Wild Thing at February 4, 2007 11:35 PM
---
If I were Lovie Smith Grossman would be on the first bus out of Chicago.
Posted by: Mark at February 5, 2007 07:05 AM
---
Mark I agree, he played a horrible game. Very disappointing.
:(
Posted by: Wild Thing at February 5, 2007 11:40 AM
---
WT he did the same thing in the Greenbay game.
All I can say is: No Danimal, No Ming, No Jimmi Mack, NO Fridge, No Lombardi trophy.
The Defense played well but you can't go 3 and out too ofter against the Colts they are bound to get in the endzone eventually.
Posted by: Mark at February 5, 2007 12:05 PM
---