« Kill Americans ~ Praise 9-11 and Osama Is Their Hero | Main | Survey Says Women Want Clothes More then........ »
February 07, 2007
Soldier's Mother Told She Cannot Fly American Flag or Blue Star Flag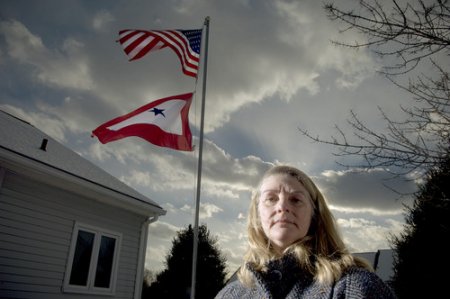 TERESA RICHARD, whose son, Cpl. Tony Donihee, is serving in Afghanistan, says that when Donihee was leaving her East Windsor home after his last visit, he saluted the flags she had flying. The condo association where Richard lives says she must take down her flags. Her response: No way.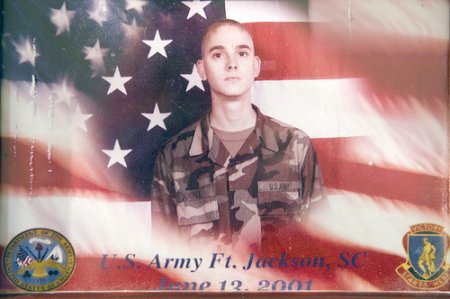 Cpl. Tony Donihee is serving with the Connecticut National Guard in Afghanistan. His mother, Teresa Richard, flies two flags in his honor outside her East Windsor condominum.
Woman Flies Flags In Her Son's Honor, Despite Condo Group's Rule Against Them
February 6, 2007
Courant.com
EAST WINDSOR -- Cpl. Tony Donihee came home from Afghanistan to the sight of the American flag waving outside his mother's condominium.
And he beamed.
His mother, Teresa Richard, said he was so moved by her gesture that he saluted the flag at the end of his several-week visit in August.
Now back in Afghanistan, Donihee, a member of the Connecticut National Guard, calls his mother about once every two weeks to talk, and to ask if the flag is still there. But since his visit, Richard has received several warnings from her condominium association that the flag, hanging from a pole in her front lawn, is in violation of "common area" rules.
The last letter from the Stoughton Ridge Condominium Association arrived in January, notifying her that the American flag, along with her Blue Star flag hung by mothers of soldiers, will be tolerated until Labor Day weekend. Every day after that, she will be subject to a $25 fine.
But Richard is standing firm and vows not to lower her flags after Labor Day, or any other day.
The flags, an acknowledgement of her son fighting for freedom, will remain just outside her kitchen window, where she leans over to watch them flutter every morning while making coffee and every night before heading to bed.
"I haven't heard from Tony for a week, and I don't know when I'll hear from him again. People don't know what that's like," she said, leaning across her kitchen sink to get a better view of her flags. "Right now, that's my son. That's my connection."
Richard has been trying to gain the support of residents, veterans and politicians, with limited success.
The East Windsor Veterans Commission sent a letter Friday to Richard's condo association urging it not to destroy an "honorable and long tradition."
"We feel the American flag should be flown any place, any time, without any restrictions," commission Chairman Warren Wenz said. "This isn't Nazi Germany or Japan during World War II. This is America."
Richard is waiting for other heavy hitters to weigh in, hopefully on her side. Richard has contacted the offices of U.S. Rep. John Larson, D-1st District, U.S. Sen. Christopher Dodd, D-Conn., and state Rep. Ted Graziani, D-Ellington. They have yet to respond, she said.
"They said they'd get back to me, but I never heard from them," she said.
Meanwhile, the veterans commission letter has prompted little reaction from the association. Mark Kubera, the complex's property manager, and Kevin Carson, president of the association's board of directors, did not return several telephone calls from The Courant seeking comment.
A letter signed by Kubera in late August notifies Richard that "no flags, including the American flag, may be displayed from poles in planting beds or any common or limited common areas." The rule was adopted into the association's rules and regulations in October 2004, according to the letter.
Two years before the rule was adopted, the association had a similar run-in with some residents who had pitched and hung flags outside their condos. A few received letters from the property manager at the time, requesting the flags be removed.
One resident, Gene Doering, refused and hired an attorney, threatening to sue. He said he hasn't heard from the association since.
An American flag still hangs from a pole on his front lawn.
"I was surprised that [the association] even wanted to tackle the issue," Doering said. "I mean, what is wrong with these people?"
So Richard continues her personal crusade.
Her voice cracks and she takes a minute to wipe away tears as she pulls out a letter she has written to President Bush. She said she's still relying on her elected officials to step up.
Meanwhile, she said, at least she can enjoy a seven-month reprieve.
Richard received a call from her son last week. He asked: "Mom, are my flags still up?"
She replied: "Yes, they are."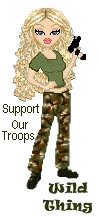 Wild Thing's comment.....
You know what, Mrs. Richards request to hear from U.S. Rep. John Larson, U.S. Sen. Christopher Dodd, D-Conn., and state Rep. Ted Graziani, D-Ellington is a dead end. Because those three are dead ends!
I am so sick of people that do NOT support our troops and their families ( Blue Star flag hung by mothers of soldier) and don't support our very own country in war time or not .....why should it make any difference. It should be acceptable any time to be able to fly our Flag the American Flag. This kind of shit makes me furious! And to not even be able to fly her BLue Star Flag either after the time limit they gave her. Damn, double damn those not allowing this. I don't care what BS rule they made, this is WRONG on all counts.
Posted by Wild Thing at February 7, 2007 12:55 AM
---
Comments
This is tragic. While they may have rules in a condo association, there is always room for a wee bit of rule slippage.
Her son is a hero--let her fly her flags.
The time for being uppity and snippy-rude is over.
If someone doesn't like it, look the other way.
If someone asks, say her son is an American hero--serving proudly for this nation which allows you to be the way you are.
What will they ban next?
Posted by: Lynn at February 7, 2007 06:23 AM
---
The repulsive snail Chris Dodd will be the first one pulling on the lanyard. Cowardly, dictator-loving sleazebag. This is CT. I live here, among this trash.
Posted by: Rhod at February 7, 2007 07:25 AM
---
America seems less and less like America all the time. Forty years ago I think this would have been a non-issue as there would have been flags flying everywhere. This condo association adopted their no flag rule after 9-11. so you know where their hearts aren't. Bastards! Protected by better people than themselves.
Posted by: TomR at February 7, 2007 09:03 AM
---
Condos are communal living. Communal, communal,.....hmmmmm com....commu....commun......I GOT IT !!!!! COMMUNISM !!!!
Posted by: Billy at February 7, 2007 09:27 AM
---
Every body has a good point and I hate to throw water on what is being said. BUT, if she signed an agreement before moving in or buying, all these gated communities are like that, then she will be obligated to go along with it.
It is called the Common Area, and they dictate what can be done in that area.
But even 'The Donald' is in a Law suit over this, so she is in good company.
Posted by: Mark at February 7, 2007 11:13 AM
---

I live in a small development, 50 single family
homes and we have CC&Rs which cover common Areas
along whith how you keep up your house and yard
with which I have no problem..My daughter on the
other hand lives in a area where they try and
tell you what roofing or painting contractor to
use...That is both the good and bad of CC&Rs
the one where my daughter lives spends most of
their time and money in court...She should be
able to find a lawyer to take the case for a
small fee if any at all...I have a 35 ft flag
pole along with another 20 or so...I wouldn't
give those 3 the time of day but would contact
Joe Liberman I belive he could do some good
and most of all stick with it,don,t back down
I,m sure glad I live in Idaho and not CT.
Posted by: Tincan Sailor at February 7, 2007 11:43 AM
---
The fact that they won't allow that lady to fly her flags in honor of her son and country disgusts me.
But, that being said, you have to look at it this way. She choose to live in an area that has strict and controlling ordinances. If those are the rules, she will have to abide by them. When I enlisted in the millitary, I left some of my Constitutional rights at the front gate. I did this knowingly and willingly as this was the life I choose.
These homeowners associations are basically to prevent rif-raf from coming in. Can you immagine paying $250,000 for a house and having a neighbor move in that stores his junk cars in his front and back yard? My suggestion would be to attend your homeowners association meetings and vote. Also, run for office so you can make the decisions.
Posted by: BobF at February 7, 2007 12:54 PM
---
Mark and BobF are right about homeowners associations. But it does seem like this would be an extreme case that rational members would immediately understand. I think it is more a mindset, of Liberalism over patriotism.
Posted by: TomR at February 7, 2007 01:04 PM
---
This is a very strange world, and stranger every day that my former party remains in power.
Maybe we can get the Bush Justice Department to rule on this. If the lady and her son can prove any connection whatever to a drug-dealing illegal alien she's home free. Or even better, if she's stolen any documents from the National Archives she's up for the Medal of Freedom.
Posted by: Rhod at February 7, 2007 02:33 PM
---
This makes my blood boil, my flags fly 24/7. I'm sure it annoys the neighbors, especially the POW flag. It reminds them of their unflagging support, especially the one with the Kerry stickers on both cars.
They must still have a twinge of guilty self concience at the Stoughton Ridge Condominium Association or they'd let her fly the flag. Like Tom said "Protected by better people than themselves". Bob and Mark have a point though and it's one of choice, I'm sure that the same Condo association wouldn't oppose the red crescent fluttering above their Communist compound just to appease an Islamist resident.I just love Billy's analogy, it has the proper ring to it. Thanks WT, you forgot to include that split tongued lizard, Lieberman.
Posted by: Jack at February 7, 2007 02:36 PM
---
My sister and Brother-in-law recently bought a condo in State College Pa. Her son is in the Air Force and in Iraq, they cannot fly a flag, or for that matter a Penn State Banner, Huge Penn State fans, eventhough Penn State is just a few minutes away.
That homeowners agreement is a contract and any violation of it, is considered a breech.
TomR has the right idea get on some committees and try to change the rules and vote.
Posted by: Mark at February 7, 2007 02:37 PM
---
This lady should check Conn. state laws. If they have a statute on the books concerning display of the flag. If so, the HOA may be powerless to stop her.
I have a 25 foot pole in my front yard. The HOA has rules about flags. I checked Florida law about the flag. Found out that the HOA can't do bupkis. Told them I was raising a pole and putting in lights. They still tried to get involved and tell me where I could and could not put the flag and lights. Reiterated that Florida has a law that says that as long as I follow US Code for proper display of the flag, they couldn't do jack about it. Haven't heard from them since.
Posted by: raz0r at February 7, 2007 09:34 PM
---
I live in a neighborhood that has a Homeowners Association. Our association is in the process of having to rewrite its covenant. I talked with our association president and he said that once a homeowners association allows an exception or fails to enforce the rules or by-laws in its covenant, that rule or by-law becomes null and void and uneforceable; associations covenants are upheld and enforceable in a court of law. Our association granted an exception for renters a few years back that opened a Pandora's Box.
This lady need to petition, or get involved with, the association leadership and get written amendments put into the covenant to allow only certain types of flags.
Posted by: BobF at February 7, 2007 09:39 PM
---
I live in a neighborhood that has a Homeowners Association. When we bought our home we made sure that we could have a Flag pole and fly the American flag.
That is great except for one things, if we ever get people on the board of the Homeowners Association that change this rule then we are sunk possibly, not sure. I say that because the way this country has been going to the PC people, the military loathers it concerns me.
Like Rhod said and I agreee, the drug dealing illegals and the documents thiefs have the right of way, so my trust in things being done anymore how they should be done is nill.
Fortunately our neighborhood has a lot of Flags flying up and down the streets so maybe, justr maybe the pull to keep them allowed here for us will stay OK. I pray it will, or I will be locked and loaded and one angry girl.
Posted by: Wild Thing at February 8, 2007 12:30 AM
---
CT's Attorney General, Sydney Blumenthal, has come down on the lady's side.
He's been the AG for a long, long time, and the standing joke here is that the most dangerous place in America is between Blumenthal and a TV camera. He's a lib hack, but a successful one. And he wants to be governor, eventually.
Appearing on New Haven's WPLR, he said that some Federal laws come into play here. If he says it, it's true, but the thing to keep in mind is, if Blumenthal is for it, so is the majority. He's a consensus pol. We'll see what happens.
Posted by: Rhod at February 8, 2007 07:06 AM
---
One good thing about my Homeowners Association, about 20% are either active duty military or retired military with a good majority of the others being veteran's. An American Flag flies at the entrance to our neighborhood, put up and maintained by the Homeowners Association.
Posted by: BobF at February 8, 2007 07:40 AM
---
So sorry for all your grief over this. Free country??? We love our flag and our guys and gals serving for the freedom allowed to us. You go girl !!! Keep those flags flying. My son will be leaving in July for his second tour in Afghanistan and I will be flying both flags for him. All our prayers are with your son, my son and all the wonderful men and women fighting for us. Good luck with your fight for all of us.
Posted by: Mary at February 22, 2007 08:08 AM
---