« USS New York's Motto "Never Forget" | Main | Have a Wonderful Day »
February 19, 2007
Iran and Syria Soul Mates Against USA and Israel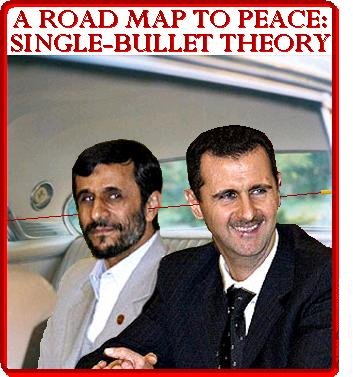 Assad, Ahmadinejad vow to form alliance against U.S., IsraelHaaretz
Iranian President Mahmoud Adhmadinejad and Syrian President Bashar Assad on Saturday vowed to form an alliance against what they called U.S. and Israeli conspiracies against the Islamic world.
The Iranian president also praised the agreement by rival Palestinian factions Hamas and Fatah to form a unity government.
"Dispute among Muslim factions has always been harmful for regional nations and useful for Islam's enemies," he said.
"America's policies have failed in the region ... By creating divisions among Muslim nations, Washington wants to pursue its aims," IRNA quoted Assad as saying during his meeting with Ahmadinejad, who urged "Muslim countries to preserve unity."
Ahmadinejad said that what the US really aims for under the pretext of development in the region "is just another effort to strengthen its own status and that of the Zionists (Israel)."
The Syrian leader said Muslims worldwide should be informed about "the evil aims by the U.S. and Zionists" which he said were sowing discord among Muslims.
Assad arrived earlier Saturday in Tehran for a two-day visit to discuss developments in the Middle East and was scheduled to also meet Iran's Supreme Leader Ayatollah Ali Khamenei, former president Akbar Hashemi-Rafsanjani and chief nuclear negotiator Ali Larijani.
On the agenda would be Iraq, Lebanon and cooperation with the Palestinians. Assad was in Tehran in August 2005 immediately after the start of Ahmadinejad's presidential term.
Ahmadinejad said earlier Saturday that Lebanon and Hezbollah have his complete support in their struggle against Israel and the United States.
"Iran and Lebanon are two parts of the same body, and only through cooperation between our two nations will it be possible to foil the conspiracies of the enemy," Ahmadinejad said.
"Thanks to Hezbollah, the Lebanese people have become a symbol of courage, faith and respect for all nations, and all this through the power of resistance," Ahmadinejad added.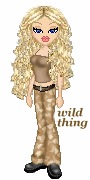 Wild Thing's comment......
I would bet that the Democrats will be glad to give Iran and Syria a blank check from the US.

Posted by Wild Thing at February 19, 2007 12:24 AM
---
Comments
Have you all noticed that the further you are out on the extremes of the Wacko Left or Right, the more likely you are to be an Anti-Semitic Son of a Bitch?
Posted by: OINK at February 19, 2007 08:57 PM
---
Posted by: raz0r at February 19, 2007 09:21 PM
---

Assad, why so glum? It happens to all men now
and then...No big deal we can try again...
Posted by: Tincan Sailor at February 20, 2007 07:09 PM
---