« Fly High You Eagles, Soar | Main | Stand Up With Charlie »
February 23, 2007
In Country With Our Awesome Troops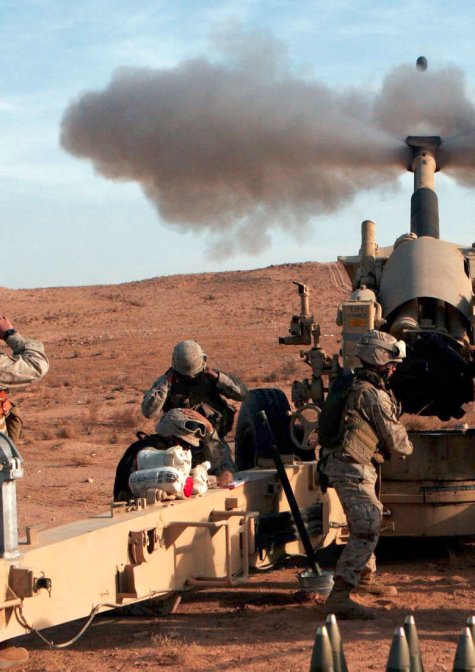 Marines from Battery L, 3rd Battalion, 12th Marine Regiment, fire a high-explosive round from an M198 Medium Howitzer near Baghdadi. The battalion is deployed with Regimental Combat Team 7, I Marine Expeditionary Force, in support of Operation Iraqi Freedom in Al Anbar Province. Photo by Marine Gunnery Sgt. Michael Q. Retana.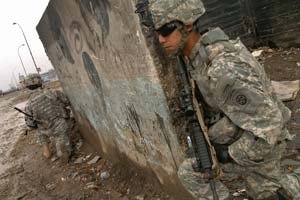 Spc. Martin Garza, an artilleryman with Battery B, 2nd Battalion, 319th Airborne Field Artillery Regiment, gets behind cover during a patrol down a street in Adhamiyah known as an IED "hot spot," Feb. 16. U.S. Army photo by Sgt. Mike Pryor.
Troops capture 61 terror suspects
BAGHDAD

Iraqi and Coalition Forces captured 61 suspected terrorists, destroyed five improvised explosive devices and seized several weapons caches during operations across Iraq in the past four days.

Today, special Iraqi Army forces, along with Coalition Forces, destroyed a car rigged with an explosive device and captured seven suspected terrorists during a raid targeting foreign fighters east of Tikrit.

Forces found the car bomb during a search for a suspected terrorist with ties to the foreign fighter facilitator network, officials said. During a raid of the targeted area, coalition forces detained the individual along with six other suspected terrorists.

Further searching the area, ground forces discovered a vehicle on the property was rigged with an IED. After clearing the area of civilians, ground forces destroyed the vehicle.

More searching by ground forces led them to numerous AK-47s, a sniper rifle, two machine guns, a pistol and a footlocker filled with ammunition.

During an operation in southern Baghdad yesterday, special Iraqi Army forces, along with coalition advisors, captured two suspected members of a rogue Jaysh Al-Mahdi militia cell.

The Iraqi-led operation was targeting a cell believed responsible for attacks against civilians in the area, officials said. The cell is also suspected of participating in the kidnapping, torture and murder of an Iraqi Army officer in December 2006.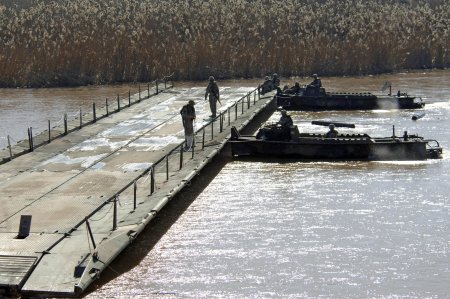 A team of build boats from the 502nd Multi-role Bridge Company, 1st Armor Division, push a newly assembled assault float bridge section upstream outside Camp Taji, Iraq, on Feb. 11, 2007. DoD photo by Petty Officer 2nd Class Kitt Amaritnant, U.S. Navy. (Released)
Posted by Wild Thing at February 23, 2007 01:55 AM
---
Comments
Awsome photos, that 155mm firing into the desert reminded me of supporting Armor at Ft. Irwin, Ca. Lordy that's a hot thirsty job, we owe them an awful lot for what they do. Photos don't bring out the oppressive heat, the stench, the noise and the horrors they endure, thanks for keeping us informed.
Posted by: Jack at February 23, 2007 01:19 PM
---
All I can say, over and over, is God Bless our Troops.
Posted by: TomR at February 23, 2007 07:58 PM
---
It is such an honor just to be able to see a few photos of our troops. I alwasy check the weather over there to see what they are experiencing. But reading it and being in it are different matters. And with all they have to wear I can't imagine in the heat how it must be. Horrible.

God bless them all.
Posted by: Wild Thing at February 23, 2007 11:20 PM
---