« Ooh-rah, Devil Dog! | Main | Enough is Enough We Need To Be Strong Again! »
February 26, 2007
Checking In With Our Troops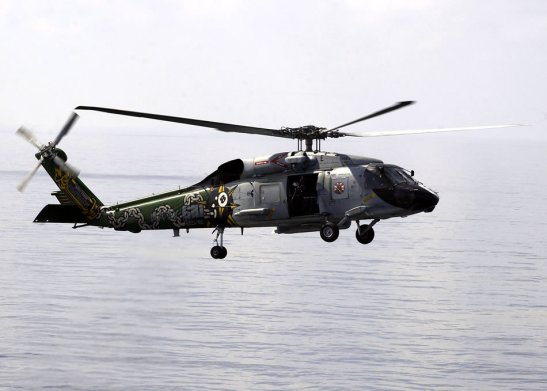 Please click
on the above image and photo will enlarge to
see the awesome
detail work!!!
ARABIAN SEA (Feb. 22, 2007) - A helicopter from the Eight-ballers of Helicopter Anti-submarine Squadron (HS) 8 prepares to land on the flight deck of the Nimitz-class aircraft carrier USS Dwight D. Eisenhower (CVN 69).
Eisenhower and embarked Carrier Air Wing (CVW) 7 are on a regularly scheduled deployment in support of Maritime Security Operations (MSO). U.S. Navy photo by Mass Communication Specialist Seaman Apprentice Jon Dasbach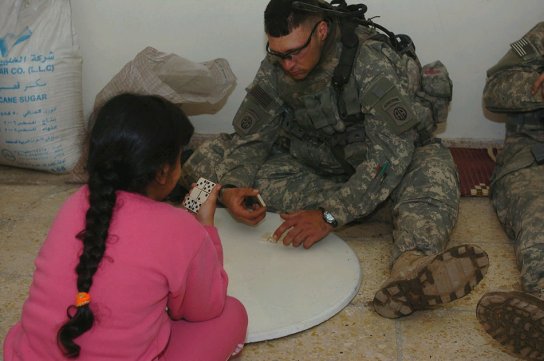 Sgt. Benjamin Webb, an infantryman with Company B, 2nd Battalion, 325th Parachute Infantry Regiment, 82nd Airborne Division, plays dominos with an Iraqi girl during a break on a patrol in the Adhamiyah district of Baghdad. The Hampton, Va. native split four games with the girl. The 325th PIR has been getting out into the neighborhood surrounding Combat Outpost Callahan to foster good relationships with the residents they are here to help protect. Photo by Sgt. Michael Garrett
Posted by Wild Thing at February 26, 2007 12:47 AM
---
Comments
I've always liked "Nose Art" on aircraft, can't really call that nose art but it's impressive and blends well with the camoflage paint scheme. Now isn't it too bad that the media just can't wrap themselves around a human relations event like the domino game, they're too intent on destroying the military. Thanks for sharing WT.
Posted by: Jack at February 26, 2007 12:29 PM
---

Speaking of Helicopters I'm doing a little off
posting but I think its worth the time...

MOH Narrative
by Heike Hasenauer
Adapted from Soldiers Magazine
"CALL SIGN SNAKE SHIT"

Bruce P. Crandall Today
President George W. Bush announced that he would award the Medal of Honor, the nation's highest honor for military service, to Lt. Col. (Ret.) Bruce Crandall at the White House for his actions on Nov. 14, 1965 in Vietnam's Ia Drang Valley.
"I still think about Vietnam a lot," said Crandall. "I have wonderful memories of the people I served with." Despite the horrors of war that he experienced - and the many times his life was on the line - "I don't really have bad memories," he added.
"I had very experienced pilots," said Crandall, who served as a flight mission commander and was an Army engineer. Three of the four company commanders in the 229th [Assault Helicopter Battalion] were engineers. We were bush pilots, who had flown in areas of the world that hadn't yet been mapped."
Crandall commanded 16 helicopter crews of the 1st Cavalry Division's Company A, 229th AHB that lifted troops on a search-and-destroy mission from Plei Me to Landing Zone X-Ray in what would become the most vicious fight of the Vietnam War to that date.
Then-LTC Harold G. Moore, commander of the 1st Cav. Div.'s 1st Bn., 7th Cav. Regiment depended on then-MAJ Crandall's helicopters to insert his Soldiers of the 1st Bn. into the LZ.
On the fifth and final troop lift, which involved eight helicopters, the LZ was under horrific enemy fire by small arms, automatic weapons, mortars and rockets.
As Crandall's helicopter landed and Soldiers exited, three Soldiers were wounded and three killed. Remaining helicopters waiting to land were ordered to abort and return to base.
When Crandall returned to the base, he learned that all medevac assistance had been cut off to the men of the 1/7 "due to the policy of the time," Crandall said. "The medevac pilots were all great pilots, but they weren't allowed to land on a landing zone until it was 'green' for a period of five minutes," meaning it wasn't being relentlessly attacked.
Crandall made the decision - without anyone requesting that he do so - to fly the medevac missions. When he asked for volunteers, his former colleague in Vietnam, Maj. (ret.) Ed Freeman, who had been his friend for 10 years before they deployed together to Vietnam, immediately stepped forward.
Crandall's helicopter led the two, and he supervised the loading of seriously wounded Soldiers over the course of 14 landings under intense enemy fire. He and Freeman saved the lives of some 70 wounded Soldiers.
"One of the principal reasons my company survived one of the largest and fiercest battles of the Vietnam War was the critical support provided by the aviators of Co. A, 229th Avn. Bn.," said Col. (ret.) John D. Herren, who commanded the 1st Bn.'s Co. B during the battle.
"These helicopter crews were our lifeline, as they brought battalion units into the LZ," he said. "They evacuated our wounded and brought in water and ammunition, despite intense enemy fire," Herren said.
"I was an eyewitness to one of Crandall's flights," Herren continued. "I was pinned down by intense enemy machine-gun and rifle fire that killed my radio operator and severely wounded the Co. D. commander, Capt. Ray Lefebvre.
Crandall's helicopter landed and evacuated Lefebvre and others. The act of bravery "was extraordinary and inspirational," Herren said...
..."It demonstrated to me and other Soldiers that our casualties were going to be taken care of and that they would not have to wait for a break in the fighting to be evacuated," Herren added. "The sheer volume of casualties was heavy. My own company suffered 46 casualties out of a company strength of 122 during the first two days of the fighting."
Additionally, one of Herren's platoons was cut off for 24 hours and suffered 20 casualties. Every one of the 12 who were wounded survived because Crandall and Freeman evacuated them.
On the Ground
"The first afternoon of the three-day battle was a running firefight - a run for survival - with helicopters coming in under fire trying to get the wounded out. There was a hell of a fight the next morning and night, and I realized we were in an historic battle," Moore said.
The first man on the ground with his troops, Moore jumped out of the chopper and looked up at the mountain and knew the enemy was there, he said. "It was ominously quiet."
He learned later that three battalions of fresh North Vietnamese Army troops had come down the Ho Chi Minh Trail and were waiting.
"When the fight began, it was furious. The NVA troops came out intent on killing us all," Moore said. About 50 percent of his men were killed or seriously wounded.
The men were some 20 miles in the middle of enemy territory, surrounded by a force seven times larger than their own.
The three-day battle, Nov. 14 to 16, left 79 infantrymen and one Air Force pilot dead and another 130 men wounded, some of them horribly, Galloway said. It happened in a space no bigger than a football field.
It was followed a day later, 14 miles away, by the battle at LZ Albany, during which 154 American troops were killed in an ambush.
The two battles were part of the 34-day Pleiku Campaign, which lasted from Oct. 23 to Nov. 26, 1965. Counting the skirmishes before and after the two major battles, 305 Americans died - more than in the entire first Gulf War, Galloway said.
According to the MOH citation: "Major Crandall's bravery and daring courage to land under the most extreme hostile fire instilled ...in the ground forces, the realization that friendly wounded would be promptly evacuated. This greatly enhanced morale and the will to fight at a critical time."
The citation further reads: "He completed fourteen landings on medical and re-supply missions under intense enemy fire and retired from the battlefield only after all possible service had been rendered to the infantry troops."
Of 31 helicopter loads of ammunition and supplies brought into the LZ after it was closed, Crandall's helicopter flight brought in 28. And of the approximately 78 wounded in action who were evacuated, Crandall's flight took out 70.
Crandall's courage is depicted in the movie "We Were Soldiers," adapted from the book "We Were Soldiers Once...And Young," by Moore and Joe Galloway, a United Press International war correspondent who experienced the battle at LZ X-Ray with Moore's men.
Posted by: Tincan Sailor at February 26, 2007 01:43 PM
---
My son is with the eight-ballers aboard the John C. Stennis (CVN-74). Thanks for the photo.
Jim

Posted by: Jim Warren at February 26, 2007 04:45 PM
---
Jack, yes, there is so much out there the media could do to be supportive of our troops. Gosh so many wonderful stories they could take a new story every night and never run out. That would be so inspirational to the troops, their families and those enlisting in the future too. And the enemy would hate it. That part I especially love. heh heh
Posted by: Wild Thing at February 26, 2007 11:40 PM
---
Tincan Sailor thank you so much.That was great! Our guys are totally awesome.
Posted by: Wild Thing at February 26, 2007 11:41 PM
---
Hi Jim, thank you for telling about your son. Please thank him for me and for everyone here at this blog. Most of those commenting here are Veterans and know well the cost of our freedom. Thank you so much and God bless your son and keep him safe always.
Posted by: Wild Thing at February 26, 2007 11:43 PM
---