« Muslim Rep. Ellison Calls The Cops To Snuff Tancredo's Cigar | Main | Hillary Buys Black Vote in South Carolina »
February 15, 2007
A Gathering Of Eagles ~ March 17 ~ Vietnam Veterans Wall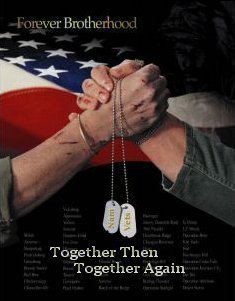 Leftist activists who march to the Pentagon next month will discover that their path won't be as clear as it has been in the past.

The group, led by Cindy Sheehan, Jane Fonda, Ramsey Clark and their ilk, plan to gather March 17 at the Vietnam Memorial Wall to begin a march to protest America's involvement in the Iraq war. The date marks the fourth anniversary of the war's beginning.

This time, however, protestors will see objectors if they spit on Iraqi veterans again, or throw paint on a war memorial. This time, they will encounter a buzz saw of Vietnam veterans and supporters who will gather to protect the Wall, and show their support for U.S. troops. The counter-protestors are calling themselves the Gathering of Eagles.
Click the image to learn more, then check out the new Gathering of Eagles blog here and the forum here. It's time to get involved, people. If you can't make it to Washington that day, won't you at least help spread the word?

"We'll be there to act as a countervailing force against the Cindy Sheehan-Jane Fonda march from the Vietnam Memorial to the Pentagon," retired Navy Capt. Larry Bailey said. "We will protect the Vietnam Memorial. If they try to deface it, there will be some violence, I guarantee you."

Bailey and thousands of his fellow Vietnam vets are worried that the anti-war protesters will damage the wall, just as they spray-painted the steps of the Capitol at their last march.

The wall is sacred to the men and women who fought in that war.

"It is our contact with our dead brothers -- those who lost their lives in the cause of their country," Bailey said.
"And so it is that Washington will see a Gathering of Eagles - Americans determined to stand up against leftist propagandists who denigrate U.S. troops and the mission for which they sometimes sacrifice their lives.

Retired Col. Harry Riley organized the Gathering of Eagles. Organizers hope thousands will show up in Washington from as far away as Hawaii, and they won't only be Vietnam veterans. Families, friends and veterans of other wars, including Iraq, and soldiers still on active duty, will be there to defend the Wall.

"When we say a gathering of eagles, that signifies people who support the American way," Bailey said.
Rolling Thunder ® will also be joining "Gathering of Eagles"

The ENEMY
The movement is well-financed. Its sponsor list is lengthy and contains highly recognizable names, as well as those of Fonda and Sheehan: · Former U.S. Attorney General Ramsey Clark (who offered his services to defend Saddam Hussein)
· Ultra-liberal Congresswoman Maxine Waters
· Former Congresswoman Cynthia McKinney
· Ron Kovic, Vietnam veteran and author of "Born on the 4th of July"
· Mahdi Bray, executive director, Muslim American Society Freedom Foundation
· Waleed Bader, vice chair of the National Council of Arab Americans and former president of Arab Muslim American Federation
· Medea Benjamin, co-founder, CODEPINK and Global Exchange
· Free Palestine Alliance
· Muslim American Society Freedom Foundation
· Islamic Political Party of America
· FMLN (Farabundo Marti National Liberation Front)
· Islamic-National Congress
· Gay Liberation Network
· Muslim Student Association
· Jibril Hough, chairman, Islamic Political Party of America
On 27 January 2007 Law Enforcement Officers Allowed Anti War protesters to Spray slogans on the U.S, Capitol steps.
On 27 January 2007 Law Enforcement Officers Allowed Code Pink to desecrate the Lone Sailor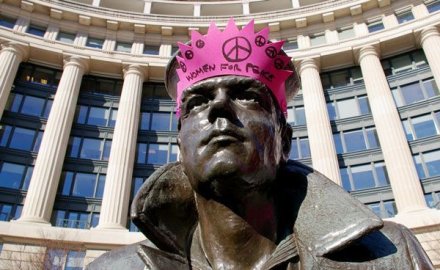 POS Cindy Sheehans response to Gathering of Eagles.

THE SPIRIT OF THE WALL
The Viet Nam Veteran's Memorial


I STOOD BEFORE THE WALL TODAY ...
COMPLETELY UNPREPARED
FOR THE BITTERSWEET EMOTIONS
THAT RAINED DOWN UPON MY HEAD.

MORE THAN THIRTY YEARS HAVE COME ... AND GONE
SINCE THAT AWFUL WAR WAS FOUGHT ...
I THOUGHT THE PAIN HAD 'GONE AWAY'
I WAS SURPRISED THAT IT HAD NOT.

WE SENT OUR BEST AND BRIGHTEST LIGHTS
TO A JUNGLE FAR AWAY ...
WHERE FOR A CAUSE SO GOOD AND NOBLE,
WE COMMITTED TO THE FRAY.

I CANNOT BEGIN TO TELL YOU
OF ALL THE PAIN WITHIN THE WALL ...
OR HOW IT WAS 'WE, THE PEOPLE'
WHO SCORNED OUR SOLDIERS, ONE AND ALL.

AS I LOOKED AT ALL THE MANY NAMES
ENGRAVED UPON THIS WALL
I REACHED OUT WITH A TREMBLING HAND,
AS IF ... TO CATCH THEM ... AS THEY'D FALL.

MY HEART, I THOUGHT, IS BREAKING
FOR THE LIVES THEY'D NEVER KNOW ...
AND, AS I HEARD THAT LONELY BUGLE PLAY.
I THOUGHT OF THOSE WHO'D LOVED THEM SO ...

AND THEN ...
I SAW A MAN - NO LONGER YOUNG
KNEELING AT THE WALL...
HIS FINGERS TOUCHED BUT JUST ONE NAME ...
I HEARD HIM WHISPER ...'THROUGH IT ALL'

OUR SOLDIERS NEVER FALTERED ...
NEVER SAID THEY WOULDN'T GO ...
AND , AGAIN, THIS DAY, THEY FIGHT FOR ME
IN SPITE OF 'EVERYTHING THEY KNOW'.

I STOOD BEFORE THE WALL TODAY ...
AND REMEMBERED.

from: In The Spirit of Things
(All Rights Reserved)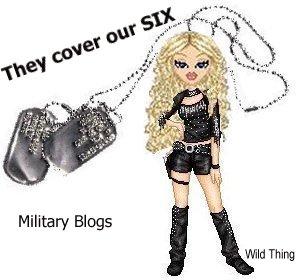 Wild Thing's comment.....
At the anti-war protest in Washington , D.C. 2 weeks ago there was A LOT of damage done at the Capitol steps. We cannot and will not allow this to happen at The Wall or to any of our memorials.
I hope and pray I will be able to go. I fell back in November on our kitchen floor after stubbing my toe on a hutch at the entrance of the kitchen. The floor is tile ( very hard) and I really messed myself up. My left thumb they told me has the bone ripped away from the knuckle. My right knee is numb I guess I messed up my nerve endings in my kneecap. And my left deltoid and humus has been in pain now for 3 months. I go today to get an MRI done to see if something is needing to be fixed like the bone or the muscle might be torn. I pray it can be something I won't need a stupid operation, because it if is I can't go. And I want to go so badly. I put off the MRI because I kept thinking it would get better. augh! No such luck and it is killing me. haha sheesh what a mess. I still feel like a Mac truck hit me. And all because I stubbed my toe, how stupid is that.
I am only mentioning these things because if there is anyway to be there I truly feel this is so important. I want to go. If I can't go of course I will be there in spirit and in my heart and soul. If not it would only be due to surgery and needing to stay away from long trips for awhile. My fingers are crossed and I am filled with hope and a prayer that I can make it.
To those of you new to this blog please feel free to visit my Tribute to Vietnam Vets page at my website.
We just can't let vile groups like this do what they are going to do without fighting back. .......ANSWER Coalition: Free Speech Victory! Permits Secured for Pentagon Demonstration ( Party for Socialism and Liberation)

This is not only a Hat Tip to some other blogs but also a thank you to others that have sent this to me that do not have blogs.
Thank you to Cuchieddie
Thank you to John 5 VN 69-70
* Conservative Insurgent blog (Jack)
Posted by Wild Thing at February 15, 2007 12:55 AM
---
Comments
Thanks for the link and big thanks for your support. Wanted to let you know that Kit and Heidi have created a new Gathering of Eagles forum separate from the one you linked to. There's a link at the top of the Gathering of Eagles blog and a post in the blog that discusses the situation.
Posted by: Bill Faith at February 15, 2007 02:19 AM
---
Thank you for the link, and all that wonderful support WT. We can't let these pukes desecrate the memory of our fallen fellow Americans. Thanks Bill, John 5 VN 69-70, Cuchieddie and all you veterans and patriots.
Posted by: Jack at February 15, 2007 02:37 AM
---
Not at all a stupid accident - I've done more inelegant things, thankfully without that level of damage. I'll be praying for a speedy recovery. You've got a lot of grit still blogging with all that pain.
Posted by: Linda F at February 15, 2007 06:05 AM
---
It's about time we stepped up and gave these lefties a piece of our mind!
Yes, they have their opinions, but so do we--some of us have had family members in every war back to the French and Indian Wars of the middle 1700s and the military runs strong in our veins--it is our lifeblood and our lifeline.
Gathering of Eagles? FANTASTIC!!!!
Semper Fi from one Devil Pup who appreciates all you all are doing! Keep up the wonderful work--if it weren't for you, we couldn't have the nation we have today, where we ARE allowed to express our opinions!
Let's plow the road!!!!!!!
Posted by: Lynn at February 15, 2007 06:23 AM
---
Since we are moving to Pa I will be closer to DC, Who is the contact for this, and where do I sign up.
Will I volunteer to go ... Hell yeah !
Posted by: Mark at February 15, 2007 06:53 AM
---
I want to go, but can't. I hope the vets and their supporters number in the many tens of thousands. Rolling Thunder should be able to get a large group together. I wonder if the government will put the brakes on active duty people going. It would not surprise me if Sheehan and Fonda and their bunch might change their plans and avoid the Vietnam Memorial now. It would also not surprise me if the MSM barely mentions the Gathering of Eagles.
Posted by: TomR at February 15, 2007 12:07 PM
---
Good Luck with your MRI today Wild Thing.
Posted by: TomR at February 15, 2007 12:09 PM
---
Yeah WT good luck with that MRI.
Posted by: Mark at February 15, 2007 12:45 PM
---
So sad to hear about your personal injury WT, get it taken care of. I've let a few 'dings' go unattended and have paid the price with arthritis setting in later. Don't let that happen to you. Hope you are well soon, Godspeed for a full recovery.
Posted by: Jack at February 15, 2007 01:31 PM
---
I can't go either. WT, we'll have a formation when you're up to it. You deserve a Purple for your dedication to our causes.
Posted by: Rhod at February 15, 2007 01:45 PM
---
Thanks for the link to Cindy Sheehan's blog. I just commented there with this:
It's really getting tiring of listening to how you refer to your son, Casey, as some stupid ignorant child who was lied to by his recruiter. You can make that claim during your son's first enlistment but not during his second enlistment. You never mention how he reenlisted after the start of hostilities in Iraq. When a man or woman reenlists in the military, they know what is going on and what to expect. Unless he was some simple minded buffoon, he reenlisted with his eyes wide open and with the knowledge of what to expect in the Army. He probably knew more about the Army than his recruiter did. Every man and woman in uniform since the early 1990's knows they may be deployed into hostile territories. Why not give your son, a grown man, some credit for the decisions he choose to make.
What I really admire about your son is how he grew up in a presumably military hating leftest household but chose to serve his country in the military. I can only imagine your reaction when he first enlisted and then choose to reenlist, hoping to make the Army a career. After all, he loved the Army, saying "it was just like the Boy Scouts, but they got guns." By reading the facts surrounding your son, it's plainly evident that his beliefs were diametrically opposed to yours. But, don't fret about it as your not the first and won't be the last mother who thought she really knew her son but didn't.

Posted by: BobF at February 15, 2007 07:11 PM
---
Hi Bill, thank you so much.
Posted by: Wild Thing at February 16, 2007 01:20 AM
---
Jack this might very well be one of the most important times that we get a chance to let them know we outnumber them. I am gonig to pray really hard that those that can go make it there safely and....... oh gosh how exciting this would be.
Thank you Jack.
Posted by: Wild Thing at February 16, 2007 01:22 AM
---
Hi Linda F. nice to see you. And thank you too for the well wishes and prayers.
Posted by: Wild Thing at February 16, 2007 01:23 AM
---
Lynn I love what you said. LOVE it! Thank you for being here. I agree it sure is about time we let the lefties have it big time. Tah dah!
Posted by: Wild Thing at February 16, 2007 01:25 AM
---
Mark, that is great! I will email you the link and maybe there should be a list of various people to choose from to contact.
Thank you Mark about the MRI, I tried to be a brave soldier. Only broke down a little and cried, but then regrouped and handled it. :)
Posted by: Wild Thing at February 16, 2007 01:26 AM
---
Tom, thank you so much. The MRI was painful but I know it had to be done. augh!

You might be right about the lefties changing their minds if they know how many of the good guys are coming. I really think the left will be way outnumbered, I hope I am right about this.
Those of us that can't make it can be on here and watching the TV to cheer them on.

Posted by: Wild Thing at February 16, 2007 01:35 AM
---
Jack thank you, I needed to hear that because I do tend to put medical stuff off, and just think oh heck it will get better on it's own. Nick said to listen to you and to him too and realize I have to take care of this or be sorry later. sigh
Thank you for the advice.
Posted by: Wild Thing at February 16, 2007 01:41 AM
---
Rhod, oh thank you so much. I just hate missing this so much. I am feeling better about it from what you said and others. Yes we can have a formation later, that would be great! ( big smile)
Posted by: Wild Thing at February 16, 2007 01:44 AM
---
Bob, that is GREAT! Wow! I love what you wrote at her site.
Posted by: Wild Thing at February 16, 2007 01:45 AM
---

From Blackfive

An update on the Gathering of Eagles including the mission statement from the Rehead Infidel herself.
Since the MSM is giving us the cold shoulder, while continuing to promo the Cindy Sheehan/Jane Fonda/Ramsey Clark anti-war march, we must rely on people like yourself to help get the word out.Will you help? If so or if you already have, please let us know at webmasters@gatheringofeagles.org and we will be sure to list your website under Participating Websites or Media.
The Silent Majority in America is SILENT NO MORE. We will no longer
permit the anti-war, anti-military message be the only thing our soldiers in the field hear.
--
Heidi Thiess
(aka Redhead Infidel)
www.gatheringofeagles.org
www.euphoricreality.com
www.guardtheborders.com
"The moral difference between a soldier and a civilian is that the soldier accepts personal responsibility for the safety of the body politic of which he is a member. The civilian does not. --Robert Heinlein
Personally I think she needs a few more websites and causes, she's slackin'

Posted by: Tincan Sailor at February 16, 2007 05:24 PM
---
Yep WT, I'll be there as well as my wife and one of my sons.... Looking forward to it.
Posted by: Robert at February 16, 2007 08:47 PM
---
Tincan Sailor thank you so much for the information.
Posted by: Wild Thing at February 17, 2007 12:27 AM
---
Hi Robert, that is so fantastic. Thank you for telling me I will be thinking of all of you there and wishing so much I could be too. waaaa
I sure hope they have it on TV so I can tape it. Maybe C-Span will have it.
Posted by: Wild Thing at February 17, 2007 12:28 AM
---
It's great to hear all of you in support of the troops. Thank you. The Vietnam Vets Motorcycle Club, along with the Legacy Vets M/C and Second Brigade M/C, will also be there to support GOE. Unfortunately I won't be able to join you all. Don't let the lefties hog all the publicity, but above all else - be safe.
Posted by: BubbleHead at February 26, 2007 09:01 AM
---