« Heather Martin Sings A Song For Her Brother Serving In Iraq | Main | CNN Identifies Osama bin Laden as "Obama" »
January 02, 2007
Saddam's Daughter Raghad gives Her Rah-gards To Protests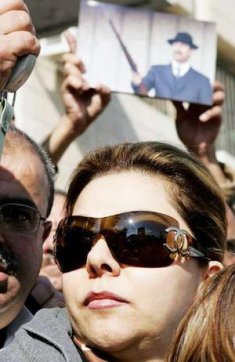 Raghad Saddam Hussein stopped in at the demonstration staged by the Professional Associations — a body that groups unions for doctors, engineers and lawyers — in its office parking lot in west Amman.
"God bless you, and I thank you for honoring Saddam, the martyr," two witnesses recalled Raghad Saddam Hussein as telling the protesters, who included a junior Cabinet minister, on her arrival. She left a minute later.
Raghad, who supervised her father's legal team, has lived in Jordan since shortly after Saddam's overthrow in April 2003. The Jordanian authorities have told her not to get involved in political activities.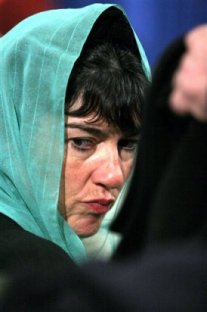 CNN's Christiane Amanpour reacts to news of Saddam's death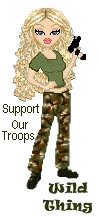 Wild Thing's comment......
Martyr Shmartyr! I can't help it.....Raghad/Raghead is nothing more then a female Saddam. It was 10 years ago that daddy killed her husband and her sister's husband within 72 hours of guaranteeing their safety in returning to Iraq.
Both husbands were also cousins of Saddam and had fled into exile in Jordan. They hung around Jordan for 6 months, increasingly depressed because no one in the Western or arabic world trusted them. Finally they took Saddam's word that all was forgiven and they could return to Baghdad. Unbelieveably to all observers, they were dumb enough to go back home, and by most accounts it was Uday that was handed the plum assignment of killing them.
Raghad is still roaming free even though she is wanted for funneling money to terrorists. She's under the protection of the Jordanian government.
Posted by Wild Thing at January 2, 2007 12:44 AM
---
Comments
I hope Radhad isn't breeding and helping keep that gene pool going. I would bet she cares less about daddy and more about access to daddy's loot.
Her husband had to be one of the most stupid suckers ever. I remember the pundits predicting his demise when he returned to Iraq. Lots of folks though he would only live for a few months, but Saddam killed him in just a few days.
Posted by: TomR at January 2, 2007 11:56 AM
---
Bingo Tom!!! Follow the money, the one thing that's for sure in that family is that blood is thicker than water. I think the only reason she hasn't ascended to some form of power is due to the fact that Islam holds females subservient. It begs the question, was she as depraved as her brothers?
We can't underestimate the hatred for human dignity and life that is held in esteem by the muzzies.
Posted by: Jack at January 2, 2007 01:28 PM
---
Tom, omg I never even thought about that. I wonder if she has kids.
Posted by: Wild Thing at January 3, 2007 12:31 AM
---