« Hanoi Jane to Protest Iraq War at Navy Memorial Sat. | Main | I Am Taking The Pledge For Our Troops »
January 25, 2007
Operation Tomahawk Strike II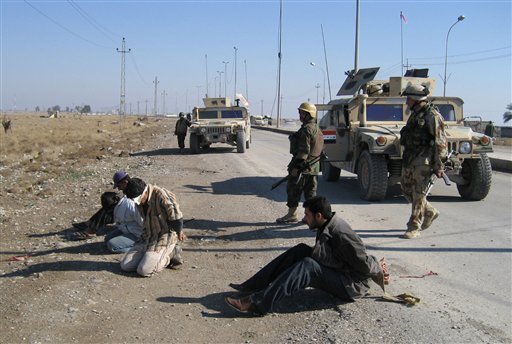 Blindfolded people are detained at the side of the road after an Iraqi army patrol came under attack in Baqouba, 60 kilometers (35 miles) northeast of Baghdad, Iraq, Wednesday Jan. 24 2007. (AP Photo/Talal. M. al-Dean)


U.S., Iraqi Troops Kill 30 Militants
BAGHDAD, Iraq - U.S. and Iraqi troops battled Sunni insurgents hiding in high-rise buildings on Haifa Street in the heart of Baghdad Wednesday, with snipers on roofs taking aim at gunmen in open windows as Apache attack helicopters hovered overhead.
Iraq said 30 militants were killed and 27 captured.
New details also emerged about the downing of a private U.S. security company helicopter on Tuesday, with U.S. and Iraqi officials saying four of five Americans who died in the incident were shot execution-style. Violence was unrelenting in Iraq on Wednesday, with at least 69 people killed or found dead, including 33 tortured bodies found in separate locations in Baghdad.
Iraqi army and American troops moved into the Sunni stronghold to launch targeted raids in a third bid this month to clear the neighborhood of militants. Armored vehicles massed along Haifa Street, where a median with trees separates four lanes of traffic lined by tall apartment houses built by Saddam Hussein for loyalists and dissidents from other Arab countries, mainly Syria.
The U.S. military said the combined force in the operation, dubbed Tomahawk Strike II, detained seven suspected insurgents and seized heavy weapons, including many rocket-propelled grenades, anti-tank rounds and 155 mm artillery rounds. The Iraqi Defense Ministry said 30 insurgents were killed and 27 captured, including four Egyptians and a Sudanese.
Posted by Wild Thing at January 25, 2007 12:44 AM
---