« Murtha Proposes Bill To Choke Funding For Surge | Main | Muslim-only Kitchen Kit For Jails »
January 15, 2007
North Korea Conducts Emergency Drill Of Top Security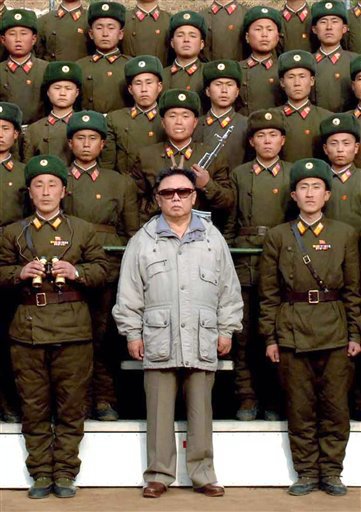 I rrrear my sungrasses at night
It reminds me of the 80's song......by Corey Hart - "Sunglasses At Night".

North conducts emergency drill of top security
January 15, 2007
Joong Ang Daily
Several security organs directly in charge of the safety of North Korea's leader, Kim Jong-il, conducted an emergency drill in Pyongyang on Friday, intelligence sources from South Korea and the United States said.
Military troops and tanks from the Pyongyang Defense Command were deployed rapidly while increased military communications were noted that day.
In addition, the Escort Bureau, in charge of protecting Mr. Kim, also had a busy day, the sources said. The incident sparked a flurry of activity by the South's intelligence community, as the increased military activity in the North's capital did not fit the usual pattern of winter drills conducted by the North's military.
The fact that security organs closely guarding the North's leader's safety were involved in the activities sparked momentary suspicion among some sources that a military coup might have occurred in the North.
By the end of the day, however, intelligence officials here concluded that the drill was to prepare for any unforeseen changes inside the power structure of Kim Jong-il's inner circle.
A source familiar with the circumstances said, "We have confirmed that the activities pertained not to a real situation but were part of a drill to respond to a possible scenario."
The source added that the situation did not require an emergency meeting by authorities in the South.
Nevertheless, intelligence officials said that drills of this kind rarely happen in the North.
Posted by Wild Thing at January 15, 2007 12:47 AM
---
Comments
Talk about clones. Do they all look alike or what ?
Posted by: Mark at January 15, 2007 12:15 PM
---
Why is the guy with the gun wearing lipstick?
Posted by: Billy at January 15, 2007 12:58 PM
---
Does Kim have an ego requirement that all his security guards be as short as he is?
Posted by: TomR at January 15, 2007 02:00 PM
---
Posted by: Jack at January 15, 2007 02:36 PM
---
Mark hahahahaha they sure do. Like cardboard cut outs.

Hahahaha
Posted by: Wild Thing at January 15, 2007 11:58 PM
---
Billy, omg I had not noticed that before..LMAO

Maybe it is lipgloss. haahha not sure.
Posted by: Wild Thing at January 15, 2007 11:59 PM
---
Tom, maybe he does. Like the Rocketts in New York have a height they require.
hahhaa
Posted by: Wild Thing at January 16, 2007 12:00 AM
---
Jack, oh yesss Tom Cruise. heh heh
Posted by: Wild Thing at January 16, 2007 12:00 AM
---