« Death Squad Leaders Flee Iraq Before Surge | Main | To War Protest Freaks ~ Burn In Hell! »
January 29, 2007
Incoming For Those 72 Virgins As 300 Insurgents Killed in Battle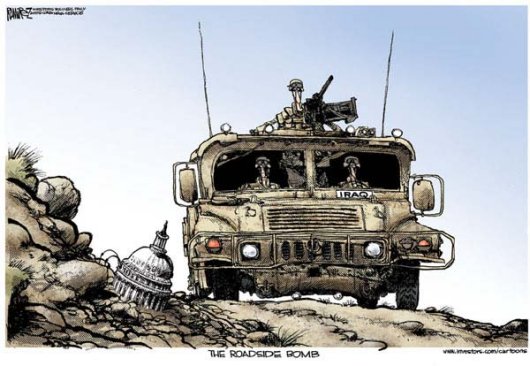 At Least 250 Militants Killed During Battle in Iraq
Fox News
BAGHDAD, Iraq — U.S.-backed Iraqi troops on Sunday attacked insurgents allegedly plotting to kill pilgrims at a major Shiite Muslim religious festival, and Iraqi officials estimated some 250 militants died in the daylong battle near Najaf.
Authorities said Iraqi soldiers supported by U.S. aircraft fought all day with a large group of insurgents in the Zaraq area, about 12 miles northeast of the Shiite holy city of Najaf.
Col. Ali Nomas, spokesman for Iraqi security forces in Najaf, said more than 250 corpses had been found. Iraqi army Maj. Gen. Othman al-Ghanemi also spoke of 250 dead but said an exact number would not be released until Monday. He said 10 gunmen had been captured, including one Sudanese.
The U.S. command announced the arrest of 21 suspected terrorists, including an Al Qaeda courier, in a series of raids in Baghdad and Sunni areas north and west of the capital. Three are believed to have close ties to the leadership of Al Qaeda in Iraq, the military said.
And there is also this story I found really interesting. Cracking down on those helping the insurgents..........
Police chief sacks 1,500 officers
TimesOnline
The mayor of Baqouba and 1,500 policemen in Diyala province have been fired in a bid to end the raging violence in the region northeast of Baghdad, the provincial police chief has said. Ghanim al-Qureyshi, who took over police operations in the violent province after his predecessor was sacked last month, said Mayor Khalid Al-Senjeri, a Sunni Muslim, was dismissed over suspicions he was collaborating with Sunni insurgent fighters. Only last week, the mayor was reported kidnapped by Sunni insurgents who blew up his office in Baqouba and stole several new police vehicles. He was released a few days later. Baqouba is the Diyala province capital.
UPDATE:
It is now 2:35 a.m. on Monday and this is the latest post from Yahoo News, the number of kills is now up to 300!
U.S., Iraqi forces kill 300 militants in Najaf
The U.S. military said on Monday it was an ongoing operation so it could not provide any details.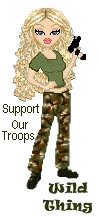 Wild Thing's comment.......
That mortar fire came from those guys who Al Sadr told us had put all their weapons away. Let's see, how long was his word good for.... three days, maybe? I am not surprised, these people cannot tell the truth. The Quran teaches them to lie.
Putting a bacon wrapped bullet through their brains is just too good a death for them but it is a start.
Prayers for all the troops and great shooting. I love it, it's take down time. The Democrats must be really depressed right now. Too bad....NOT.... I don't feel sorry for them. Bela Pelosi and the Out-House leaders: Rangle, Dangle, Dingle & Bungle and their enforcer, Henry Whacksman were getting ready to go through the de-funding motions.
Instead, they got the first nail in their two-year coffin! LOL
Open their eyes, give 'em bloody hell, brave troops, and God Bless You!!
Posted by Wild Thing at January 29, 2007 02:47 AM
---
Comments
Hmmm, 300 x 72. That's 21,600 virgins. I wonder if you have to call ahead for an order that large. Funny, Islam is probably the only religion where a woman can go from a virgin to a slut that quickly.
Posted by: Billy at January 29, 2007 12:16 PM
---
It's great to get a big bunch of the bastards in a stand-up pitched battle like this. Just think how many sniper and IED incidents have been prevented by this kill count. It is always good to capture a few also, especially if you can have the indigenous troops responsible for interrogating the prisoners. Makes it harder for the damned JAG lawyers to make a case if the locals handle the prisoners. Heh, heh!
Posted by: TomR at January 29, 2007 12:42 PM
---
Good start, get Muqtada al Sadr and most of the problems will vanish, he's playing both ends from the middle, put a bounty on the bastard. I agree with Tom, let the indigenous interrogate the prisoners and dispense with them. If Ramsey Clark shows up feed him to the pack, I'd like nothing more than to see him doing the slow Benito Mussolini rope twirl at the green zone gates. Clark is only one of many WT, you've named some of the usual suspects.
Posted by: Jack at January 29, 2007 01:41 PM
---
72 virgins for every Jihadi thats an awful lot of virgins, can you imagine if they all get PMS the same time every month. That's not heaven, that would be pure hell...And then you would hear the famous anti-war protest, 'pull out now.'
Posted by: Mark at January 29, 2007 03:39 PM
---
Mark- moslem virgins don't get PMS. Being 6 and under, they are too young. MoHAMmed and his bunch are sexual perverts.
Posted by: TomR at January 29, 2007 09:23 PM
---
bacon-wrapped bullet? Be a shame to waste perfectly good bacon on a islamic turd. How 'bout we soak the rounds in pigs blood instead. Then fry up the bacon and the end of the day.
Posted by: raz0r at January 29, 2007 10:44 PM
---
Billy, LMAO I love it hahahhaa
Posted by: Wild Thing at January 30, 2007 03:26 AM
---
Tom, heh heh is right. I ditto that.
Posted by: Wild Thing at January 30, 2007 03:27 AM
---
Jack I would love to hear one day that Ramsey Clark was just a little too close to the action and oh dead me...NOT.... poof it is the formerly known Ramsey Clark.
Posted by: Wild Thing at January 30, 2007 03:28 AM
---
Mark hahahahhahaha I about died when I read the name of the vile protest. I guess they aren't sexual or they surely would have though of a better name. hahahhahhaa

Posted by: Wild Thing at January 30, 2007 03:30 AM
---
razOr good one, good recipe. heh heh
Posted by: Wild Thing at January 30, 2007 03:30 AM
---
We are better off today than we were eight years ago

Posted by: hair everywhere at February 3, 2007 12:32 PM
---
Hair everywhere, we sure are. And I just hope people keep thanking those we owe this too, our troops too. Thank you.
Posted by: Wild Thing at February 3, 2007 06:00 PM
---