« Muslims Protest Fast Food Franchise | Main | Where's a Tsunami When You Really Need One? »
January 07, 2007
In Country With Our Troops ~ Thank you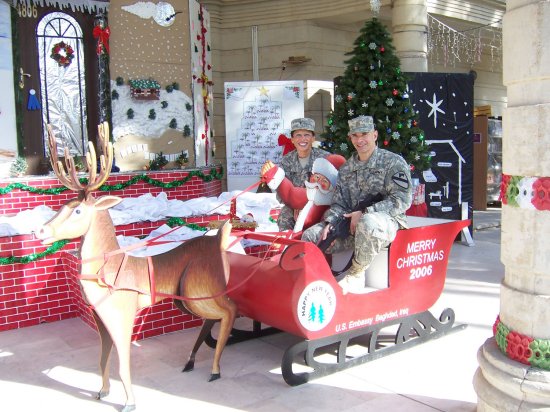 First Lt. Sonia Nieves and her brother, Maj. Rafael Saenz, spent the last two years apart, but were able to reunite for Christmas in Baghdad's International Zone.

Brother and sister soldier team reunites for Christmas in Baghdad

BAGHDAD – A brother and sister soldier team who had not seen each other for two years were reunited on Christmas Eve in the International Zone while deployed in support of Operation Iraqi Freedom.
Maj. Rafael Saenz, an active duty battle major assigned to 1st Cavalry Division based in Fort Hood, Texas, and 1st Lt. Sonia Nieves, a reservist Health Services Advisor for the Baghdad Provincial Reconstruction Team assigned to the 422nd Civil Affairs Battalion from Greensboro, N.C., were grateful they could spend time with family for the holidays in of all places, Iraq.
Growing up in Puerto Rico, they share a combined 39 years of Army service. Saenz is on his second stint with OIF and has been in-country this time for three months. Nieves has been here for eight.
"Walking around the FOB [Forward Operating Base] with my sister is like walking around with a politician! She knows everybody here and everybody here knows her," said Saenz.
Saenz and Nieves had not seen each other since Christmas 2004.
"We had a great Christmas this year! We drove around the IZ, took pictures at the Crossed Swords, checked out the new embassy, went to shops at Camp Prosperity, looked at the 14th of July bridge and toured the palace," said Nieves. "We talked about family and reminisced. It was nice to catch up and to see a familiar face."
That familiar face needed a little luck to make the trip from Camp Liberty to see his sister in the IZ.
"This reunion almost didn't happen," said Saenz. "I had two ways of getting to here - fly by helo or via convoy - and both can be difficult to catch a ride on, especially on Christmas Eve!"
He tried both, and got bumped from both. He did eventually get a ride, but the trip was anything but uneventful.
"Luckily, I was able to jump on convoy with the 1st Cavalry Band that was traveling to the IZ to perform," he said. "On the way we crossed paths with an Iraqi who had a gunshot wound to the shoulder. We stopped to render aid, picked him up and took him to the Combat Support Hospital."
After pulling an all-night shift, Saenz started the trip at 9 a.m. and had to be back to work at 9 p.m. He said losing a few nights of sleep was worth it to be with family for the holidays.
"It is difficult being away from my wife and kids during the holidays, this is two years in a row now and it is hard," said Saenz. "So it was so great to take this chance and meet up with my sister, spending time with her during this special time of the year means a lot."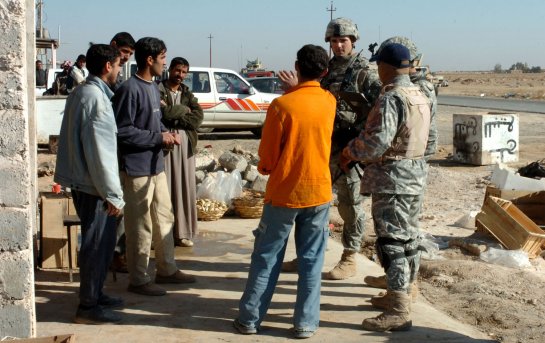 Soldiers from A Co., 2nd Battalion, 505th Parachute Infantry Regiment, 82nd Airborne Division talk with merchants in front of their produce store outside the city of Samarra. The meeting was an opportunity for the Soldiers to make it clear that they were fighting for the merchants' security.

Paratroopers have say in word on the street
By Sgt. Michael Tuttle
5th Mobile Public Affairs Detachment
SAMARRA — A group of 82nd Airborne Division Soldiers met with local merchants at their storefronts along Tar Tar Road outside the city to inform them about operations in the area.
The talks are part of efforts by A Company, 2nd Battalion, 505th Parachute Infantry Regiment to counter rumors and misinformation spread by insurgents to the local Iraqi public, said Capt. Adisa King, A Co. commander.
"It's a chance to tell the public what we're about," said 1st Lt. Daniel Robbins, platoon leader. "We can give them information directly so they understand what our purpose is and that we're fighting for their security."
Robbins first made sure that the merchants understood the need for his platoon to block off the street in front of their stores while they spoke. He described the dangers of vehicle borne improvised explosive devices and explained why local drivers must stop at cordons.
The area near the businesses on Tar Tar Road has been a hot spot for insurgent activity, including five to eight IED attacks there per month, according to Robbins. The merchants were also informed of a large weapons cache uncovered recently in the area.
This exchange of information will hopefully build more trust and cooperation among the Soldiers and the locals.
"We are trying to gather information and learn about them, as well as make it clear why it's important for them to fight the insurgency," said Robbins.
Robbins handed out tip cards to the merchants that included his unit's contact information in Arabic. He offered to help them if their businesses faced any type of threat.
"We will fight for you but we need you to help us out," Robbins told a group of merchants before moving on. "You're out here all the time. If you see anything, give us a call."
The tips cards have been an effective way to continue communicating with locals.
"We have gotten calls fairly frequently," Robbins said. "Sometimes they're scared to give us information on the street and feel safer talking on the phone."
Posted by Wild Thing at January 7, 2007 12:44 AM
---
Comments
Another effort that will go unreported by the media that's too preoccupied sniffing the backside of Pelosi and undermining the country.
Posted by: Jack at January 7, 2007 05:47 AM
---
Jack, what a perfect way to put it...
"preoccupied sniffing the backside of Pelosi and undermining the country."....thank you.

You are so right, I dream of a time that could be and we would have a media that would tell us these great things about our troops. Dream being the key word as I know it will never happen.
Posted by: Wild Thing at January 7, 2007 12:05 PM
---
Posted by: TomR at January 7, 2007 02:10 PM
---
What terrific articles!!!
And who did Sean Hannity have on his show today? That woman who shall not be named: Another CA liberal media pet and waste of airtime.
When there are parents, at home here, of soldiers like these who are doing so many incredible things. It's just wrong!
Posted by: yankeemom at January 7, 2007 11:13 PM
---
Tom, (big smile) they sure do.
Sometimes when I feel so upset about what is going on with our government etc. (the borders, the oh man the whole thing) I go and read what are troops are doing and I feel so much better. I feel safer, and it quiets my soul in some way.
Posted by: Wild Thing at January 8, 2007 04:21 AM
---
Yankeemom, I saw that too. I was talking to the TV hahah telling Sean he was waiting my time and giving air time to her. grrrrr
Posted by: Wild Thing at January 8, 2007 04:23 AM
---