« The Red Chinese Army is proud ~ Hillary Says "I'm In" | Main | Iran's Leader: U.N. Won't Stop Nuke Plan »
January 22, 2007
In Country With Our Troops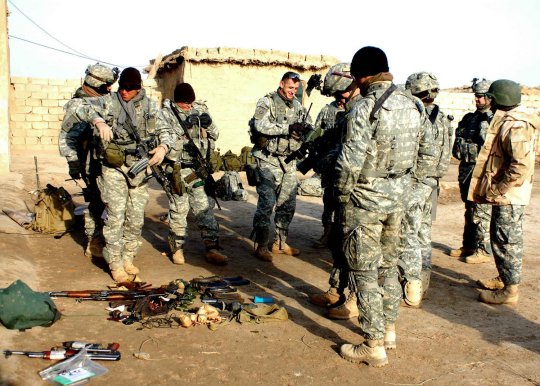 Soldiers use air assets to capture bomb makers in Hawija
Soldiers from B Troop, 5th Squadron, 73rd Cavalry Regiment take inventory of weapons and other items confiscated during a raid on a compound south of Balad Ruz in Diyala province Dec 27. The small village was believed to have been used as a safe haven by anti-coalition forces to traffic people, weapons and money into other regions in Iraq to disrupt security operations by Coalition force members. Photo by Staff Sgt. Samantha Stryker, 5th Mobile Public Affairs Detachment.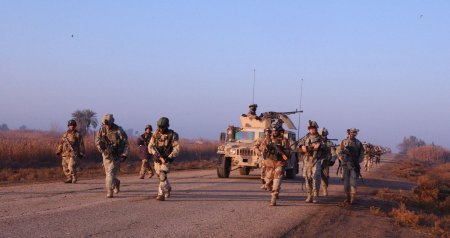 Soldiers clear village, find weapons
JANABI VILLAGE — Multi-National Division - Baghdad Soldiers have been working hard to get the Iraqi Soldiers trained to enable them to take over Iraq's security themselves.
So the recent success of the joint operation which put the entire 4th Brigade, 6th Iraqi Army Division together with Soldiers of the 2nd Battalion, 15th Field Artillery Regiment Military Transition Team and the 4th Battalion, 31st Infantry Regiment, 2nd BCT, was a victory not only against terror, but for the troops themselves.
The operation went smoothly with 600 troops participating.
Some troops air-assaulted into the village under cover of darkness, while the main force convoyed to the village, marching in at first light to search houses and fields, seeking weapons caches and suspected terrorists.
"It went very well for such a large operation," said Capt. Art Stringer, a native of Dardanelle, Ark., and the field artillery effects trainer, who planned much of the mission.
"It was a complex operation – the joint air assault, and a large ground assault. Once on site, we used Task Force Iron Claw, engineers and explosive ordnance disposal, and they all combined very well," Stringer said.
"Any time you can let the Iraqis test their boundaries, it's good," he said of the Iraqi army involvement. "It's their battle space, and it helps them build confidence in themselves and in the U.S. forces."
The operation, netted 87 detainees, 12 of whom were on the Iraqi Army blacklist, and several large caches of weaponry, which included rocket-propelled grenades and launchers. A large cache of improvised explosive device making materials was also recovered, which included cell phones, wire and other hardware.
Some residents directed the troops to the homes of suspicious people.
"We got information on two of the guys on the blacklist," said Staff Sgt. Michael Myers, a native of Gasport, N.Y., who serves on a MTT, to one of the Iraqi Soldiers. The squad he was with questioned a man who gave them the information.
"The Iraqi Soldiers are very motivated," Myers said. "They're doing a lot better than they were at first; they're doing more complex missions. They need some more experience with map reading and such, but they did an excellent job creating a secure perimeter. They're doing well."

Paratroopers detain two suspects in south Baghdad
Multi-National Division – Baghdad PAO
KALSU – Multi-National Division – Baghdad troops detained two suspected insurgents during operations in southern Baghdad Jan. 19.
Paratroopers from the 1st Squadron, 40th Cavalry Regiment, 4th Brigade Combat Team (Airborne), 25th Infantry Divisions seized the suspects in a search of vehicles after a tip from an off duty Iraqi Army soldier.
The suspects are being held for further questioning.
Posted by Wild Thing at January 22, 2007 12:44 AM
---
Comments
The best of America, doing their job. Love 'Em!
Posted by: TomR at January 22, 2007 08:20 PM
---
I just love your blog! This is a great post.
Posted by: beth at January 22, 2007 08:51 PM
---
Tom and Beth, they are so awesome.
Thank you both of you.
Posted by: Wild Thing at January 23, 2007 12:52 AM
---
One of those soldiers is my son - Thank You

Posted by: Donna Fortier at February 2, 2007 06:27 PM
---
Donna what an honor it is to meet you. Thank you so much for letting me know that one of the soldiers is your son. I am so grateful to our military for all they do. I have a nephew over there in Special Forces.
Thank you again and take care. God bless you and prayers from me daily for your son and his safety.
Posted by: Wild Thing at February 2, 2007 06:45 PM
---