« Iran Not Happy With Bush 's Strategy ~ DUH! | Main | Royal Marine Sniper Celebrates With Cigar After Killing Taliban Officer »
January 12, 2007
Dodd Enters Presidential Race Now Kerry Not Lonely At Bottom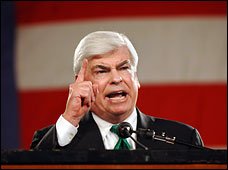 Democratic Sen. Dodd Enters Presidential Race
Sen. Christopher J. Dodd (D-Conn.) plunged into the 2008 presidential race yesterday, an admitted dark-horse candidate for the Democratic nomination who nonetheless said his experience and record qualify him to lead the country at a time of terrorism abroad and economic insecurities at home.
He began his campaign in outspoken opposition to President Bush's newly announced plan to send 21,500 additional troops to Iraq in an effort to quell the violence there. Dodd said he backs a proposal by Sen. Edward M. Kennedy (D-Mass.) that would prevent Bush from deploying any new troops until specifically authorized by Congress.
Dodd voted for the October 2002 congressional resolution authorizing the war, but he said that measure is obsolete, given how radically the U.S. mission in Iraq has changed since the invasion.
He said the new policy will not work. "We have an obligation, before the troops are sent, to vote against it," he said in a telephone interview.
But he said he would not vote to cut off funds for the additional troops once they are deployed. "I'm not going to cut off funds to kids who are sitting in harm's way," he said. "That's why this debate has to happen before they're sent."
Dodd, one of the Senate's leading liberals, is a former general chairman of the Democratic National Committee and has served in Congress for more than three decades. But he begins his bid for the White House overshadowed by Sens. Hillary Rodham Clinton (D-N.Y.) and Barack Obama (D-Ill.). Both are expected to make their intentions known by the end of the month, with Obama's decision coming as early as next week.
Dodd said he is realistic about his campaign but stressed that, given the challenges the country faces, voters will put a premium on experience and leadership in selecting.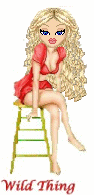 Wild Thing's comment......
Hahaha oh my this is too funny.
Chris Dodd announces he's running for President.... and the nation yawns, rolls over on its right side, and goes back to sleep.
Good news for Kerry. Now Kerry has moved up to second to last place.
Posted by Wild Thing at January 12, 2007 02:55 AM
---
Comments
As I have mentioned before, the more democrats that enter the race the better. They will attack each other, sling mud and hopefully publically air lots of the dirty laundry of each other, Go at it Boys and girls, Attack!!
Posted by: TomR at January 12, 2007 06:24 AM
---
This is the same Dodd who praised Robert Byrd, a former KKK Grand Kleagle.
"I do not think it is an exaggeration at all to say to my friend from West Virginia that he would have been a great senator at any moment," Mr. Dodd, Connecticut Democrat, said while praising Mr. Byrd last week on the occasion of the eight-term Democrat's 17,000th Senate vote.
Mr. Dodd continued: "He would have been right at the founding of this country. He would have been in the leadership crafting this Constitution. He would have been right during the great conflict of Civil War in this nation."
Only a Democrat can say something like that and get away with it.

Posted by: BobF at January 12, 2007 09:26 AM
---
All the rest of the contenders have set up an exploratory committee, not Dodd he just jumped right into the arena, what arrogance!!!
Like Biden and Dean he must think the universe revolves around him. Hmmm, I wonder why the party wants to replace Howard Dean with Harold Ford as DNC Chairman.

The short bus has arrived shall we let the Special Olympics begin, all aboard sycophants.
Posted by: Jack at January 12, 2007 12:18 PM
---
Dodd is a standing joke. He lives nearby, in the converted East Haddam Schoolhouse perched on the Connecticut River. Maybe a $2 million property, obviously bought with his Senator's salary, and the wealth obtained in the same position by his crooked father, Tom Dodd.
Dodd is our Jimmy Carter, seriously infatuated with Latin American dictators. he has all the physical charm of a dung-beetle
larva piggybacking a load of maggots. If he's ever taken a firm position other than the bottom side of a Kennedy sandwich, I'm unaware of it.
I thought Dodd was just a compromising, weak-willed, self-indulgent, boot-licking tool. Now that he's announced his intentions to run for President, I also think he's insane.
Posted by: Rhod at January 12, 2007 01:29 PM
---
Lets hope the Senate Jinx holds and there won't be a democrat that has a chance. With that in mind, the jinx would exclude, Hillary, Osama O'Bama(The Dubliner), Dudd, Biden, the dummest man in the Senate, McClain...er...McCain.
Unfortunately, that leaves Dennis the Menace, from Cleveland or Al 'Twanna' Sharpton, how can we get such nitwits and half-wits to run for president.
Posted by: Mark at January 12, 2007 04:42 PM
---
What a great 100 days this is turning into. Those morons can't wait to sink their ship. Fighting over who gets to run the helm. Have at it. Just hope they don't sink us along with themselves.
Posted by: raz0r at January 12, 2007 06:57 PM
---
Tom I agree let them mud sling at each other.
Posted by: Wild Thing at January 12, 2007 06:58 PM
---
Bob yes, they sure do get away with anything they say. What a tremendous double standard there is.
Posted by: Wild Thing at January 12, 2007 07:00 PM
---
Jack..."The short bus has arrived shall we let the Special Olympics begin, all aboard sycophants."....
Hahahha It's on it's way. hahaha
Posted by: Wild Thing at January 12, 2007 07:01 PM
---
Rhod how awful Dodd is,and what an ego.
Posted by: Wild Thing at January 12, 2007 07:07 PM
---
Mark, wow I had forgotten about the jinx. Thanks.
Posted by: Wild Thing at January 12, 2007 07:09 PM
---
razOr, if they keep this up it will sink all on it's own at least I hope so.
I just pray we get someone to get excited about in our party.
Posted by: Wild Thing at January 12, 2007 07:10 PM
---
Posted by: Tincan Sailor at January 13, 2007 01:09 PM
---