« Royal Marine Sniper Celebrates With Cigar After Killing Taliban Officer | Main | Chavez, Ahmadinejad Plan Anti-U.S. Fund »
January 13, 2007
CNN (Clinton News Network) New Polling Partnership for 2008 Elections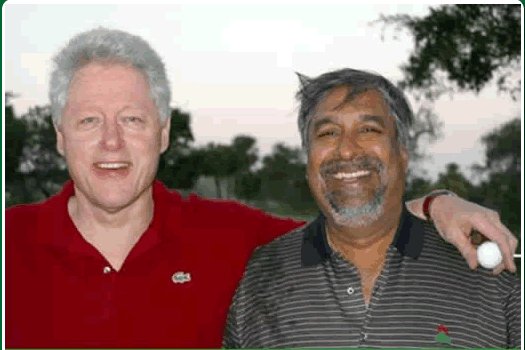 Clinton and Vinod Gupta
CNN and Opinion Research Announce Formal Polling Partnership
PRINCETON, N.J.--(BUSINESS WIRE)
Opinion Research Corporation, a leading provider of global market research and consulting services, today announced the establishment of a formal polling partnership with CNN, one of the world's most respected and trusted sources for news and information. The CNN Poll will become the CNN/Opinion Research Corporation Poll.
"Opinion Research Corporation's reputation for independent, objective analysis and its excellent reputation in the industry make the firm the ideal polling partner for CNN," said Sam Feist, CNN's Political Director. "As the network gears up to offer the most in-depth and expansive coverage of the 2008 election, Opinion Research Corporation will be a key part of giving viewers the accurate and relevant information they demand to help them make decisions."
InfoUSA purchases Opinion Research
Opinion Research was purchased last year by InfoUSA. InfoUSA is controlled by a dedicated and loyal Clinton friend Vinod Gupta.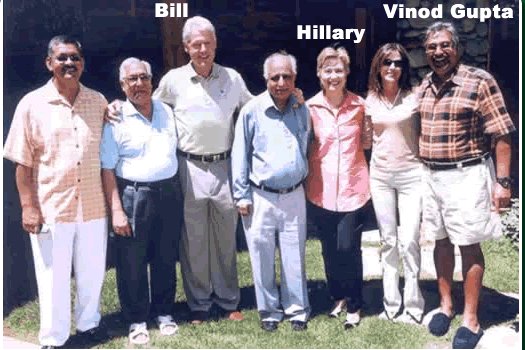 New York Post
March 28, 2001
Gupta, donated $1 million to Clinton's presidential library fund, has stayed overnight in the Lincoln Bedroom. Clinton, who calls him "Vin," slept over at Gupta's house in the heartland after a fund-raiser. Days before he left office, Clinton appointed Gupta to the Board of Trustees of the John F. Kennedy Center of the Performing Arts.

Vin Gupta is also linked to "billionaire philanthropist" Warren Buffett as the two of them co-hosted a $1000 per-plate fundraiser dinner at Gupta's own estate in Nebraska for Hillary back in 2000, where she left with at least $100,000.
At a private $1,000-per-plate dinner at the estate of InfoUSA founder Vin Gupta, the First Enabler emerged with more than $100,000 in Nebraska cash. Billionaire investor Warren Buffett, who cohosted the event, also accompanied Mrs. Clinton on a shopping spree at his Borsheim's Fine Jewelry and Gifts store. She emerged from the store with three shopping bags, and, according to the World Herald, later told guests at the dinner that she "may have left as many dollars in Omaha as she would take back to New York"
CLINTON PAL EYEBALLED - ACCUSED OF LIVING HIGH ON HIS COMPANY'S DIME
New York Post
October 2, 2005
VINOD Gupta, a high-living CEO pal and fundraiser to the Clintons, is being accused of looting his company's coffers and using shareholder money to fund his lavish lifestyle.

Gupta, the CEO of InfoUSA, an Omaha, Neb.-based database company, is coming under fire from investors, including Cardinal Capital, the Greenwich, Conn.-based hedge fund whose last target was newspaper baron Conrad Black, for a variety of alleged offenses, including funneling InfoUSA funds through private companies he controls to pay for things such as jet travel, a fancy yacht and a skybox at University of Nebraska football games.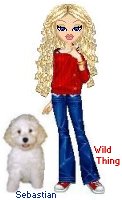 Wild Thing's comment.......
The Clinton's are sharpening their daggers and mixing their poison and practicing their lies well in advance of the "opening day" of the campaign season.
Posted by Wild Thing at January 13, 2007 12:55 AM
---
Comments
What the Clinton's have in common with the Kennedy's is consistancy in their corruption. Ted doesn't remember Mary Jo, I wonder if Vinod remembers Vince?
Posted by: Jack at January 13, 2007 01:07 PM
---
So what's new? The Clintons and corruption. Those two words should occupy the same paragraph in the dictionary. And, this will get no press coverage, except maybe a line in the business section.
Posted by: TomR at January 13, 2007 02:27 PM
---
Ah the incestuous left, they burrow into anything that is not TRULY conservative.
Posted by: Sierrahome at January 13, 2007 07:59 PM
---
Jack, good one, they have this weird thing of no conscience. I honestly don't think they have one.
Posted by: Wild Thing at January 14, 2007 01:53 AM
---
Tom you right, it won't get any press converage. I thought it was interesting because ole Hitlery thinks she might win if she does run and why is it so important for them to have even more help with a stupid, idiot election poll keeper. haha
Sounds deserate to me. hahahhaha
Posted by: Wild Thing at January 14, 2007 01:55 AM
---
Posted by: Wild Thing at January 14, 2007 01:56 AM
---