« Muslim Woman Whine For Cash | Main | Clinton Pays Tribute to Ho Chi Minh at Mausoleum »
December 06, 2006
"Werewolves" Carry Out Same Mission 41 Years Later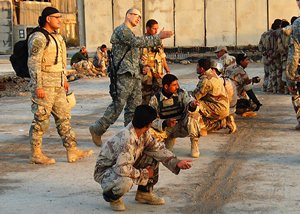 Soldiers from 4th Battalion, 31st Infantry Regiment, 2nd Brigade Combat Team, 10th Mountain Division and 4th Battalion, 4th Brigade, 6th Iraqi Army Division go through dry runs and other training before their air assault mission. Later that night, after being flown in by 3-227th the Soldiers would storm Qarghuli Village looking for insurgents known to be hiding out. (U.S. Army Photo by Capt. Christopher Sanchez, 4-31st, 2nd Brigade Combat Team, 10th Mountain Division)
"Werewolves" Carry Out Same Mission 41 Years Later
By Spc. Nathan J. Hoskins, 1st Air Cavalry Brigade Public Affairs
CAMP TAJI, Iraq
They say history is written by the victorious. That's why for 41 years the 1st Cavalry Division has been writing the history of air assaults.
Soldiers of 3rd Battalion, 227th Aviation Regiment, 1st Air Cavalry Brigade, are carrying on the air assault mission, which started Nov. 14, 1965 in the Ia Drang Valley of Vietnam.
As told in the book, "We Were Soldiers Once … and Young," and later as a feature film, it was 41 years ago when Lt. Col. Hal Moore took the grounds of Landing Zone X-Ray with Soldiers of 1st Battalion, 7th Cavalry Regiment, 1st Cavalry Division, and started what would be the newest and most innovative way to place Soldiers on the battlefield – by helicopter.
On that same day 41 years later, aviators from 3-227th carried on the traditions of the 1st Cavalry Division's air units with their first air assault mission since hitting the grounds in Iraq. The Company A "Werewolves" dropped off infantry Soldiers ready to carry out their mission to seek out and capture insurgents.
From the humble beginnings of a young, newly created unit, to training and heading straight into combat, 3-227th and 1/7th share an uncanny resemblance, said Capt. Lee Evans, commander of the Werewolves.
Like the 1/7th four decades ago, 3-227th stood up as a unit shortly before deploying.
"We were given less than six months when we were formed as a battalion [before heading to Iraq], and even then we weren't completely formed," said Evans.
Not long after 1/7th "Air Cav" became reorganized – and lost some of its more experienced men – it headed off to Vietnam. This made the unit smaller and less experienced.
The 1/7th Cav, as a complete unit, was not in country for more than a month when the order came down to take the Ia Drang Valley. It did not matter how experienced or inexperienced a Soldier was, there was a job to be done.
Much like the 1/7th Cav, 3-227th was reorganized quickly and had many inexperienced pilots in regards to air assaults, said Evans.
"A lot of people in our unit came from general support battalions, which still conduct air assaults, but it isn't their bread and butter," Evans said.
But the aviators of 3-227th, quickly became familiar with air assaults through rigorous training when they headed to the National Training Center at Fort Irwin, Calif., and also to the Joint Readiness Training Center at Fort Polk, La. – both training areas where Soldiers go to ready themselves for battle, said Evans.
With less than six months under their belts as a unit, two of those training at NTC and JRTC, the Soldiers of 3-227th quickly cased their colors and headed to the Middle East.
Some aspects of this first air assault are familiar in regards to what their predecessors faced on the grounds of LZ X-Ray, said Brunswick, Maine, native 1st Lt. Douglas Livermore, a plans officer for 4th Battalion, 31st Infantry Regiment, 2nd Brigade Combat Team, 10th Mountain Division "Polar Bears."
"We were air assaulting into an isolated and alien environment, far from possible help from our comrades. We had to rely on each other and our training to accomplish the mission and get everyone home," he said.
Livermore's words echoed those of a historic quote from Moore, on the subject of Soldiers relying on each other.
"American Soldiers in battle don't fight for what some president says on T.V., they don't fight for mom, apple pie, the American Flag … they fight for one another," said Moore.
After being inserted into their LZ, the ground troops, a mix from 4-31st and 4th Battalion, 4th Brigade, 6th Iraqi Army Division, led by Iraqi Army Capt. Ibraheim Jmile Abed, would go on to clear multiple houses in the dead of night, routing any insurgents hiding in Qarghuli Village, said Capt. Christopher Sanchez, the non-lethal coordinator for 4-31st.
For those who jump out into the fray of danger and uncertainty, a lot has changed since Vietnam. In Iraq, the enemy is not gathered in force as it was in the North Vietnamese Army.
"While the Soldiers of 1/7 CAV faced challenges more intense in terms of sheer violence, we have been forced to deal with an opponent who uses stealth and deceit to avoid our advantages. Not to detract from their battle, but ours has greater complexity due to the multiple facets involved," said Livermore.
"In Vietnam the fight was similar [to Iraq] in that they had some insurgency where the enemy didn't have a uniform, but there was a much more concerted effort to stand up to us – to face us," said Missoula, Mont., native Chief Warrant Officer 2 Emmanuel Vero, a UH-60 Black Hawk pilot for Company A, 3-227th.
Things have also changed for the pilots and crews of the aircraft since 1965, in regards to the basic concept of air mobile, in the technology used and in the combat seen, said Evans.
During the Vietnam conflict, groups the size of battalions were moved into locations to fight battles. Now units the size of companies or smaller are strategically placed to accomplish a specific mission, said Evans.
"Air Assaults take [the air mobility concept] a little bit further … it's more of a combined arms effort … the element of surprise is essential," said Evans.
With the more powerful helicopters, aviators of today have an advantage over the UH-1 Iroquois "Huey" pilots of Vietnam, Evans said.
The speed and agility of the Black Hawk supersedes that of the Huey, and aviators now have the innovation of night vision enabling them to move stealthily towards and away from target landing zones, he said.
Although dangerous, the Polar Bears take advantage of the night insertions and are energized with their precarious mission.
"It is always exciting to fly blacked out, landing in [an] area known not to be safe and watching your ride fly away," said Maj. Robert Griggs, the 4-31st operations officer.
One evident difference between the fight fought in the Ia Drang Valley and the one presently in Iraq is the stressors of such a high casualty count, said Vero.
"To every day be responsible to go in against an actual military force is something we don't do … (the enemy in Vietnam) wasn't an insurgency, it wasn't a group of farmers with guns; that was a well trained, well organized military," said Vero.
"What we have [in Iraq] are almost more like thugs. I don't give them the same respect. They don't have the courage to wear a uniform or stand for what they believe in," he said.
The fight that the Soldiers, ground and aviators alike, have to face now pales in comparison to the fight that those men took on in the Ia Drang Valley, said Vero.
"The date was the same; the mission was a lot different. Those men – I would have to stand on a ladder to touch their shadow; they're kind of above and beyond me," Vero said in reflection.
With an impressive history and lineage behind them, Soldiers of 3-227th feel they have done well in honoring the memory of those who came before them, said Evans.
"In trying to uphold that lineage, if [the veterans of LZ X-Ray] could have seen what happened over here on the 14th of November, I think they would've been proud that we were able to accomplish the mission in the manner that we did," he said.
"We did well on making the LZ that night, but honestly, the only standard that we can be held to is that everyone
got in there safely and everyone got out of there safely and those are the numbers we really care about," said Vero.
Although the pilots get them to their designated place at the designated time, they have respect for the ground units' valor in such a dangerous job, said Vero.
"At the end of the day, we're doing eight minutes in danger and they've got 50 hours to look forward to. We are just a small sliver of their day. If we can make that small sliver any better or safer for them, then that's an honor for us," he said.
And it all boils down to completing the mission, one that aviators of 3-227th are proud of. One that has lasted for 41 years and continues this day with the same unit it began with – the "Air Cav."
"This isn't what we do for a living; this is our life's work. You will only find that in people who take their personal military profession to heart," Vero said. "Every one of these guys are my brothers – I'm just proud to be apart of the Alpha Company Werewolves."
Posted by Wild Thing at December 6, 2006 02:55 AM
---
Comments
What a great post. I love these troops attitudes, and their knowledge and respect for the troops of Vietnam. The war on terror is as shitty and muddled as our war in Vietnam. Yet the attitude and ability of the American troops in Iraq/Afghanistan is as good as the troops in the Ia Drang, the Mekong Delta, the Battle of the Bulge or most other American fighters in other wars.
Posted by: TomR at December 6, 2006 12:58 PM
---
Tom, me too, I am so very proud of them. It is an honor to post about them.
Posted by: Wild Thing at December 6, 2006 02:33 PM
---
I never cease to be amazed at the loyalty and tradition our troops uphold. I love hearing their stories. Thanks for posting about them!
If only our elected were made to go through Basic and AIT, maybe they would then get a clue.
Posted by: yankeemom at December 7, 2006 01:01 AM
---