« Iraq News Item | Main | Former CNN News Chief To Launch 'IraqSlogger' Site »
December 14, 2006
Traitor and Idiot Sen. Bill Nelson Defies Bush and Visits Syria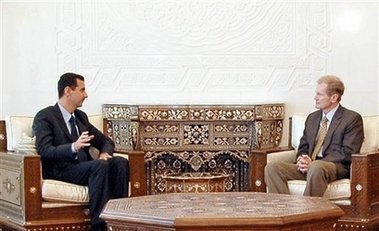 Syrian President Bashar Assad's meeting with Senator Bill Nelson was the first with a U.S. official since the Iraq Study Group recommended last week that Washington should engage Syria and Iran in efforts to curb the bloodletting in Iraq. (AP


Fla. senator defies Bush, visits Syria
(AP)
In a direct affront to the Bush administration, a Democratic senator spent an hour Wednesday with Syrian President Bashar Assad in Damascus, emerging from the meeting to say Assad was willing to help control the Iraq-Syrian border.
Sen. Bill Nelson of Florida, a member of the Armed Services and Foreign Relations committees, met with Assad after the State Department said that it disapproved of his trip. The United States has limited diplomatic ties with Syria because of its support of Hezbollah and Hamas, which the U.S. deems terrorist organizations, and President Bush has expressed reluctance to seek help from Damascus on Iraq until the Syrians curb that support and reduce their influence in Lebanon.
"Assad clearly indicated the willingness to cooperate with the Americans and or the Iraqi army to be part of a solution" in Iraq, Nelson told reporters in a conference call following the meeting. The U.S. says foreign fighters often enter Iraq across that boundary.
Syrian officials have indicated a willingness before to engage the U.S. in discussions about Iraq, which the Bush administration has treated with skepticism. Nelson said he viewed Assad's remarks as "a crack in the door for discussions to continue. I approach this with realism not optimism."
Nelson said he reported the information to embassy officials and will brief his congressional committees on the trip. Also expected to visit Syria is Sens. John Kerry, D-Mass., Christopher Dodd, D-Conn., and Arlen Specter, R-Pa..
"We don't think that members of Congress ought to be going there," White House press secretary Tony Snow said, adding that the United States continues to denounce Syria's meddling in Lebanon and its ties to terrorist groups.

Snow noted the existing diplomatic ties between U.S. and Syria. "I think it's a real stretch to think the Syrians don't know where we stand or what we think," he said.
The diplomatic push from Congress comes on the heels of a recommendation by a bipartisan panel that the U.S. engage Iran and Syria on the war in Iraq. Bush has remained cool to the proposal by the Iraq Study Group, which was led by former Secretary of State James A. Baker III and former Rep. Lee Hamilton, D-Ind.
Nelson said he ultimately received logistical support from the State Department in what he called a "fact-finding trip" across the Middle East, being transported by embassy officials from Jordan's capital city of Amman to Damascus. Prior to heading to Damascus, Nelson met with top Israeli and Palestinian officials; in coming days, he plans to visit Qatar, Saudi Arabia, Bahrain and Iraq.
Nelson said he was not interested visiting Iran "at this time" and did not say why.
However, the senator did say that he raised the issue of a nuclear-armed Iran to Assad, saying "he ought to understand that that's not only a threat to him, Syria, but to the entire world. . . . He took note," Nelson said.
The senator said he also expressed to the Syrian leader the problems caused by Hezbollah and Hamas and urged Assad to support the release of captured Israeli soldiers. Nelson said the Syrian president responded by saying Israel had 20 Syrians in captivity, one of whom died recently from leukemia.
The senator shrugged off suggestions he was challenging Bush's authority by sidestepping administration policy that the U.S. have no contact with Syrian officials.
"I have a constitutional role as a member of Congress," Nelson said.
Meanwhile, Bush criticized Damascus anew and called on it to free all political prisoners.
In a statement, the president expressed support for the Syrian people, and said they "deserve a government whose legitimacy is grounded in the consent of the people, not brute force."
The U.S.-backed government in Lebanon led by Prime Minister Fuad Saniora is being challenged by the Hezbollah-led, pro-Syrian opposition. Bush said Syria should disclose the fate of the many missing Lebanese citizens who disappeared following their arrest in Lebanon during decades of Syrian military occupation.
"The Syrian regime should immediately free all political prisoners, including Aref Dalila, Michel Kilo, Anwar al-Bunni, Mahmoud Issa, and Kamal Labwani," Bush said. "I am deeply troubled by reports that some ailing political prisoners are denied health care while others are held in cells with violent criminals."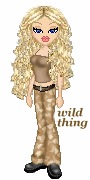 Wild Thing's comment.......
I'm sick to death of this treasonous crap. Bill Nelson's Washington number is #202-224-5274. I've let him know what I think about it. I know it's not much, but I'm fed up. Besides being a traitor, Nelson is mindbendingly dumb!
Nelson does not love America, he and anyone else that does this kind of thing screams teason with every breath they take in doing something like this. Nelons is a POS traitor. I wish when he would not have been allowed to step on American soil again with his return trip to the USA.
Posted by Wild Thing at December 14, 2006 01:47 AM
---
Comments
I guess Separation of Powers only applies to the congress, or when their is a Donk in the White House, because this stupid moron is violating the Presidents part of the separation clause. It is not the job of the congress to make foreign policy.
Nelson is running a close second to Joe Biden as being the dummest man in the Senate.
The UK, should consider themselves lucky, they only had one Neville Chamberlain, we have 50 in the Senate. Their arrogance is only exceeded by their blatant stupidity.
Posted by: Mark at December 14, 2006 08:56 AM
---
I wonder who foot the bill for this trip? Could it be the taxpayers? Since when does the constitution direct US Senators to make foreign policy?
I fault the Republicans for this kind of crap. They had the chance to put the stops to these kinds of publicity junkets and they didn't do a stinking thing.
Posted by: BobF at December 14, 2006 10:06 AM
---
I think Mark would agree that we have a lot more than 50 in the Senate.
Posted by: Rhod at December 14, 2006 11:49 AM
---
The Senators learned well from Jesse Jackson, the high prest of self appointed diplomacy. Who cares about the Constitution anymore!
Posted by: TomR at December 14, 2006 12:32 PM
---
Rhod- Yes the Repubs have some too, However,all I know is we are sending the wrong message to the enemy, when a faction in the government, who disagrees with the current administration does its own negotiating on behave of the American people.
Nelson has broken his pledge to uphold the constitution,( I don't expect any democrat to defend anything except that which would hurt the United States).
Nelson is another piece of garbage in the kerry mold.
Speaking of which, 'The Swift-Vets and POWs for truth' got fined a quarter of a Million dollars for their ads against kerry, now there is freedom of speech, democrat style.
It is going to be a long two years.
Posted by: Mark at December 14, 2006 12:55 PM
---
Ladies and Gentleman,
I present to you, Bill Nelson! Fresh from Thee Jimmah Carter School, where he majored in Setting US Foreign Policy even if you're not the President. He graduated suma cum laude. Take a bow Bill.
Don't blame me. I didn't vote for him, just got stuck with him. And he will be getting an email. This part of the Florida electorate is not happy.
Posted by: raz0r at December 14, 2006 05:52 PM
---
Mark oh man Joe Biden now there is another one that gets my blood boiling.
Posted by: Wild Thing at December 14, 2006 06:45 PM
---
Bob I do too. The GOP/RNC would not get behind Katherine Harris at all. Nick and I voted for her and she was awesome in the debates but when your own party has thrown you out for rinos and democrats there is no chance of a win. It was awful what they did to her.
NOw we are stuck with this vile dem Nelson. grrr
Posted by: Wild Thing at December 14, 2006 06:48 PM
---
Tom your right, I guess the only people that still care about the Constitution are those of us. sigh
Posted by: Wild Thing at December 14, 2006 06:49 PM
---
Mark,..........
"The Swift-Vets and POWs for truth' got fined a quarter of a Million dollars for their ads against kerry, now there is freedom of speech, democrat style."

That speaks volumes of how the dems feel about free speech and speaking the truth. God bless the Swift Boat Vets and all the Vets that helped get the word out in forums and blogs and every where else too.
Posted by: Wild Thing at December 14, 2006 06:51 PM
---
razOr same here, I realy hate that he is from Florida that makes it a double anger for those of us that knew how awful he would be.
Posted by: Wild Thing at December 14, 2006 06:52 PM
---