« Afghan Insurgent Leader Hekmatyar For Democrats | Main | In Country Our Troops In Iraq and Afghanistan »
December 12, 2006
There Goes The Drunken Murderer Vote or Kennedy Drives Kerry off the Bridge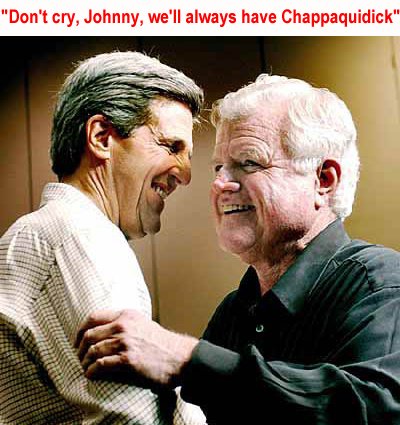 Kennedy drops support for a Kerry presidential run in '08
Boston.com news
WASHINGTON --Senator Edward M. Kennedy Monday dropped his public commitment to support Senator John F. Kerry in a 2008 presidential race, saying that he won't wait "indefinitely" for Kerry to declare his intentions while the Democratic primary field takes shape.
Kennedy said he doesn't currently plan to endorse another candidate and still might support Kerry if Kerry decides to run. But in an hourlong interview with the Globe's Washington bureau, Kennedy offered strong praise for two of Kerry's possible presidential rivals: senators Barack Obama of Illinois and Hillary Rodham Clinton of New York, calling them "formidable figures" who are connecting with rank-and-file Democrats.
Kennedy said his oft-stated commitment to support Kerry again was based on the assumption that Kerry would state his intentions by early 2007.
Since Kerry pushed back his decision in the wake of following an election-eve "botched joke" that damaged his public standing, however, Kennedy said he has informed Kerry that he may get behind another Democrat for president.
"I was under more of the impression before that he was going to run and was waiting in time [to declare his candidacy], but now he's deferred that decision," Kennedy said. "I have no plans of supporting anyone else at this juncture. I'm also not going to just wait indefinitely until he's made a judgment or a decision."
Later in the day, Kennedy's office issued a statement clarifying that Kennedy will support Kerry if he declares his presidential candidacy "in the near term," though Kennedy aides declined to define that schedule.
Kennedy's comments mark the first public fissure between the two Massachusetts Democrats on the issue of Kerry's presidential aspirations.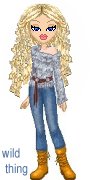 Wild Thing's comment.......
BWAHAhahahahaha
Kennedy is going to support the other Irishman in the race. ( O' bama)

Posted by Wild Thing at December 12, 2006 01:55 AM
---
Comments
I've read that the relationship between these two stains on American life has always been mixed. They compete in the displays of wealth and status. Kerry's family goes farther back than Kennedy's, but Kennedy has the dwindling fortunes left to him by the scumbag Joe Sr.
I'm guessing, but I think they hate each other, but they're joined by the continuous umbilical that joins all liberals. The blood supply necessary to feed their snobbery, arrogance and power hunger.
Kerry can't be surprised that Kennedy would drop him to feed some other corrupt impulse. He won't complain either; Kennedy knows where all the skeletons are and Kerry doesn't want to add his own to the count.

Posted by: Rhod at December 12, 2006 11:35 AM
---
The two personify evil ambition at it's worst. Though both have more than 99% of the World, I bet they selfishly envy what anyone else has.
Kennedy and Kerry are excellent examples of the need for term limits, and they legitimize the arguement for birth control.
Posted by: TomR at December 12, 2006 01:20 PM
---
Rhod I bet your right about them hating each other. No love lost that's for sure.
Posted by: Wild Thing at December 12, 2006 03:47 PM
---
Tom....hahahahaaha "they legitimize the arguement for birth control."....yes.
Posted by: Wild Thing at December 12, 2006 03:49 PM
---
It was said years ago that when the Irish came over to America, they would drop the 'O' in the Ocean in case of a future Irishman had trouble they could latch on it as a lifesave.
I guess Obama dropped the apostrophe instead.
Posted by: Mark at December 12, 2006 07:18 PM
---
Mark:
Now I get it. He's Barach O'Bama. That's as Irish as they come.
Posted by: Rhod at December 12, 2006 09:39 PM
---
Mark, I guess so.
heh heh
Posted by: Wild Thing at December 12, 2006 11:16 PM
---
I guess Iraq Obama wouldn't have to worry about the NINA laws.
"I'm a dacint boy, just landed from the town of Ballyfad;
I want a situation: yis, I want it mighty bad.
I saw a place advartised. It's the thing for me, says I;
But the dirty spalpeen ended with: No Irish need apply"
Posted by: Mark at December 13, 2006 09:37 AM
---
Mark hahaha that is great!!! Thank you.
Posted by: Wild Thing at December 13, 2006 05:32 PM
---