« "Børk! Børk! Børk!" Schools Banning Cupcakes | Main | U.S. Airport Guards Told To Be "Sensitive" To Hajj Travlers »
December 29, 2006
Muslim World League Wants Lawsuits for Abuse of Islam and the Prophet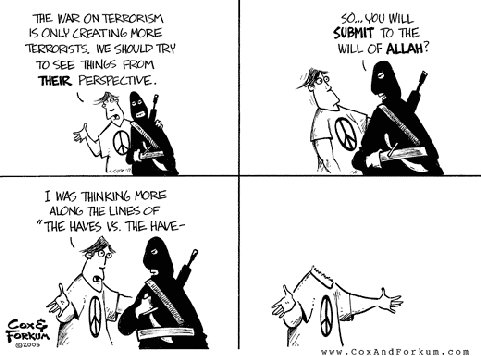 MWL Wants Lawsuits for Abuse of Islam and the Prophet
P.K. Abdul Ghafour, Arab News
JEDDAH, 28 December 2006

A two-day conference organized by the Makkah-based Muslim World League yesterday called for a consultative commission in order to take legal action against those who abuse Islam and its Prophet Muhammad (peace be upon him) and Islamic sanctities, at local and international courts of justice, the Saudi Press Agency said.
The conference titled "In Defense of the Prophet" called upon Islamic countries and governments to stand united to defend the Islamic faith and its Prophet. It denounced the smear campaigns to tarnish the image of the Prophet and urged Muslims to make all-out efforts to project the true picture of Islam and the great divine teachings of the Prophet.
Grand Mufti Sheikh Abdul Aziz Al-Asheikh, who presided over the conference, called upon Muslims to follow the Prophet's teachings.
"Our enemies are exploiting Muslims' weak adherence to the Prophet's Sunnah," said Al-Asheikh. "We should not be ashamed of implementing his Sunnah. On the other hand, all Muslims must observe his teachings in all walks of their life."
MWL Secretary-General Abdullah Al-Turki said the attack on the Prophet was an expression of enmity toward Islam.
"The whole Muslim Ummah, including its leadership, scholars and ordinary people was outraged by such attacks and this again shows the lofty position the Prophet has in their hearts," he said in reference to the Muslim response to cartoons depicting the Prophet.
Al-Turki called upon Western countries to protect human rights of Muslim communities and take action against those who create unnecessary fear about Islam by linking it with terrorism and violence.
"The creation of such fears will lead to violating human rights of Muslims and threats to their freedom and security," he said. "It will also have other long-term negative impacts."
Jamal Badawi, a Canadian-Muslim expert on Islam, spoke about the Prophet's outstanding influence on human history.
"There is no other personality who has made such a positive impact on history," he told the conference.

Wild Thing's comment......
Say what?? Good grief. This is the height of double standards. So they can say and do whatever they want and we have to walk on egg shells. I think not!
A sample of what THEY say...........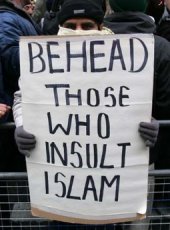 Posted by Wild Thing at December 29, 2006 12:47 AM
---
Comments
If Christians defended Christianity the way Muslims defend Islam, their would be no atheists, Buddhists, Hindu's, Muslims, or any other religion in America.
Why is it that the Christian nations are the ones with industrial growth and development. Can anyone name just one Muslim nation that's developed on its own into the 21st century?
Posted by: BobF at December 29, 2006 07:43 AM
---
Bob, good point. Muslims don't build they desroy. I can't think of anything positive even in a small way that Islam has brought to this world now or ever.
Posted by: Wild Thing at December 29, 2006 11:04 AM
---
When they complain or take offense, I'll apologize.
"I'm sorry you chose a prophet that was a pervert."
"I'm sorry you chose to follow a pedophile."
"I'm sorry you chose to follow a death cult that has its roots in polytheism."
"I'm sorry you chose to follow a prophet that was a loon, full-on nutjob."
Etc, etc.
Posted by: raz0r at December 29, 2006 02:46 PM
---
What we need is a good old fashioned bounty on the varmints.
Once a MOSLEM always a MOSLEM!!!
There is only one way to deal with the problem that has been hounding mankind for 1400 years. BYE!!!

Posted by: Jack at December 29, 2006 04:48 PM
---
razOr, that should be on little hand out cards. Like the size of a business card to give them when they whine. Good one!
Posted by: Wild Thing at December 30, 2006 02:02 AM
---
Jack, 1400 years is amazing. That is a lot of hate for a lot of years.
Posted by: Wild Thing at December 30, 2006 02:05 AM
---