« Annan Urges Inclusion Of Iran In Talks | Main | In Country With Our Troops ~ Raiders of The Thundering Third »
December 09, 2006
Muslim Convert Planned To Blow Up Ill. Mall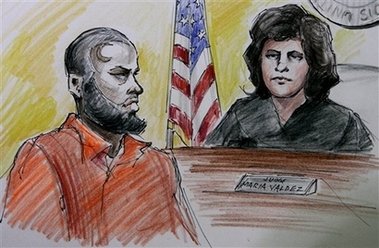 Shown in a courtroom artist's drawing is a man identified by authorities as Derrick Shareef, left, 22, of Rockford, Ill., as he appeared before U.S. Magistrate Judge Maria Valdez Friday, Dec. 8, 2006, in Chicago. Authorities said Shareef, described as a converted Muslim, was charged Friday in a plot to set off hand grenades in garbage cans at a shopping mall the Friday before Christmas. (AP Photo/Andy Austin) Email Photo Print Photo
CHICAGO - A Muslim convert who talked about his desire to wage jihad against civilians was charged Friday in a plot to set off hand grenades at a shopping mall at the height of the Christmas rush, authorities said.
Investigators said Derrick Shareef, 22, an American citizen from Rockford, was acting alone and never actually obtained any grenades. He was arrested Wednesday when he met with an undercover agent in a parking lot to trade a set of stereo speakers for four hand grenades and a gun, authorities said.
"He fixed on a day of December 22nd on Friday ... because it was the Friday before Christmas and thought that would be the highest concentration of shoppers that he could kill and injure," said Robert Grant, the agent in charge of the Chicago FBI office.
Authorities said Shareef had been under investigation since September, when he told an acquaintance that "he wanted to commit acts of violent jihad against targets in the United States as well as commit other crimes."
The acquaintance immediately informed the FBI, officials said.
Federal officials said Shareef planned to set off four hand grenades in garbage cans at the CherryVale shopping mall in Rockford, about 90 miles northwest of Chicago.
Other potential targets that Shareef allegedly discussed included government facilities such as courthouses and city hall, authorities said.
An affidavit quoted him as saying: "I just want to smoke a judge."
Shareef was born in the United States and converted to Islam, officials said. They believe he might have learned about jihad through videos and Web sites.
"While these are very serious charges, at no time was the public in any imminent peril," U.S. Attorney Patrick J. Fitzgerald said in a statement.
A spiritual leader of Rockford-area Muslims commended authorities for intercepting the alleged plot and reiterated "the Muslim community's condemnation of terrorism in the name of Islam," said Shpendim Nadzaku, imam of the Muslim Association of Greater Rockford.
Asked if he had ever met Shareef, Nadzaku said: "No one in the community has any clue as to who this person is he's completely anonymous."
The door of a Genoa town home that is the last known address for Shareef went unanswered Friday although a female inside was seen turning off a light as a reporter stood outside.
Shareef appeared briefly before a judge Friday and was ordered held without bond. He was charged with one count of attempting to damage or destroy a building by fire or explosion and one count of attempting to use a weapon of mass destruction.
Defense attorney Michael B. Mann declined to comment on the charges.
Shareef and his acquaintance cased the mall on Nov. 30, discussing the layout and spots where they might set off several grenades simultaneously to create more pandemonium, according to an FBI affidavit.
A spokeswoman for the mall said officials were cooperating with the investigation but referred all other questions to the U.S. attorney's office.
Mall customers expressed a mixture of anger and indifference Friday evening.
"I don't think anything is going to stop people from coming to this mall now. It's Christmas," said 27-year-old shopper Jaclyn Gonzalez of Rockford. "You're not going to keep from doing what you have to do just because someone is making ignorant comments."
Quotes by Shareef from a video he made in case he died in the attack:
"I am from America, and this tape is to let you guys know, who disbelieve in Allah, to let the enemies of Islam know, and to let the Muslims alike know that the time for jihad is now...be strong, oh Mujahideen...May Allah protect me on this mission we conduct...so do not cry, do not mourn for me."
The holy man also discussed shaving his body hair, a common practice for mujehedin entering upon jihad warfare. Then they enter Paradise in a state of purity.


Wild Thing's comment.....
Well it's Christmas time and to have peace on earth to this Muslim is to bomb and cause destruction. So much for spreading the religion of peace throughout the world. He wanted to "smoke a judge"? sheesh! I am curious why he singled out wanting to smoke a judge.
Posted by Wild Thing at December 9, 2006 12:55 AM
---
Comments
Because judges are symbolic of authority - personifications of The Man, like the police or lawyers.
Posted by: Suricou Raven at December 9, 2006 06:06 AM
---
There is a special place in a very hot place for people like this. What a monster.
Posted by: Lynn at December 9, 2006 08:59 AM
---
Suricou Raven. no I am aware of that, it is symbolic of authority.
I just have never heard that kind of thing from the terrorists before. It is usually, death to America, death to Israel, death to infidels etc.
Posted by: Wild Thing at December 9, 2006 11:52 AM
---
Lynn, I agree. When things like this happen I always wonder how many other things happen and are stopped that we are never told about.
Thank God with this one no one was hurt.
Posted by: Wild Thing at December 9, 2006 11:54 AM
---
Converts seem to be the nuttiest. Of course, all moslems are batty, but these zealots who convert appear to be extremists.
Posted by: TomR at December 9, 2006 01:31 PM
---
Tom, I agree, not sure why it always seems to be like that, maybe they have more to prove or something.
Posted by: Wild Thing at December 10, 2006 04:19 AM
---
Bah! The bastard should have been shot while trying to escape.
Posted by: LindaSoG at December 11, 2006 12:41 PM
---