« Nurses Go After The Heart Attack Grill | Main | White House: Syrian Visits Hurt Progress »
December 15, 2006
Hey Omar Abdel-Rahman It's Time To Check In With Your Moon God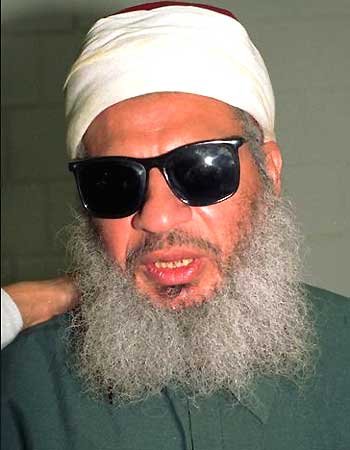 The imprisoned al Qaeda spiritual leader known as the "Blind Sheikh", he is the 68-year-old Omar Abdel-Rahman.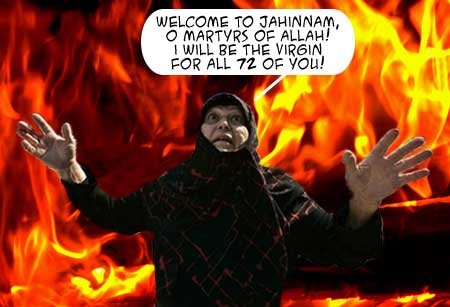 FBI Issues Warning to Police After Terrorist Health Scare
Fox News
The FBI has sent a bulletin to state and local law enforcement warning of possible terrorist reprisals as the health of an incarcerated terror mastermind fails, FOX News has learned.
Although the FBI said there is no credible indication that a plan for retribution is in place, the agency sent the warning as Sheik Omar Abdel-Rahman was treated in Missouri for bleeding.
The blind sheik, who was the alleged architect of the 1993 World Trade Center bombing, has called for revenge should he die in U.S. custody.
Bill Rosenau, a terror expert with RAND Corp, says that the death of Rahman is likely to raise his status to that of a martyr and refocus interest on the United States among radical Islamists. He says Rahman has been a lightning rod for years and his incarceration in the United States highlights the difficult problem of keeping terrorists incarcerated on American soil.
"Usama bin Laden has talked frequently about him and repeatedly expressed his interest in seeing him free. He has been a lightning rod for jihadists for a decade," Rosenau said.
It was the presence of Rahman and other terrorists on U.S. soil, Rosenau says, that sparked the rendition program, in which terror suspects are kept and interrogated in foreign holding facilities.
"This is a good example of why that program was instituted," he said referring to the specter of coming terror attacks.
Rahman's death, he said, "may reawaken dormant memories" in the Jihadi movement.
"While Rahman disappeared long before the second attack on the World Trade Center, people forget what a central figure he was in Jihadi circles. He was the seminal figure for terror in the '80s and '90s and a real precursor of what was to come," Rosenau said.
Steven Weber, Director of the Institute of International Studies at the University of California, Berkeley, says he doubts that the death of Rahman is likely to spark a terror attack.
"If Al Qaeda has significant assets in this country there is no reason to use them now. They can attack the U.S. in Iraq and they would conserve those assets they have here for another time. Rahman's death woud notchange that calculation."
He also said that while Bin Laden has expresssed interest in his plight, terror organizations have politics too. Rahman's status seems to have collapsed when Bin Laden was able to accomplish what he failed to do."
Last week, Abdel-Rahman was given blood transfusions at St. John's Regional Health Center in Springfield, Mo., after spitting up blood in his prison cell. A tumor was reportedly found on his liver.
The sheik's condition was "stabilized," and he was returned to federal prison in Missouri after his treatment.
The FBI sent out the bulletin to law enforcement under an "abundance of caution," FOX News has learned, because of previous statements attributed to Abdel-Rahman that called for revenge.
Abdel-Rahman's alleged last will, read at an Al Qaeda news conference eight years ago, called for reprisals should he die in an American jail.
"My Brothers ... if [the Americans] kill me, which they will certainly do — hold my funeral and send my corpse to my family, but do not let my blood be shed in vain," the will read. "Rather, extract the most violent revenge, and remember your brother who spoke the truth and died for the will of God ... the Mujahid Sheikh Omar Abdel al Rahman. In the name of God the kind and merciful."
Abdel-Rahman was convicted of plotting to blow up the United Nations Headquarters, a federal building, two tunnels and a bridge in Manhattan.
In 2004, Abdel-Rahman tried to sabotage his health, consuming M&Ms to exacerbate his diabetes.

Wild Thing's comment..........
They should stick a pork chop in his mouth when he kicks off. Perhaps Harry Reid will be at his bedside. Then of course we can pretty much guess that Barack HUSSEIN Obama is crying when he heard this news. But wait let's not forget about Pelosi and others too that keep telling us how the al-quada are not in Iraq.
Oh! if the murderer dies his followers will unleash terror attacks!
His followers don't need an excuse. The wake up in the morning and start planning how they can kill infidels, chop heads, fly planes into buildings, and kill infidels.
Some of the shiek's terrorist involvement:
Source of information below
Sheik Omar Abdel Rahman's involvement with terrorism goes back quite ways, to at least the plot to assassinate Egyptian president Anwar Sadat. Rahman was the spiritual leader of a group of young people who had just formed a new cell of the radical group call Jama'at al-Jihad, and they asked him what the fate should be of a ruler who has ignored the law of God. Abdel Rahman's reply was: "Death."
The next year, members of this group assassinated Sadat and Rahman was indicted along with them because he was accused of issuing a fatwa ordering Sadat's murder. Eventually he was acquitted, but even today he makes it quite clear that he does not consider Sadat to have been a Muslim: "Sadat was not a Muslim. He made a mockery of Islam and its principles."
In September 2000, Al Jazeera television broadcast an interview with bin Laden, his deupty Ayman Al-Zawahiri, Musa, and Mohammed Abdel-Rahman, during which the men "pledged jihad to free Sheikh Abdel-Rahman, among others, from incarceration in the United States," according to the FBI document......
According to the affidavit, Yousry then asked Stewart if he could talk to Abdel-Rahman "about an issue relating to the bombing of the U.S.S. Cole." Stewart consented, the document notes. Yousry then reported that "some people" had spoken to Sattar about the attack on the Navy destroyer, "and said that they did this operation for Omar Abdel-Rahman so he could be released from prison." The October 2000 attack in Yemen killed 17 sailors.
Yousry continued, saying that Sattar's contacts asked him "to do some negotiations with the American government and tell them, 'If [Rahman is] not released we'll execute another operation.'"
Posted by Wild Thing at December 15, 2006 12:47 AM
---
Comments
Fit for pigshit, feed him to the hogs then send the pigshit back to his homeland!!!
In fact this is what every splodydope deserves, a hog feeding body cleanup, televised in living color after each and every attack.
Posted by: Jack at December 15, 2006 11:37 PM
---
Jack, I agree feed him to the hogs.
Posted by: Wild Thing at December 16, 2006 04:12 AM
---