« Traitor Carter Worst President in US History | Main | President Gerald Ford - Rest In Peace »
December 27, 2006
9/11 Hero Still Doing His Part In Iraq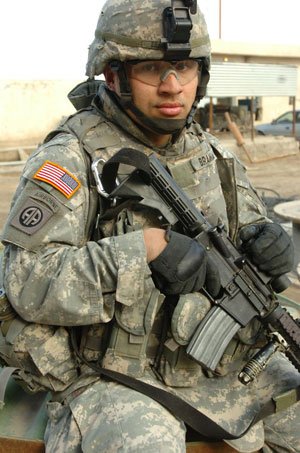 Pfc. Timothy Bramhall, 5-73 Cavalry Regiment, 82nd Airborne Division
Operation Iraqi Freedom Tuesday, 26 December 2006 By Spc. Ryan Stroud 3rd Brigade Combat Team, 1st Cavalry Division Public Affairs
BALAD RUIZ -- On the morning of Sept. 11, 2001, Pfc. Timothy Bramhall made his way to downtown New York City to officially end his military career.
After proudly serving in the Army Reserve, the Bronx native felt he was at a crossroads in life and needed guidance on what to do with his future. Bramhall decided it was time for him to exit the military and start anew.
Little did he know, the guidance on what to do with his life, the guidance he was searching for, was about to hit him like a ton of bricks.
Bramhall stepped off the train at Madison Square Garden station to find the world he knew, the world he grew up in, now searching for his help and his guidance.
On Sept. 11, 2001, a day that will never leave Bramhall's heart, terrorists attacked both towers of the World Trade Center, causing them to fall and end the lives of thousands of innocent people.
"I was getting ready to get out of the Army," said Bramhall. "On 9/11, I went downtown to be out-processed, but found myself at the World Trade Center doing search and rescue."
"I just walked out of the Madison Square Garden Train Station, and these Secret Service agents grabbed me and asked if I would help pull security since I was in uniform," he said. "I didn't think, I just did what I was asked to do."
Bramhall, fighting through the chaos from the citizens of NYC, followed his orders and made his way to the towers to help secure the area. As he was pulling security, Bramhall was asked to help with one of the biggest missions of his life - go into the towers to help people evacuate them before they fell.
"While I was pulling security, I was pulled into a mission to start clearing one of the towers," he said. "Once again, I followed my orders."
Though he admits he was scared of what might happen to him, Bramhall entered the second tower, completely fulfilling one of the U.S. Army's core values: personal courage. Bramhall put the lives of the people stuck in the towers over his own. He was driven and knew he had to help.
"At first I was really scared," Bramhall admitted. "At the time I went into the towers, people were jumping out of them. I saw one person jump and hit a fire fighter and kill him. After that, I wanted to turn and run."
"I thought to myself, 'I'm too young to die,'" he continued. "But then it hit me. These people are scared and what would they think if they saw a guy in uniform run from a situation like this? So I regained my composure and went right back to the mission, not really knowing what would happen next."
Bramhall's fear hit a new level as soon as he heard the alarm signaling the tower was about to fall.
"I was inside the building helping everyway I could when I heard the alarm signaling the Tower was falling," he said. "All I remember after that was running out the building and down this ally. I ducked down and cradled myself to protect myself from falling debris. I felt this huge rushing wind that seemed to pull everything by me."
After the second tower fell, Bramhall linked up with another Soldier and two Marines and went to work searching for people in the wreckage.
"Unfortunately, we mostly were pulling out bodies, but kept up the hope that we would find survivors," said Bramhall.
Seven days later, as Bramhall put it, a miracle happened.
"On day seven of the search and rescue, we found a handicapped person who was not in the Towers, but in a building that was near the Towers that was damaged because of the fall," he said. "It was amazing that she was still alive."
Bramhall and his new "brothers" helped the woman out of the wreckage and to a place where she could receive aid.
"That was a great feeling," he said. "You lose hope after time that anyone will be alive. You want to keep hope, but it slips after seeing the wreckage. So, to find this woman on the seventh day, it was amazing. We felt so good."
The mission was not yet over for Bramhall. He and his fellow servicemen stayed at the wreckage site until January 2002, working 12-hour clean-up shifts and sleeping in a local high school hallway.
"Times were hard out there but we kept reminding ourselves that we were in the military," Bramhall said. "This is what we were meant to do; this is what Soldiers are meant to do - help people in need."
After his service at the World Trade Center site was complete, Bramhall still decided to leave the military. He then went to work for the Rescue 1 Fire Station in NYC, hoping to continue to serve the people of New York. But after some time of reflection, Bramhall decided the best way he could serve the people of New York and his country was to go back into the Army.
Now a member of the 5-73 Cavalry Regiment, 82nd Airborne Division, Bramhall says he's right where he needs to be - serving his country in Iraq.
"This is one of the reasons I am here in Iraq," he said. "I'm here in support of those people in the towers who didn't make it out of there. I'm doing this for them. I'm also doing this for another person who worked with me at the towers."
On the one-year anniversary of the towers' destruction, Bramhall met with those who had helped him and others clear the buildings, trying desperately to save the lives of those inside.
"One of the guys who helped us lost his uncle, brother and father to the crash of the towers," Bramhall said. "He wasn't doing so well a year later. He went through some really hard times afterwards, so I'm also doing this for him, too."
Bramhall says he proudly serves his country for all of those out there who want to lend a hand to their country, but can't.
"I do this for those guys who want to be out here, but can't be out here," he said.
"This is not about revenge," Bramhall added. "I just think about those who lost so much, and how I can help bring peace to their lives."
Though Bramhall still has a way to go in his yearlong deployment with 5-73, he says he wouldn't have it any other way.
"I would not change anything," he said. "I'm glad I'm here, doing my part."
Posted by Wild Thing at December 27, 2006 01:47 AM
---
Comments
Thank you very much Timothy. I have known men and women like you and all of you make America great.
Posted by: TomR at December 27, 2006 02:18 PM
---
Thanks to you Timmy and if you ever get to Idaho
and want a fishing trip lok me up...

And here are 3 more guys you guys you should
know From www.coverride.blogspot.com

I went to Walter Reed again on Wednesday. I'm now scheduled for surgery #34 on the 9th of February. They're going to do another skin graft into my left hand, hopefully to increase the web space in my left hand, and also a Z-Plasty (imagine Zorro carving his mark betwixt your thumb and forefinger.) Lovely. Although that was the purpose of my visit, the true highlight was meeting three young men who were spending Christmas (and New Years, and probably Easter) on ward 57. I spent some time with each one, heard their stories, and shared my experiences with them. I tried, at best to give them hope, and at least to prepare them for what is coming.
They all agreed to let me publish their pictures and addresses with their story. Folks, these guys (and their families) are going to spend one of the greatest holidays in the worst places—because they served you and kept you safe. Please, take a little time this week and remember them, give thanks for them, and maybe even send them a card or a small gift. (It's okay that it won't reach them by Christmas, as long as it does reach them.)
I've got the laptops on the way (wow. From My Position… On the way! A self-fulfilling prophecy!) Patti and Lynnette are (still, as always) wonderful. With out further blathering on by me, here are the stories of our three kings, back from the Orient (Southwest Asia, that is.)
The first man I met reminded me of, well, me. First Lieutenant Ross Stadklev only arrived from Iraq a few days prior, and (thankfully) was MUCH less hurt than I was at that time. He reminded me of me after the first six weeks. Arms and hands all bandaged, being fed like a baby, but generally in positive spirits.
Ross was An Infantry Platoon Leader for 2nd platoon, A company, 2nd Battalion 12th Infantry regiment, and his platoon was responding to a tip from the Iraqi National Police on the whereabouts of a known shithead. As they searched a marketplace in Baghdad for this guy (they had a good description) they came across a body dressed according to the description they had. A smart and savvy counter-insurgency warrior, Ross had his platoon run through the battle-drill checklist to clear the body (from a distance) for IEDs. Finding nothing, Ross walked up to the body for a closer inspection. (That whole putting yourself in danger before your men thing.) That's when the world exploded. The worst part of the experience (and I sympathize with him) was the trip to the combat support hospital in Baghdad. They put him in a HMMWV and hauled ass to the CSH. Not exactly a smooth ride.
Ross is now looking at spending the next year in the hospital, and the outlook is grim for the use of his left arm. He has wounds to both arms and hands, his face, and legs. His first concern: his men, and when he can return to them. (He realizes that he may be out for the duration of this deployment.) His second concern: he has always wanted to try out for Special Forces, and is worried that this injury will limit that option. How many people do you know would get so badly injured and still want to become a Green Beret?
I offered him help through soldier's angels, explained VALOUR-IT to him, got on the phone with Patti Bader and Lynnette, and he should receive his laptop sometime today (if he hasn't already.) The software may take a few more days.
Ross's brother is there helping care for him; he doesn't have a Mrs. or "girl back home" (although I can't imagine why not—he's almost as good looking as me!)
He didn't ask for anything specific, but I'm sure you'll think of something.
Ross's address at Walter Reed is:
1LT Ross Stadsklev
Room 5761 Ward 57
Walter Reed Amy Medical Center
6900 Georgia Ave. NW
Washington DC 20307
Ross is a graduate of North Dakota State University, and hails from Minneapolis, MN.
Our second King was injured when his right arm was crushed by a vehicle. Private First Class Stephen Hopkins is a medic in the Maryland National Guard. He was attached to the 324th Military Police Company. He was really tired when we met, and pretty feisty when it came to accepting any charity. He countered my offer of a Valour-IT Laptop with a question: "What if someone needs it more than me? I still have one good hand." "Can I give it to someone else when I am done using it?" He simply didn't want to accept help, because it could place others at risk of not getting help. Selfless service, indeed.
I met his mom and girlfriend, his mom seemed to be coping and his girlfriend looked like a combination of exhausted and shell-shocked. His mom pulled me aside and thanked me; I told her I understood his aversion to charity. I also told her it would be too bad, since he was going to get help whether he wanted it or not. She smiled and thanked me, gave me a hug—I think she needed one too—and I told her help was on the way.
He may be getting discharged to the Mologne House soon—his skin grafts are doing better. Don't worry; your mail will catch up to him.
PFC Stephen Hopkins
Room 5717 Ward 57
Walter Reed Amy Medical Center
6900 Georgia Ave. NW
Washington DC 20307
Finally, I met with Specialist Bruce Dunlap. Bruce is assigned to 1st platoon, A Battery, 1st Battalion 125th Field Artillery Strike out of Combat Support Center Scania.
He was hit by an IED while on a route clearance mission. This particular IED was a "Hezbollah IED," a type of IED designed to produce an explosively shaped projectile; much like the High-Explosive Anti-Tank rounds on the Abrams Tank. These are particularly nasty, and designed to defeat armored vehicles. They get their name because they first appeared in Israel, attacking the IDF. They are becoming more frequent, despite the fact that the often don't kill the occupants of the up-armored-HMMWV's.
Bruce had both arms and legs wrapped from digits to trunk. He was pretty excited about the Valour-IT laptops, and really excited about this post and picture, because as he put it: "I hope the enemy does read your blog. They'll see me and it'll be a great big "up yours! You missed, you failed, I'm still here!"
Wounded, bedridden, and still trying to take the fight to the enemy.
Bruce even asked me to publish an essay he wrote about the first time he was hit by an IED. As soon as I get it, you'll see it here.
His address is
SPC Bruce Dunlap
Ward 57
Walter Reed Amy Medical Center
6900 Georgia Ave. NW
Washington DC 20307
As others have said, Where do we get such men? I am proud to lead them, to stand beside them, to be counted among their ranks.
Lynnette tells me that we can get the laptops for Stephen and Bruce delivered by the 6th. Thank you all for your support during the last fundraiser. As you can see, we put the money to good use, and there's always a need.
Thank you for your help.
--Chuck
posted by Chuck at 12/26/2006 04:59:00 PM Permalink
Posted by: Tincan Sailor at December 27, 2006 02:40 PM
---
Tom, you have made America great too. It is a real honor for me to know you.
Posted by: Wild Thing at December 28, 2006 02:36 AM
---
Tincan Sailor, this is great thank you for the information from Chuck.
Posted by: Wild Thing at December 28, 2006 02:38 AM
---