« Good Enough to Die For by Russ Vaughn | Main | Troops Still Finding Mass Graves »
December 17, 2006
"24" 6th Season To Begin January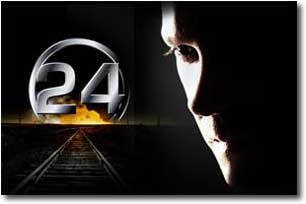 A month from now the 6th season of "24" will start agan. It is an Emmy and Golden Globe award winning show and stars Kiefer Sutherland as Agent Jack Bauer, who heads a field operations unit of the Counter Terrorist Unit.
Each episode portrays one hour of that day, with one season comprising 24 episodes or a day in the life of Jack Bauer.
It is such a popular show that there is also a blogs for Bauer. I love it and it is such an excellent show. Many friends of ours have worked on the show so it is fun in that way too, to see them doing their stunts and acting.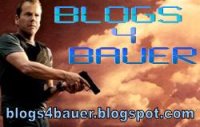 Blopgs 4 Bauer has some fun examples of how to talk like Jack Bauer. hahahahaha Go check them out.
Posted by Wild Thing at December 17, 2006 05:55 PM
---
Comments
On the 14th of January I get Jack. On the 17th of January hubby returns from Afghanistan. What a bonus week uh?
Sweetie, need an RSS Feed so I can keep up with you!
Posted by: Jo at December 18, 2006 11:01 AM
---
LOVE YOUR WEBWITE. IT IS AWESOME.
WHERE CAN I GET THAT SOUNDTRACK ?
I THINK ITS POWERFUL. GOES WITH PICS AND COMMENTARY.
KEEP UP THE GOOD WORK.
DON
Posted by: DON WILLIS at December 27, 2006 06:07 PM
---
Jo that is great news. Thank you for sharing such good news about your hubby arriving back from Afghanistan. Yipee.
I am not sure what RSS feed is. I will check it out. Thank you.
Posted by: Wild Thing at December 28, 2006 10:50 AM
---
Don thank you so much, I really appreciate it. I am not sure what song you mean. I have some music scatted on different pages of my website. NOne of them are from one main CD. Let me know which page and it and I can tell you the name of the music and who did it. I used my CD's that I bought when I transpose music to my website.

Thank you again so much.
Posted by: Wild Thing at December 28, 2006 10:52 AM
---