« Thank you for the fun images! | Main | Video of Saddam Sentenced To Hang »
November 05, 2006
Saddam DEATH by Hanging ~ Just Annouced 4 Seconds Ago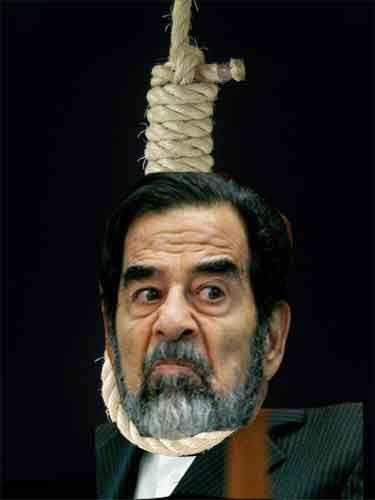 Hussein sentenced to death
(AP)Saddam Hussein was sentenced Sunday to death by hanging for his role in a brutal crackdown nearly 25 years ago in Dujail. A five-member tribunal is meeting amid heavy security and sweeping curfews in Baghdad and elsewhere, as authorities brace for violent reactions.

Iraq's High Tribunal on Sunday found Saddam Hussein guilty of crimes against humanity and sentenced him to hang, as the visibly shaken former leader shouted "God is great!"
His half-brother and former intelligence chief Barzan Ibrahim, and Awad Hamed al-Bandar, head of the former Revolutionary Court, were sentenced to join Saddam on the gallows.
After the verdict was read, a trembling Saddam yelled out, "Life for the glorious nation, and death to its enemies!"
Iraqi Vice President Taha Yassin Ramadan was convicted of premeditated murder and sentenced to life in prison. Three other co-defendants were convicted of murder and torture and sentenced to up to 15 years in prison. One defendant was acquitted for lack of evidence.
Baghdad was under a total curfew to guard against violence and shops were shuttered and pedestrians and vehicles almost completely absent from the streets of the city of 6 million people.
Iraqi security forces and U.S. troops mounted additional patrols, but no major incidents had been reported by midmorning, said police Maj. Mahir Hamad Mousa of the al-Khansa station in Baghdad's Jadeeda district.
"There is close cooperation between Iraqi and coalition forces in maintaining the curfew," Mousa said. "We have fully prepared for this duty," he said.
The verdict's announcement marks a political and social watershed for Iraqis who endured more than two decades of brutal rule under the former leader.
A guilty verdict would likely enrage hard-liners among Saddam's fellow Sunnis, who made up the bulk of the former ruling class. The country's majority Shiites, who were persecuted under the former leader but now largely control the government, will likely view such an outcome as a cause of celebration.
Saddam and his seven co-defendants had been tried over a wave of revenge killings carried out in the city of Dujail following a 1982 assassination attempt on Saddam, and Saddam faces additional charges over an alleged massacre of Kurdish civilians.
Even with the verdict imminent, Saddam's lawyers and some Sunni politicians called for the court proceedings to be suspended.
"It has become clear to the Iraqi people and the whole world that this court is politicized 100 percent," Salih al-Mutlaq, head of the second largest Sunni parliamentarian block, told the Doha-based al-Jazeera satellite channel.
Al-Mutlaq accused the U.S. and Iraqi governments of interfering with the work of the court and said a verdict would further polarize Iraqi society, already traumatized by sectarian violence between Shiites and Sunnis.
"This verdict will be the last nail in the coffin of the national reconciliation plan and the political process," al-Mutlaq said. "I call upon Arab leaders and ... to interfere for the sake of Iraq's unity."
The head of another prominent Sunni group, Harith al-Dhari, said any verdict should be delayed until after the departure of U.S. forces, who toppled Saddam following their March 2003 invasion of the country.
"If this court issues the verdict, I would consider it to be illegal, illegitimate and political," al-Dhari told al-Arabiya, viewed throughout the Arab world.
Echoing those sentiments, the Association of Muslim Scholars, a hard-line Sunni clerical group, demanded that Saddam's trial be postponed until "the occupation leaves."
One of Saddam's lawyers, former Qatari justice minister Najeeb al-Nu'aimi, said Saddam and his co-defendants had not been given sufficient time to present their cases.
"The court is not neutral. It lacks legitimacy," al-Nu'aimi said.
The curfew was only lightly observed in Baghdad's sprawling Shiite slum of Sadr City, where the Mahdi Army militia of radical anti-American cleric Muqtada al-Sadr holds sway.
Local police commander Col. Hassan Challoub said special reaction teams made up of the Iraqi police, army and the Interior Ministry commandos units are on patrol in the city.
"No incident and nothing abnormal is reported so far," Challoub said.

Posted by Wild Thing at November 5, 2006 04:04 AM
---
Comments
That certinly took long enough.
Posted by: Suricou Raven at November 5, 2006 06:57 AM
---
In an instant, the two groups who love Saddam are reacting. The old Ba'thist Sunnis are swarming into the streets in Iraq to support him, and the lefty journalists are describing Saddam's "jauntiness", "defiance" and "swagger" in the face of the verdict.
Well, that's at least one of them on TV this morning; he rest will pick up the party line from CNN and the major networks. Following praise for the guy's "swagger" will come the doubts about the "justice" of the verdict and all the rest of the bullshit that characterizes liberal thinking about dictators. They love 'em.
Posted by: Rhod at November 5, 2006 07:37 AM
---
Let's hope that the second trial gets the same result and Saddam gets to join his son's. Meanwhile the left can lionize this butcher all they want, his own people found him guilty and have passed judgement on him, the Iraqi system is functioning. We should be proud that our efforts have born fruit. This war would have been won sooner if we had the support of all Americans and the media, instead of the half who are protecting the other half.
Posted by: Jack at November 5, 2006 11:12 AM
---
Saddams trial began in October 2005, it has been just over a year, considering the assassination of trial lawyers and other setbacks this has been fairly speedy. It ain't over until his feet are swinging in the breeze. What the moonbats will want to know is how Karl Rove engineered the verdict just two days before the election? The media is caught in a quandry, do they run with the headline story or some BDS story this close to the polls? I don't think the verdict will help the president or the Republicans that much but it sure doesn't hurt them. Bwahahaha....Very clever Karl!!!
Posted by: Jack at November 5, 2006 11:54 AM
---
Great observation, Jack. Anything that steals their fire right now is suspect, for them.
I read at Roger Simon's blog that the judge addressed Ramsey Clark at one point and said this..."You are ridiculing the Iraqi people. You have come here from America. Get out!"

Posted by: Rhod at November 5, 2006 12:36 PM
---
Suricou Raven,......
"That certinly took long enough.".......
Yes, courts, lawyers, they never do anything fast.
Posted by: Wild Thing at November 5, 2006 05:49 PM
---
Rhod, I almost stayed up the rest of the night/morning to see what would happen after I posted this. hahaha

You're right about the media!!
Posted by: Wild Thing at November 5, 2006 05:52 PM
---
Jack......brillant yes.....!
I should put a graphic I have here......"Karl you magnificent Bastard" and a photo of Patton. heh heh
Posted by: Wild Thing at November 5, 2006 06:18 PM
---
Don't hang him. Yet. Tie him behind a car. Point the car down a road that may or may not have IEDs (hedge your bets - just sayin'). Wedge the gas pedal, put it in gear, and get out of the way. If he gets to the other end alive, then hang him.
Posted by: raz0r at November 6, 2006 10:29 PM
---