« Thank you Troops and Veterans | Main | China Bought Bomber Secrets »
November 24, 2006
Nascar Team Rensi Thanks Marines For Their Support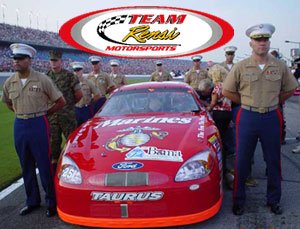 Team Rensi Motorsports Thanks the Marines for Six Years of Support

HOMESTEAD, FL ---Saturday's Ford 300 NASCAR Busch Series race will mark the conclusion of one of the most popular relationships in the series. The United States Marine Corps colors and logo will take one final ride as the primary marketing partner on the No. 25 Team Rensi Motorsports Ford. The association began in 2001 and amassed 205 races with five trips to victory lane.
"Team Rensi Motorsports would like to thank The United States Marine Corps Recruiting Command and all the Men and Women of the Marine Corps for allowing us to be a part of their recruiting efforts the last six years," said Team Rensi Co-owner Gary Weisbaum. "It was an honor for us to represent The United States Marine Corps and to meet many outstanding active, reserve and retired Marines and their families over the years."
Team Rensi Motorsports Co-owner Ed Rensi also sends out his appreciation.
"Team Rensi Motorsports will always be a friend of the Marine Corps and honor the Marine Corps into the future wherever possible. We intend to display the Eagle/Globe/Anchor logo on all of our race cars."
Many memories have been shared together and the NASCAR community has become more familiar with the outstanding work of the United States Marine Corps over the years. The familiar site of Marines saluting the flag and surrounding the No. 25 Ford during the National Anthem will be missed.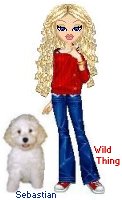 Wild Thing's comment.......
Just a thank you to the Marine Corps for this and the many other things that have been involved with. It is always great to hear of others that appreciate all the things our military does and in all the various areas they are involved with. God Bless our troops.
Posted by Wild Thing at November 24, 2006 12:47 AM
---
Comments
This is a wonderful thing.
We need to see more of this.
Our brave men and women deserve nothing less
than our gratitude and Thanks for all they
do without thinking of how it will "make them look
good." They are compassionate, giving and caring.
Let's cheer them on, like we would a favorite sports team! Our children need to see that we support our military--they are "true heroes."
Posted by: Lynn at November 24, 2006 06:43 AM
---
Hi Lynn, I agree, you said it beautifully.
Posted by: Wild Thing at November 24, 2006 11:00 AM
---
NASCAR's Joe Nemechek's US Army Chevy is one of my favorites.
GO ARMY!
Posted by: TomR at November 24, 2006 11:31 AM
---
I'm a Devil Pup myself (dad was a Marine Corps DI--OOORAH!), but I'm also the very proud sister of a Marine and auntie of two Army soldiers (one serving in Iraq and one in the reserves) and one Navy nurse! My team is America's team!
Posted by: Lynn at November 24, 2006 01:47 PM
---
Tom, wow thank you. I love learing about vsrious things that support our troops. I didn't know that before.
Posted by: Wild Thing at November 24, 2006 02:22 PM
---
Lynn, thank you for sharing about them. That is awesome. I was just at your site this morning, reading about your Father. You have a beautiful site.
Please tell your family thank you.
I know what you mean about representing America. My family too, the only one that is not represented is the Coast Gurad.
Posted by: Wild Thing at November 24, 2006 02:24 PM
---
Thank you!
I'll be sure to do that.
And thank you for this site. You've done a wonderful job here.
Posted by: Lynn at November 24, 2006 04:11 PM
---
Lynn you are so kind, thank you so much. I am so glad I got to meet you even though it is online. It is still very real and wonderful.
Posted by: Wild Thing at November 25, 2006 12:44 AM
---