« MI5 Chief's Warning On Terrorism | Main | Communist McGovern to Meet With Congress on War »
November 10, 2006
Mehlman To Step Down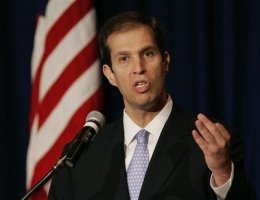 Mehlman's Term Expires in January - Will Step Down When Term Ends
(AP)

During his tenure, Mehlman, 40, traveled extensively to promote the Republican agenda. When he became chairman in January 2005, he said he hoped to tighten the GOP's grip on power in Washington.
"Nothing is permanent in politics," he said then. "The goal is how do you — both in the short term and the long term — do things to make it sustainable?"
Mehlman also said then that he hoped to expand the GOP base and help Bush enact his agenda.
Last year, Mehlman told NAACP members that the Republican Party was wrong for ignoring the black vote for decades and said he hoped the groups could restore their historic bond.
"Some Republicans gave up on winning the African-American vote, looking the other way or trying to benefit politically from racial polarization," Mehlman said at the NAACP convention. "I come here as Republican chairman to tell you we were wrong."

RNC asks Steele to replace Mehlman
Washington Times
Republican National Committee Chairman Ken Mehlman, whose party just lost both chambers of Congress, will leave his position in January, and the post as party chief has been offered to Maryland Lt. Gov. Michael S. Steele.
Republican officials told The Times that Mr. Steele, who lost his bid for the U.S. Senate on Tuesday, has been sought out to succeed Mr. Mehlman as national party chairman. Those Republican officials said Mr. Steele had not made a decision whether to take the post, as of last night.
Other Republican Party officials said some Republican National Committee (RNC) members, including state party chairmen, have mounted a move to have Mr. Steele succeed Mr. Mehlman.
But they said that President Bush's political adviser Karl Rove, who is Mr. Mehlman's mentor, would rather see Mr. Steele serve in the president's Cabinet, perhaps as secretary of Housing and Urban Development. These officials said no one has actually offered Mr. Steele either the RNC post or a Cabinet post.
Steele spokesman Doug Heye said last night that "I don't know of any conversations that Lt. Gov. Steele has had on this topic, but I can tell you that there are many people who have said he would be an ideal candidate, based on the race he ran this year."
"I talked to him very briefly about it today. He has not made any decisions yet about what he will do next. He is still focused on his role as lieutenant governor," Mr. Heye said.
Mr. Steele is one of the most successful and respected black Republicans in the country. He served as the elected Maryland Republican Party chairman before running for lieutenant governor.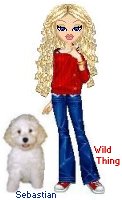 Wild Thing's comment......
This for me is the ONE good thing that has happened out of this horrible election. Mehlman needs to go so I am VERY glad about this. He backed Rhino's and NOT conservatives for one thing. He is one of the main reasons we got stuck with sooooo many Rhino's. I may not know everything this man did, but seeing the candidates that have been pushed and funded for the last, say, 10 years with Mehlman around I say GOOD!
I sure hope the GOP stands back and realizes that if they put up a slate of Reagan Republicans--optimistic, but not "compassionate", people who have real Republican values about taxes, spending, the size of government, the war against Islam--then 2008 will be the real response to the swamp that is DC.
Clean house now that we aren't in the Majority, now is our chance.

Posted by Wild Thing at November 10, 2006 01:47 AM
---
Comments
This is the best thing the slimeball can do, he worked very hard to cause the party to lose, but he wasn't alone in that effort.He's the Republicans equivalent of Terry McAulliff. Like you said now is the time to clean house, there are an awful lot of fifth columnists in our ranks.
Posted by: Jack at November 10, 2006 07:45 AM
---
Jack thank you, I sure hope they learn from what happened, I pray so.
Posted by: Wild Thing at November 11, 2006 04:22 AM
---