« Theodore's World Music Selection | Main | Kucinich Calls for Cutting Off Iraq War Funds »
November 16, 2006
Kerry Stopped In HIs Tracks By Schumer? ~ Heh Heh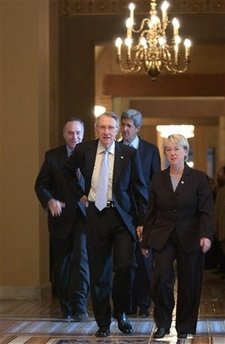 A little later.....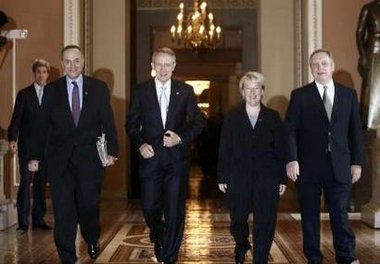 Funny as heck, looks like John was sent to the corner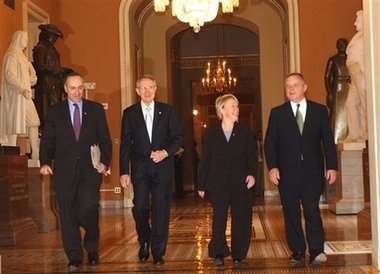 And this one with NO Kerry showing at all and there is plenty of room. tee hee
He's just been eclipsed in this one. Note the shadows of the legs on the pedestal of the statue, and an extra head shadow on the back wall.
What on Earth Did Schumer Say to Kerry?
For anyone who needed more evidence that Sen. John Kerry (D-MA) is out of favor with Democrats, it appeared that Sen. Chuck Schumer (D-NY) kicked him out of the Democrats' leadership walk on Tuesday.
As the new Senate leaders departed from the Old Senate Chamber on their way to the Ohio Clock Corridor to talk about their agenda, the election of the leaders, and Iraq, John Kerry -- not a member of the new leadership -- walked out of the room behind new Majority Leader Harry Reid, Majority Whip Dick Durbin, Caucus Secretary Patty Murray and Caucus Vice-Chair Schumer. It is, after all, a public hallway in the Senate.
This reporter was standing with a scrum of journalists as Democrats left their caucus. It appeared that when Schumer noticed Kerry behind him, he turned around said something to Kerry.
We obviously don't know what Schumer said, but Kerry stopped in his tracks, watched the four Democratic leaders walk on without him, and when then he ducked between two of the marble statues in the hallway, which leads from the old Senate Chamber to the new Senate floor. Someone trying to project might say that Schumer had told Kerry to get the heck out of the leadership shot and Kerry, after digesting the request for a moment, did it.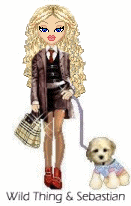 Wild Thing's comment.....
LOL I think this is so funny. The hallway is wide enough so this is kind of a giggle time to see this happen. It may mean nothing but it does make me laugh all the same.
Gosh maybe Kerry forgot to tell Schumer that he was in Vietnam. Yes we know Kerry..."I coulda been a contender"
OH wait, wait....hahaha......Kerry was in the photo before he wasn't in the photo!
Kerry doesn't get mad. He gets even. This is going to get real good real fast.
Posted by Wild Thing at November 16, 2006 12:55 AM
---
Comments
Chuck: "Okay, John. My black shoes are downstairs at the cobblers, and yesterday's suit needs cleaning. And get your skinny ass over to The Pancake House for some coffee, light for me, and get it back here pronto."
Posted by: Rhod at November 16, 2006 06:14 AM
---
Only one thing comes to mind when I see the above pictures:
Psalm 12:18 -- The wicked walk on every side, when the vilest men are exalted.
Posted by: BobF at November 16, 2006 10:05 AM
---
That's Psalm 12:8...sorry

Posted by: BobF at November 16, 2006 10:06 AM
---
Seems some of the democrats dislike each other as much as they dislike repubs. The Lieberman case also comes to mind.
Maybe it will be a funny, tho sadly funny , two years ahead.
Posted by: TomR at November 16, 2006 11:13 AM
---
Wahoo. Snacks are already eatin' each other.
Posted by: raz0r at November 16, 2006 07:06 PM
---
I wish his face was a little clearer in the center photo, he looks totally devestated.
Poor baby.
Posted by: gregor at November 16, 2006 08:18 PM
---
I find it hard to believe that Durbin is part of the Democrat Senate Leadership. I guess when you refer to American Troops as the lowest of the low, the Democrats will elevate you to high positions.
Posted by: BobF at November 16, 2006 10:13 PM
---
Rhod........ROTFL I love it!
Posted by: Wild Thing at November 17, 2006 02:28 AM
---
Bob thank you, that is such a perfect verse.
Posted by: Wild Thing at November 17, 2006 02:28 AM
---
Tom, they do hate each other. They remind me of the French, they don't like anyone else and they don't really like each other either.
Posted by: Wild Thing at November 17, 2006 02:30 AM
---
Posted by: Wild Thing at November 17, 2006 02:30 AM
---
Gregor, he does doesn't he. So sad and lonely. giggle
Posted by: Wild Thing at November 17, 2006 02:31 AM
---