« Keith Ellison and Koran | Main | What Happened To Let's WIN »
November 28, 2006
Iran Vows To Help Iraq With Security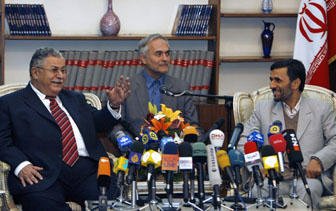 Iraqi President Jalal Talabani gestures as he speaks with his Iranian counterpart Mahmud Ahmadinejad in Tehran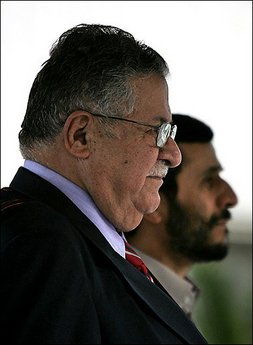 TEHRAN
Washington Times
President Mahmoud Ahmadinejad said Iran would do whatever it could to help provide security to Iraq amid warnings the country was on the brink of civil war.
Mr. Ahmadinejad made the pledge at the start of a visit to Iran by Iraqi President Jalal Talabani, whose trip was delayed for two days because of a curfew imposed after bombings Thursday that killed 202 persons in a Shi'ite Muslim stronghold. The curfew was lifted yesterday.
The United States is facing calls to engage Tehran in direct talks to help end the bloodshed, which U.N. Secretary-General Kofi Annan said had pushed Iraq closer to civil war.
"The Iranian nation and government will definitely stand beside their brother, Iraq, and any help the government and nation of Iran can give to strengthen security in Iraq will be given," Mr. Ahmadinejad said, Iranian Students News Agency (ISNA) reported.
"We have no limitation for cooperation in any field," he said.
Mr. Ahmadinejad was speaking shortly after Mr. Talabani's arrival and just before the two presidents held formal talks. Mr. Talabani said he would discuss improving ties between the neighbors, which fought an eight-year war in the 1980s.
"In this trip, we will also talk about Iraq's security file because Iraq needs the comprehensive assistance of Iran to fight terrorism and create stability," ISNA quoted Mr. Talabani as saying.
Political analysts said Iran might try to use talks with Mr. Talabani to show off its influence to the United States and bolster its position ahead of any talks with its old enemy. They also said Iran's ability to stem the bloodshed was limited.
U.S. officials have said the violence is being spurred by Iran's backing for Shi'ite groups and its weapons exports. Iran dismisses the charges.
Mr. Annan, making a rare comment on the Iraq situation, said he thought the country was nearly in civil war -- something Iraqi and U.S. politicians have refused to say despite mounting deaths.
"Given the developments on the ground, unless something is done drastically and urgently to arrest the deteriorating situation, we could be there. In fact, we are almost there," Mr. Annan told reporters in response to a civil war question.
Earlier, King Abdullah II of Jordan, who will host a summit in Amman between Iraqi Prime Minister Nouri al-Maliki and President Bush this week, said "something dramatic" must come out of it because Iraq was "beginning to spiral out of control."
The New York Times said a draft report to be debated by the Iraq Study Group, co-chaired by former Secretary of State James A. Baker III, would urge an aggressive regional diplomatic initiative to include direct talks with Iran and Syria.
The group's recommendations will be sent to the White House, which is considering a change in strategy in Iraq to allow the U.S. to start pulling out some of its 140,000 troops.
Britain, the United States' main ally in Iraq, said yesterday it hoped to withdraw thousands of troops by December 2007, while Italian Prime Minister Romano Prodi said the last Italian troops would leave next month.
But Poland appeared to push back the deadline for withdrawal of its 900 troops from Iraq, saying the force would leave by the end of 2007, not by mid-2007 as previously stated.


Wild Thing's comment.......
Oh sure send in the fox to "help" guard the henhouse. The word insane comes to mind.
Posted by Wild Thing at November 28, 2006 01:55 AM
---
Comments
Let Mexico and Central America help with security. They haven't done crapola in decades except overbreed and smuggle their breeders into America.
Posted by: TomR at November 28, 2006 09:23 AM
---
I agree Tom, they sure have been worthless among all the others things like you said.
Posted by: Wild Thing at November 28, 2006 01:57 PM
---
Tom, I'm shocked, shocked I say:) You've succincty stated what needed to be said, Mexico joined the Allies at the end of WWII, like Russia joined against Japan, for the spoils, they been a protective burden on the US ever since.
Iran providing security for Iraq, this is letting them win the war they started in 1980 and ended in 1988, providing an Islamo-fascist expansion in the area. Why thank you, ABC, CBS, NBC, BBC, CNN and of course the old grey bitch, the NY times and all you Democrats and RINO's out there.
Posted by: Jack at November 28, 2006 04:56 PM
---
This is Bush's second Harriet Miers moment. It's a consequence of the failures to press this campaign in Iraq as a war, rather than a political dilemma. The parties to the conflict have already decided that the US is going to leave the field, and they're acting on their own behalf now.
The Baker Commission will be the cover for both parties, as the world spins ever more out of control. Whatever happens between now and the first, and subsequent nukes, should be interesting to watch.
Posted by: Rhod at November 28, 2006 06:33 PM
---