« Public Service Announcement | Main | Amereica Needs Our Vote »
November 07, 2006
Heavy Rains HIt State of Washington

SEATTLE (AP) - A windy Pacific storm dumped heavy rain Monday on western Washington, killing at least one person, prompting warnings of record flooding and closing the main road in Mount Rainier National Park.
A 20-year-old elk hunter from Seattle died when his pickup truck was swept into the Cowlitz River south of Mount Rainier, authorities said.
Gov. Chris Gregoire declared a state of emergency for 18 counties, authorizing the National Guard to activate and the state Emergency Management Division to coordinate assistance.
Officials at Mount Rainier National Park, which had 7 inches of rain Sunday and was expecting 10 more Monday, closed the main park road, turned visitors away and sent employees home early via the only exit road open.
We want to prevent visitors getting trapped inside the park. The road is vulnerable to washouts in several key places, and there is only one way out," superintendent Dave Uberagua said.
A sheriff's helicopter in Snohomish County, just north of Seattle, rescued several transients stranded on a sandbar where they had been camping.
Evacuations were being encouraged in parts of Skagit County near the Canadian border, with the Skagit River expected to reach record levels, county spokesman Dan Berentson said.
The National Weather Service warned county officials to expect worse conditions than in 2003, when flooding caused $17 million in property damage in Concrete and 3,400 households were evacuated, he said. Residents began showing up at one shelter by midday, and a hospital evacuated 15 patients as a precaution.
The warm-weather rainstorms, propelled by air currents from Hawaii in a pattern called the Pineapple Express, could cause flooding of record proportions, the weather service said. Several rivers had already jumped their banks.
The Army Corps of Engineers was sandbagging several rivers. At least 200 hunters were evacuated from about 65 hunting camps near the Cowlitz River.
As of early Monday afternoon, Stampede Pass on the Cascade crest east of Seattle had 4 1/2 inches of rain in the previous 24 hours, while Seattle-Tacoma International Airport recorded more than 2 1/2 inches. The forecast called for 6 to 10 inches in the Cascades and about 3 inches in the Seattle area in the 24 hours ending Monday night, with most rivers expected to crest Tuesday.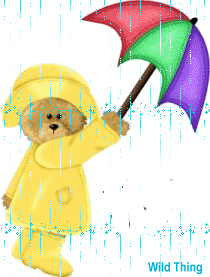 Wild Thing's comment......

For those dear friends of TW blog just wanted you to know you are in my thoughts and prayers. Stay safe with all the rain you are getting!
Posted by Wild Thing at November 7, 2006 12:47 AM
---
Comments
Thank you WT, yes things are a bit ducky here, my drains are intact and I haven't had so shovel my driveway off the county road yet, but my neighbor has.:)
Posted by: Jack at November 7, 2006 11:38 AM
---
Thanks Wild Thing. On Monday night at 6PM the actual recorded rainfall was 4-1/2 inches by SEATAC.
Posted by: DE644 at November 7, 2006 03:27 PM
---
Update: Several polling places have been closed and relocated because of flooding, and a couple of those are being relocated for a second time. It's WET.
Posted by: DE644 at November 7, 2006 03:50 PM
---
Jack and DE644, my thoughts are with you both!!!

I always remember how we had to do sandbags when we lived in one of the Malibu canyon in Calif., wow those sandbags weigh a ton!!!
I have a little Radio Flyer wagon, I use it all the time when I garden to haul plants around the yard and my planting soil. haha And when we were doing the sandbags, I had put a few in my little Radio Flyer wagon and it almost destroyed it......almost but it survived. That was a good add for how strong my little wagon is.

Stay safe!!!
Posted by: Wild Thing at November 7, 2006 05:23 PM
---
Be safe guys. I'll keep y'all in my prayers.
Posted by: raz0r at November 7, 2006 08:32 PM
---