« U.S. Weighs First Treason Charges in Over 50 Years | Main | Columbus Day Parade A Moment That Says It All »
October 12, 2006
USS Cole ~ "Determined Warrior"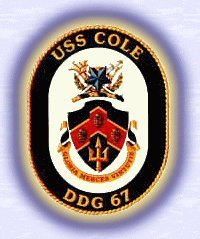 USS Cole

(DDG 67)

"Determined Warrior"
On October 12, 2000, the USS Cole (DDG 67) was attacked/bombed in the Port of Aden in Yemen by terrorists.
Think about the USS Cole, think about that ship and what those sailors were going through at that moment with that impact. In the dark, there was twisted steel, they had gaseous fumes, toxic fumes. They were operating under all kinds of adverse conditions, and then the power generation went out and they had to bail the water out by hand. And they were doing it all while they were saving other members who had been injured, and trying to recover those who had been killed.
Let us never forget our Heroes and never forget those that gave their all on the USS Cole.
- Wild Thing
A pilot's reflections
This was written by one of the helicopter pilots assigned to USS Hawes that was there to help when the attack on the USS Cole happened......... the letter speaks for itself.
It wasn't until a few days ago though, that we started doing something that I feel may be the first thing I've seen in my short Naval career that has truly made a difference. Right now we're supporting the USS COLE and her crew in Aden.
When the attack occurred we were a day away. Just by luck we happened to be on our way out of the Gulf and headed towards the Suez and could get here in a relatively short amount of time. I know what you all have seen on CNN, because we have seen it too. I just want you all to know that what you see doesn't even scratch the surface.
I'm not going to get into it for obvious reasons. But I will tell you that right now there are 250+ sailors just a few miles away living in hell on Earth. I'm sitting in a nice air conditioned state room, they're sleeping out on the decks at night. You can't even imagine the conditions they're living in, and yet they are still fighting 24 hours a day to save their ship and free the bodies of those still trapped and send them home.
As bad as it is, they're doing an incredible job. The very fact that these people are still functioning is beyond my comprehension. Whatever you imagine as the worst, multiply it by ten and you might get there. Today I was tasked to photo rig the ship and surrounding area. It looked so much worse than I had imagined, unbelievable really, with debris and disarray everywhere, the ship listing, the hole in her side.
I wish I had the power to relay to you all what I have seen, but words just won't do it. I do want to tell you the first thing that jumped out at me - the Stars and Stripes flying. I can't tell you how that made me feel...even in this God forsaken hell hole our flag was more beautiful than words can describe.
Then I started to notice the mass of activity going on below, scores of people working non-stop in 90 plus degree weather to save this ship. They're doing it with almost no electrical power and they're sleeping (when they can sleep) outside on the decks because they can't stand the smell or the heat or the darkness inside. They only want to eat what we bring them because they're all scared of eating something brought by the local vendors.
Even with all that, the USS COLE and her crew is sending a message guys, and it's that even acts of cowardice and hate can do nothing to the spirit and pride of the United States. I have never been so proud of what I do, or of the men and women that I serve with as I was today.
There are sixteen confirmed dead sailors who put it on the line for all of us, and some of them are still trapped here. Please take a minute to pray for their families and say a word of thanks for their sacrifice - one made so that we can live the lives that we do. All of you that serve with me, thank you. All of you that have loved ones that serve, thank you.

A tribute to the men and women of the U.S.S. COLE

My cargo, so precious, I carried with pride;
Brave men and women who stood side by side.

The stars and stripes, waving so high up above;
My country, my mission, any vessel would love.

My sailors all knew their assignment, full well.
They performed at top merit, their Captains would tell.

As a unit, they stood all together as one;
So deserving of honor, America's daughters and sons.

This wasn't a war, just a bright sunny day.
A sudden shudder tore my hull away;

A gaping hole, letting water inside.
With that thunderous blast, some had died.

My sirens were screaming, flames reaching high.
Sailors were moaning and so was I!

Work hard men and women! We must not fail!
Seal off the compartments! It's too much to bail!

All the medics were working, at a feverish pace;
Scenes of pure heroism all over the place!

The strongest were praying, while their muscles of steel
Assisted in any way they could see or feel.

When darkness fell we scarcely noticed at all,
Aching to hear every voice at roll call.

Finally, the moving memorial came,
Only because of those heroes so brave.

My stars and stripes, (lower), still flew just the same;
All our beautiful children accounted for by name.

Now I stood naked, before the whole world;
Men working feverishly where bombs had been hurled.

My heroes are living and healing and dead
And I will come home, just the way I am led.

You'll welcome me home, as you always do.
The cheers will be heard by all of my crew.

We're still wounded, still healing, but proud just the same
And the U.S.S. Cole will serve you again.

For you'll build back my hull, with a star and a story,
To the tip of the flagpole raise high Old Glory.

We'll always remember FREEDOM'S NOT FREE!!!
And we'll never forget HEROES LIKE THESE!

On February 3, 2006, 23 suspected or convicted Al-Qaeda members escaped from jail in Yemen. This number included 13 who were convicted of the USS Cole bombings and the bombing of the French tanker Limburg in 2002. Among those who reportedly escaped was Al-Badawi. For more on this, please read this article on the escape by Jane Novak, of Armies of Liberation.
Other Tributes to the USS Cole are at Linda's, Something...and Half of Something. Linda has an awesome tribute and the photos of the brave men and women we lost but never forgotten that horrible day.
Posted by Wild Thing at October 12, 2006 10:55 AM
---
Comments
While living in St Thomas, we used to sail every Sunday to St John or Jost van Dyke. On the way back to St. Thomas one weekend a few years ago, we noticed the Cole at anchor in the strait that divides the US and Britsh Virgin Islands.
The boat owner suggested we throw up the Flag Spinnaker and do a sail by salute, which we did. The sailors on the Cole were still a little jittery and dispatched a hard bottom inflatable boat complete with an intimidating machine gun. They approached us and told us to keep our distance. We glady obliged their request.
The owner, a Special Forces Vietnam vet, said tat it would'ne been nice to get a picture of us sailing by the Cole. We didn't have a camera on board.
The next day, I was at work on a job site on St.Thomas. The boat owner showed up on the site as he usually did, as was a tool rep for a major construction tools manufacturer.
What he had was unbelievable.!!!!!
Apparently, a tourist on a ferry, who we did not know, took a picture of us sailing by the Cole. that evening this tourist emailed the picture to some friends in California, who then forwarded the picture to some of their friends in Canada.
As it turned out, teir Canadian friends knew "someone" who had just moved to Canada from St. Thomas, so they emailed the picture to him because they knew he used to do alot os sailing down there. Well,......the guy in Canada who finally recieved this wayward photo used to sail WITH US!!!!!!! He immediately recognized the boat and e mailed the picture to the boat owner in St. Thomas, who then printed the picture and brought it to me at the jobsite.
We had the picture in hand from a chain of people we didn't know faster that if we asked for it to be FED EX'd!!!!!
Small world!!!!!
Anyway the picture can be googled by typeing.......tempest uss cole......on googles image search. It will take you to Tempest's website but you can click on 'see larger image' in the picture on top.
The repair is visible on the side of the Cole. I believe this was the first time the boat was operational after the attack.
It was a cool shot.
Billy

Posted by: Billy at October 12, 2006 12:29 PM
---
Thank you WT. I still see red whenever I remember the USS Cole, The Marine barracks in Lebanon and that debacle in Mogadishu, both of the WTC attacks and the Pentagon attack, all results of policies established by our leftist leaders. These men died as a direct result of the appeasement policies of past administrations and the reduction of defense programs in favor of Socialist programs. Just who were those USS Cole Sailors killed by al-Qaeda mastermind Jamal Ahmed Badawi?
Hull Maintenance Technician Third Class
Kenneth Eugene Clodfelter - Mechanicsville, Virginia
Electronics Technician First Class
Richard Costelow - Morrisville, Pennsylvania.
Mess Management Specialist Seaman
Lakeina Monique Francis - Woodleaf, North Carolina
Information Systems Technician Seaman
Timothy Lee Gauna - Rice, Texas
Signalman Seaman Recruit
Cherone Louis Gunn - Rex, Georgia
Seaman James Rodrick McDaniels - Norfolk, Virginia.
Engineman Second Class
Marc Ian Nieto - Fond Du Lac, Wisconsin
Electronics Warfare Technician Third Class
Ronald Scott Owens - Vero Beach, Florida
Seaman Recruit
Lakiba Nicole Palmer - San Diego, California
Engineman Fireman
Joshua Langdon Parlett - Churchville, Maryland
Fireman Apprentice
Patrick Howard Roy - Cornwall on Hudson, New York
Operations Specialist Second Class
Timothy Lamont Saunders - Ringold, Virginia
Electronics Warfare Technician Second Class
Kevin Shawn Rux - Portland, North Dakota
Mess Management Specialist Third Class
Ronchester Mananga Santiago - Kingsville, Texas
Fireman Gary Graham Swenchonis, Jr. - Rockport, Texas
Ensign Andrew Triplett - Macon, Mississippi
Seaman Apprentice
Craig Bryan Wibberley - Williamsport, Maryland
R.I.P.
Please keep the memories of these men and all those other, military and civilians who died from Moslem attacks when you vote next month for the leaders who will keep our nation's military strong, well provisioned, well trained and supported in battle, those leaders that will keep United States citizens free from tyranny.
Posted by: Jack at October 12, 2006 01:28 PM
---
Billy I have goosebumps reading that. How amazing and how wonderful all at the same time.
Than you so much for sharing about the photo and the very special story it has. I loved it!!
Posted by: Wild Thing at October 12, 2006 04:47 PM
---
Jack thank you sooooo much for putting the names and about them for us. I agree with you so much and the others attacks yesss all due to appeasement policies of past administrations. It makes me furious.
Thank you again!!!!
Posted by: Wild Thing at October 12, 2006 04:49 PM
---
Beautiful tribute Chrissie ...
Posted by: beth at October 12, 2006 05:12 PM
---

The Cole is the reason I was proud to be a
Tincan Sailor,A Fast Ship in Harms Way as
for the Tincan I was on she belongs to
Davy Jones sunk by the Greek Navy with an
practice torpedo RIP USS Frank Knox DDR 742
Posted by: Tincan Sailor at October 12, 2006 06:08 PM
---
HI Beth, thank you so much!!
Posted by: Wild Thing at October 14, 2006 01:13 AM
---
Tincan Sailor, thank you for that!!! THank you for serving our country!!
Posted by: Wild Thing at October 14, 2006 01:15 AM
---