« Susan Estrich Become Counsel For Terrorist Supporter | Main | USS Cole ~ "Determined Warrior" »
October 12, 2006
U.S. Weighs First Treason Charges in Over 50 Years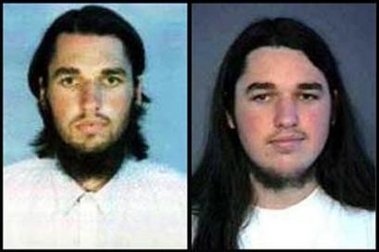 Adam Gadahn is seen in these undated pictures released by the Federal Bureau of Investigation (FBI).
A California-born convert to Islam could become the first American accused of treason since World War Two after he appeared in al Qaeda videos, sources familiar with the man's case said on Wednesday.
They said U.S. prosecutors were strongly considering bringing the charges, which carry a maximum punishment of death, against Adam Gadahn, 28, who is believed to be overseas and is not in U.S. custody.
The charges could come as early as Wednesday.
The U.S. Justice Department last brought treason charges, during the World War Two era, the sources said.
Gadahn, who is also known on the videos as Azzam the American, has been involved in a propaganda campaign of the Islamic militant group, the sources said. Some of the videos have threatened attacks against the United States.
He converted to Islam from a Judeo-Christian family when he was 17 and a few years later moved to Pakistan. He previously was known as Adam Pearlman and grew up on a goat ranch outside Los Angeles.
The FBI has sought to question him since May 2004.
Besides treason, prosecutors have prepared other criminal charges against Gadahn, the sources said. They declined to give specific details.
AL QAEDA
The sources denied the case was timed to deflect attention from the fallout over lewd computer messages sent by a former Republican congressman to young male aides, a scandal that may help Democrats seize control of Congress in November 7 election.
The FBI has said that Gadahn attended al Qaeda training camps in Afghanistan, that he has been associated with al Qaeda's leaders and that he has done translations for al Qaeda.
His last video was posted on a Web site on September 2.
"If the Zionist crusader missionaries of hate and counter-Islam consultants like ... the crusader and chief George W. Bush were to abandon their unbelief and repent and enter into the light of Islam and turn their swords against the enemies of God, it would be accepted of them and they would be our brothers in Islam," Gadahn said in English.
Al Qaeda's second-in-command, Ayman al-Zawahri, made a brief statement at the start of the tape urging viewers to listen carefully to the message.
U.S. officials believe Gadahn appeared in another video last year, right before the anniversary of the September 11 attacks, threatening al Qaeda attacks on Los Angeles and Melbourne, Australia.
They also believe Gadahn threatened attacks in a video released in October 2004, just before the U.S. presidential election.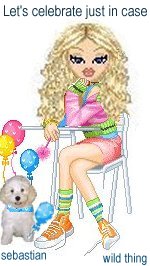 Wild Thing's comment.......
May I please add a few other candidates and they would be a lot easier to find since they are usually in Washington and one that does not work out of Washington???? The only difference between this guy and Hanoi Jane is is he doesn't appear to have a line of exercise videos.
So I guess now we just wait and see what names start to show up that say no way José can this man be charged with treason. Tick tock tick tock, when will Harry Reid, Pelosi etc. run up the clock. Oh and of course terrorist's lover CAIR will be burning a candle in their window to welcome Adam Gadahn to some safe place to hide and then he can do videos of his whine of being picked on.
Hahaha The enemy is just ever so predictable.

Posted by Wild Thing at October 12, 2006 01:47 AM
---
Comments
Pussy looking kid. Again, converts to this cult of islam seem to be some of the weirdest, most vile and odd people. In the 60s society's outcasts and 8-balls became Moonies and were gentle idiots. Now the sickos convert to islam and support murder.
Now that treason has been dusted off, maybe the Federal death penalty will be thought of as well.
Posted by: TomR at October 12, 2006 03:22 AM
---
230 Grains of jacketed hollow point right between the eyes, about 1/2 inch above the bridge of the nose. That's all this Masterpiece of Depravity deserves.
Posted by: BobF at October 12, 2006 08:19 AM
---
Good. The left will whine that it's an exercise of free speech. Bah. It's aid and comfort to the enemy. Find him. Bag him. Make an example.
Posted by: raz0r at October 12, 2006 10:58 AM
---
Tom I noticed that too. This guy looks mushy to me. I mean soft like a girl...yuk! ick!
I sure hope the death penalty for treason will be brought back. I have wanted that to happen for such a long time.
Posted by: Wild Thing at October 12, 2006 11:18 AM
---
Posted by: Wild Thing at October 12, 2006 11:19 AM
---
razOr I agree make this guy an example big time.
Posted by: Wild Thing at October 12, 2006 11:19 AM
---
I can he his defense proposition developing already. He grew up on a "goat ranch".
Posted by: Rhod at October 12, 2006 12:57 PM
---
Typo, first sentence. "I can see...".
Posted by: Rhod at October 12, 2006 12:58 PM
---
Maybe, when we find out about terror plots and changes in Al Qaeda's heirarchy, instead of hiding the 'unnamed source' we should attribute the information to Mr. Gadahn.
.......CBS NEWS has learned today that Adam Gadahn, undercover operative for the US government has supplied US officals with secret tapes of Al Qaeds's meetings along with plans by the group to..........
Let him do the carpet dance in front of his fellow jihadis.
Billy
Posted by: Billy at October 12, 2006 12:58 PM
---
WT, you are so right about starting in Washington, and are spot on with the usual suspects, which is why this whole thing is such a charade to boost the Democrats 'security'image at election time. Maybe goat boy is their harem's girly guy, the moslems would rather hear a fat boy fart than a pretty girl sing anyway. BobF,I agree that the 230gr JHP is the permanent solution to their kind.
Posted by: Jack at October 12, 2006 02:00 PM
---
Rhod " a goat ranch" hahahhaahahhahaha

I did read where he loved to kill animals, not for food but for pleasure. He is a very sick person.
Posted by: Wild Thing at October 12, 2006 04:50 PM
---
Billy that is great. Let's get his information and all he knows then we can have him executed.
Posted by: Wild Thing at October 12, 2006 04:52 PM
---
Jack........
"goat boy is their harem's girly guy"..... he sure looks like a girlie guy. haha
Posted by: Wild Thing at October 12, 2006 04:55 PM
---

Hell why not hang him upside down with a rope
and pour hot lead up his butt till the rope
brakes!!!!
Posted by: Tincan Sailor at October 12, 2006 06:11 PM
---
Tincan Sailor heh heh I like that one!
Posted by: Wild Thing at October 14, 2006 01:17 AM
---