« Israeli F-16I Sufa ~ Israel's Choice Aircraft | Main | Rice ~ Loose Cannon or Spokesperson »
October 16, 2006
Terrorist Sympathizer Lynn Stewart Gets ONLY 28 Months


Clinton appointed Judge, communist, American hater, terrorist lover says ONLY 28 months. Well he can go to hell!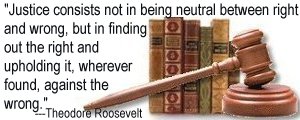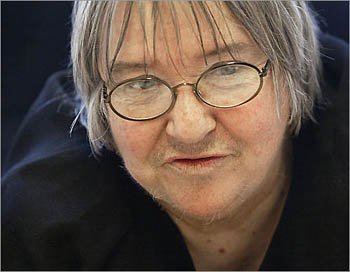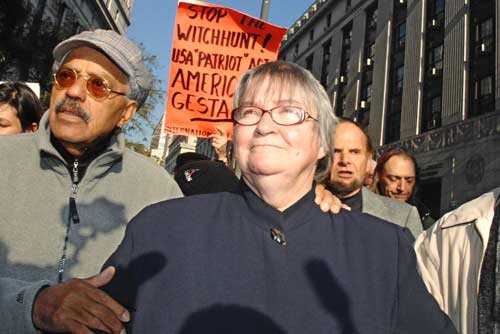 Former civil rights lawyer Lynne Stewart appears with her husband Ralph Poynter, right, at a rally in front of Manhattan federal court before her scheduled sentencing.
(AP Photo)
Oct 16, 2006
NEW YORK -- Civil rights lawyer Lynne Stewart was sentenced to two years and four months months in prison on a terrorism charge Monday for helping an Egyptian sheik communicate with his followers on the outside.
Stewart, 67, who was diagnosed with breast cancer last year, smiled, cried and hugged supporters after U.S. District Judge John G. Koeltl announced he was dramatically reducing the 30-year prison sentence called for by federal sentencing guidelines.
"If you send her to prison, she's going to die. It's as simple as that," defense lawyer Elizabeth Fink told the judge before the sentence was pronounced.
The sentence was met with claps and cheers outside the courthouse, where about 200 supporters of Stewart had gathered.
"This is a victory for the movement," one of Stewart's supporters said.
The motley crowd was a mix of graying Vietnam-war era leftists--some in wheelchairs--with younger, anti-Iraq war activists. It also included several filmmakers working on projects related to the case.
The judge said Stewart could remain free pending appeal, a process that could take more than a year.
Koeltl said she was guilty of smuggling messages between the sheik and his followers that could have "potentially lethal consequences."
He called the crimes "extraordinarily severe criminal conduct." But he cited more than three decades of dedication to poor, disadvantaged and unpopular clients that had left her destitute even though she worked on more than 70 cases at once.
"Ms. Stewart performed a public service, not only to her clients but to the nation," Koeltl said.
Outside court, Stewart said she thought the sentence was "a victory for doing good work all one's life." She added: "You get time off for good behavior usually at the end of your prison term. I got it at the beginning."
U.S. Attorney Michael Garcia said he had no immediate comment.
Stewart was convicted in 2005 of providing material support to terrorists. She had released a statement by Omar Abdel-Rahman, a blind sheik sentenced to life in prison after he was convicted in plots to blow up five New York landmarks and assassinate Egypt's president.
Prosecutors have called the case a major victory in the war on terrorism. They said Stewart and other defendants carried messages between the sheik and senior members of an Egyptian-based terrorist organization, helping spread Abdel-Rahman's call to kill those who did not subscribe to his extremist interpretation of Islamic law.

In a letter to the sentencing judge, Stewart proclaimed: "I am not a traitor." "The end of my career truly is like a sword in my side,"
Stewart said at her sentencing. "Permit me to live out the rest of my life productively, lovingly, righteously." In a pre-sentence document, prosecutors told Koeltl that Stewart's "egregious, flagrant abuse of her profession, abuse that amounted to material support to a terrorist group, deserves to be severely punished."
In a letter to the judge, Stewart asked for mercy, saying she did not intentionally enter into any plot or conspiracy to aid a terrorist organization. She believes the Sept. 11 terrorist attacks made her behavior intolerable in the eyes of the government and gave it an excuse to make an example out of her.
"The government's characterization of me and what occurred is inaccurate and untrue," she wrote. "It takes unfair advantage of the climate of urgency and hysteria that followed 9/11 and that was relived during the trial. I did not intentionally enter into any plot or conspiracy to aid a terrorist organization."
"This case had nothing to do with September 11, your honor," Assistant U.S. Attorney Andrew Dember said at the sentencing.
"What she was doing was smuggling terrorism messages and smuggling out Abdel-Rahman's responses." Earlier, about 150 Stewart supporters who could not get inside the capacity-filled courtroom stood outside the courthouse, chanting "Free Lynne, Free Lynne."
As she entered the courthouse, Stewart shouted to them "I love you" and "I'm hanging in there." "It's not just Lynn Stewart who is a victim, it's the Bill of Rights that's the victim," said Al Dorfman, 72, a retired lawyer who was among the Stewart supporters standing outside.
Another 200 supporters jammed the hallways outside the courtroom.
Stewart was arrested six months after the Sept. 11, 2001, terrorist attacks, along with Mohamed Yousry, an Arabic interpreter, and Ahmed Abdel Sattar, a U.S. postal worker.
The indictment against Stewart, Yousry and Sattar was brought by former Attorney General John Ashcroft in 2002.
Koeltl sentenced Sattar to 24 years in prison on Monday.
Convicted of conspiracy to kill and kidnap people in a foreign country, he could have been sentenced to a life term.
Koeltl said he departed from the federal sentencing guidelines for Sattar because no one was killed or injured as a result of the crimes and because of Sattar's lack of previous crimes and restrictive prison conditions.
"I am not a terrorist, your honor," Sattar told the judge before he was sentenced.
"I am not a violent person. I am a human being. I am an American. I am a Muslim who practices and believes strongly in his religion," Sattar said.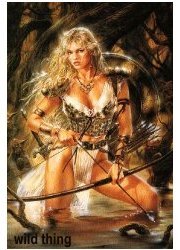 Wild Thing's comment......
This makes me sick to my stomach, totally sick. I am tired of being angry and I am tired of seeing how the enemy within.....the LEFT is destroying our great America inch by inch. I will never give up, it just isn't in me to do such a thing. We have the grandest county on this earth. In my world, the American Flag will always fly, Veterans and our troops will always be appreciated for all they do. But the warrior in me is also on 24/7 alert to the enemy and more and more my anger grows toward them and more and more I want them to know it. Let others be diplomatic, let others keep quiet when they could speak out. Not me, I want them to know how they disgust me, how evil I think and know they are!!
This is a travesty the woman gave info from a terrorist to his henchmen on the outside. Treason is now on the same level as failing to use your turn signal. Those charged with enforcing our laws almost entirely ignore it.
If there was any justice at all she would have been stood up against a wall and shot!!
Well this idiot freak Judge John George Koeltl, was appointed by Clinton so what else is new.
Federal Judicial Service: Judge, U. S. District Court, Southern District of New York Nominated by William J. Clinton on April 26, 1994, to a seat vacated by Shirley Wohl Kram; Confirmed by the Senate on August 9, 1994, and received commission on August 10, 1994.
Also this woman and her associate Sattar aided in the assassination of the Afghan Northern Alliance leader Masood, the "Lion of Panjir."
Remember the Rosenbergs, they were executed. Their grandchildren (Robert and Rachel Meeropol) worked for and with Lynne Stewart. The Meerpol's are active in America hating traitorous activities here in the US. They wrote on behalf of this dirty b*tch.
"Her case is an example of the way in which the government is equating individuals who represent terrorists with terrorists themselves -- that language of 'if you're not with us you're against us'," said Rachel Meeropol of the Center for Constitutional Rights.
And there is this as well.................
MAY 2003 : (CUNY LAW SCHOOL STUDENTS ATTEMPT TO AWARD ATTORNEY LYNNE STEWART THE SCHOOL'S 'PUBLIC INTEREST LAWYER OF THE YEAR' AWARD AT THEIR GRADUATION CEREMONIES- CUNY'S CRIMINAL LAW SOCIETY HONORED HER INSTEAD AT A PRIVATE CEREMONY)
Stewart has absolutely no remorse for what she did, and plays the martyr's role to perfection: "…don't ask me what I was doing! Ask what the government was doing listening in!" she told WW3 Report. "…They suckered me…I really see it all as part of the right-wing parade orchestrated by Bush [* My note: at the time she was taped, Clinton was president, not Bush] and Ashcroft [* My note: at the time she was taped, Janet Reno was the Attorney General, not Ashcroft] , which really masks their economic goals, to exploit the Third World and divert Americans' attention from the fact that our economy seems to be tanking right now. If I am the poster-child now for the anti-Ashcroft forces, I'm happy to be that."
These kinds of sentiments only encouraged leftist law students at the City University of New York to attempt to present her with the school's Public Interest Lawyer of the Year award at graduation ceremonies last month. A group of students gave administrators a petition containing 73 names—more than half of the graduating class—in an effort to reward Stewart for her betrayal of her country and its citizens.
This turned out to be an award too far, however. After the award was leaked to the press, CUNY law school dean Kristin Booth Glen informed students via e-mail that Stewart would not be honored because that "could lead to consequences that could be damaging."
This brought out the martyrs brigade again. Kathryn Hudson, the CUNY law student who spearheaded the effort to fete Stewart, fumed, "If you can't have free speech at a law school, where can you have it?" Said graduate student, Kavita Pawria, "There is an irrational fear being used to suppress civil liberties."
Stewart herself got into the act, saying, "The students seem to carry on a long tradition of reminding institutions of their responsibilities. They are willing to take the risk, but Dean Glen apparently is not."
Stewart ended up feeling quite feted, however, as CUNY's Criminal Law Society honored her at a private ceremony prior to graduation. Considering CUNY law students' abysmal 50 percent passage rate on the bar exam, engineering this small victory was quite resourceful.
-- " Cheerleaders for Terrorism: Radical lawyer Lynne Stewart continues her support for Islamic terror ," By Erick Stakelbeck, FrontPageMagazine.com, Wednesday, June 17, 2003 posted June 18, 2003

* Blue Star Chronicles ( Beth)
Posted by Wild Thing at October 16, 2006 03:55 PM
---
Comments

Well if the good Lord is willin and the creek
don't rise and with a little luck the only way
she will come out of the slammer is in a
wooden box,too bad so sad,yuk yuk yuk!!!
Posted by: Tincan Sailor at October 16, 2006 06:39 PM
---
Tincan Sailor, I sure hope she does. Not a bad idea of her coming out in a wooden box.
Posted by: Wild Thing at October 16, 2006 07:18 PM
---
WT as I told Linda and I am not the only one with the thought. Hopefully the old bag will just die while in jail.
Posted by: John 5 at October 16, 2006 07:51 PM
---
This may be morbid, but you know, Saddam Hussein was onto something when he had "rape rooms" in his prisons for female victims.
Could you imagine Lynn Stewart in a cell with male Muslim inmates?
Within hours, the Muslims would have either hung themselves, converted away from Islam, or spilled their guts and confessed all they knew in exchange for ANY other cell.
:-)
Posted by: Nick Byram at October 16, 2006 08:05 PM
---
John 5, I hope so.
She is a dangerous person and with this light sentence it will not stop her from doing more things that put our country in danger.
Posted by: Wild Thing at October 16, 2006 08:16 PM
---
Nick Byram,
"Within hours, the Muslims would have either hung themselves, converted away from Islam, or spilled their guts and confessed all they knew in exchange for ANY other cell."

hahaha good one!!!
Posted by: Wild Thing at October 16, 2006 08:18 PM
---
This is indicative of the cancer that is eating away at our beloved country. Every day our unique and wonderful way of life is being eroded by the Left's blind smypathy for trash like Stewart and their implied "rights". Those rights end where the common good begins. Stewart's actions were nothing short of treason and the sentence should have reflected the depth and severity of her actions. The judge should be impeached, Stewart should be deported, her lawyer, Finch, should be disbarred and tried for aiding and abetting the enemy. Where is our Government in all this? Why are they sitting on their hands? Are they really that afraid of the Democrat Zombie mobs, with their juvenile signs and songs and puppets that they parade around at their marches? Is it going to be up to people like you and me and other patriotic citizens to stand up to these lefty loonies and, worse yet, have to stand up against our ever weakening government officials? It's getting very confusing out there. Even the Republican gang is getting caught up in the frenzy of hate and name calling and all the other bull and seem to be forgetting that they are in charge. They are leading us in the war being waged by radical Islam and if they don't start putting things in order here and now, they might as well just let them win.
Sorry I'm rambling, but this sort of thing makes me physically sick. It never seems to end.
Posted by: gregor at October 16, 2006 08:41 PM
---

Will some one show that old goat how to shave
and comb that mop she calls hair and if she
hangs with the Myzzzziiieees no doubt she needs
a bath.Its been said Beauty is only skin deep
but Ugly goes clean to the bone!!!
Posted by: Tincan Sailor at October 16, 2006 10:03 PM
---
That 28 months isn't the end of the rubbing our noses in it, this bitch is free until the appeals process ends. Stanley Cohen, is known as the Hamas Lawyer, now we know who the Hamas judge is. Justice is blind, too blind to do the right thing, look at the signal this gives the Islamo-Fascists.
Posted by: Jack at October 17, 2006 12:35 AM
---
Gregor you aren't rambling at all. I agree with what you wrote. 100%

Posted by: Wild Thing at October 17, 2006 02:12 AM
---
Tincan Sailor Hahahaahahaha
Well she is married so I guess her husband in the photo like her hairy chiny chin chin. hahaha
Posted by: Wild Thing at October 17, 2006 02:13 AM
---
Jack your so right, the left could care less about what it is telling the world about us. I am so angry about this.
Posted by: Wild Thing at October 17, 2006 02:14 AM
---
Some of our soldiers have already been deployed to the combat zone for more time than this ugly Lefty will serve for treason. America's judiciary is a fatal cancer. And our national leadership is a demonstration of weak wills. We need a leader, no, leaderS plural to save us.
Posted by: TomR at October 17, 2006 10:07 AM
---
Tom, GREAT comment. Your right a lot of our troops have been in country much longer then she will see a jail cell. It makes me sick!!!
Posted by: Wild Thing at October 18, 2006 03:47 AM
---