« Islamic TV Channel Expands Its U.S. Audience | Main | Navy E-2C Squadron »
October 22, 2006
Muqtada Al Sadr's Mahdi Army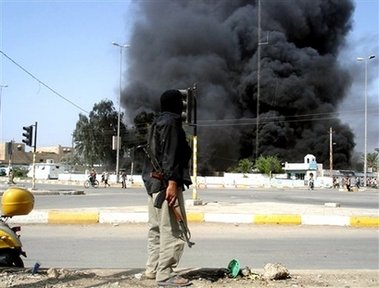 A masked gunman stands on a street corner as a building burns nearby in southern Iraqi town of Amarah, 320 kilometers (200 miles) southeast of Baghdad, Friday Oct. 20, 2006. Mahdi Army, the Shiite militia run by anti-American cleric Muqtada al-Sadr seized control of the southern Iraqi city of Amarah on Friday after their fighters stormed three main police stations Friday morning, planting explosives that flattened the buildings. (AP Photo/Haidar Hany)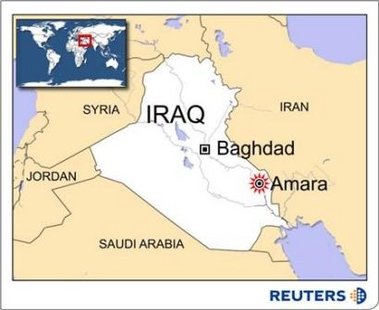 The clashes between US Armed Force and Mahdi Army indicates a new phase and shift of security plans and battle against terrorists, and the next battle to destroy Mahdi Army with Al Sadr dead, or captured alive.
BAGHDAD, Iraq (AP) -- The Shiite militia run by anti-American cleric Muqtada al-Sadr seized total control of the southern Iraqi city of Amarah on Friday in one of the boldest acts of defiance yet by one of the country's powerful, unofficial armies, witnesses and police said.
Prime Minister Nouri al-Maliki dispatched an emergency security delegation that included the Minister of State for Security Affairs and top officials from the Interior and Defense ministries, Yassin Majid, the prime minister's media adviser, told The Associated Press.
The Mahdi Army fighters stormed three main police stations Friday morning, planting explosives that flattened the buildings, residents said.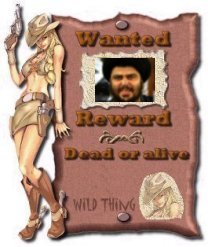 Wild Thing's comment.........
Muqtada Al Sadr is going to have his very own category in my sidebar.
Why we ever let Al Sadr live I'll never understand. As far as I'm concerned, this guy is fair game. He has been quoted as saying...."I will fight until the last drop of my blood has been spilled."
Posted by Wild Thing at October 22, 2006 12:44 AM
---
Comments
When Al Sadr's group masses like this, they become an easier target. Maybe this time the "compassionate conservative" bunch will let the military do it's job.
Notice how close Amara is to Iran. Can you say, "Sanctuary"? As in Cambodia, Laos in another war.
Posted by: TomR at October 22, 2006 04:17 AM
---
You're right Tom, but sanctuary is not all Sadr gets from Iran. He gets funds and weapons and personnel.
I've been watching this monster since 2002, and I can't believe that the United States has not recognized him for what he is.
We should never have made a deal with him.
Posted by: LindaSoG at October 22, 2006 08:48 AM
---
The last war the United States fought to win was WWII, since then it has been spill our blood so we can negotiate a truce then give the prize away, often to those who don't appreciate their freedom or can't comprehend the concept. They will only stop once the world stops treating them as insurgents or militants, and treats them as the terrorists that they are. They are way beyond common criminals, box them in at Amarah and let the Iraqi forces destroy them all.
Posted by: Jack at October 22, 2006 09:41 AM
---
Tom I agree, when I saw the map I just had to include it in the post. It is not far at all.
Posted by: Wild Thing at October 22, 2006 12:12 PM
---
I agree Linda, we should have laughed at his stupid lie of a promise and killed him on the spot.
OH yeah Al Sadr, well you can promise us till the cows come home this is our reply. K-boom
Posted by: Wild Thing at October 22, 2006 12:14 PM
---
Jack, I wish!!!! Gosh that would be so great if that could happen.

Posted by: Wild Thing at October 22, 2006 12:17 PM
---