« Nerves Of Steel | Main | CNN Totaly In Bed With Islamic Terrorists ~ DESPICABLE!! »
October 24, 2006
It's About Me, Me, Meeeeeee Say Muslims Whine

NJ Muslim group tracking airport run-ins
A New Jersey Muslim group is launching a nationwide effort to record complaints about Muslims being wrongfully detained or questioned at airports to determine where the worst problem areas are.
The goal is not to file lawsuits, but to get to the source of problems and correct it, said Sohail Mohammed, a lawyer for the American Muslim Union.
The group is sending out forms via e-mail networks and to mosques around the country asking travelers to record as much information as they can about where, when and why they are questioned by authorities.
"It seems like people don't know whether they are interacting with the INS, the FBI, Homeland Security or whoever they just know someone stopped them," he said.
The group has received several complaints from Muslims using airports in New Jersey and New York that they were detained and questioned for hours when attempting to return to the country from abroad.
With the Muslim holy month of Ramadan drawing to an end this weekend, many travelers will want to make a pilgrimage to Saudi Arabia, known as the "hajj," that is required of all Muslims at least once in their lives.
"This is a huge travel time for Muslims and we don't want them to run into the same problems," Mohammed said.
The U.S. Department of Homeland Security's civil rights office, which deals with such complaints, did not return a call Friday seeking statistics on how many Muslims have filed complaints alleging wrongful detention at airports.
Abdin Aly, a Little Falls accountant, said he was detained and questioned for two hours at New York's John F. Kennedy International Airport in September 2005 after returning from a trip to Egypt with his wife. He had briefly left the Frankfurt, Germany, airport to have dinner with a relative during a stopover there. He said authorities did not say whether his name appeared on a watch list.
"They wouldn't let me use the bathroom or use the telephone to call my son, who was waiting for me for two hours, wondering where I was and what was going on," he said. "It was ugly. At least this will bring awareness to officials about what's going on."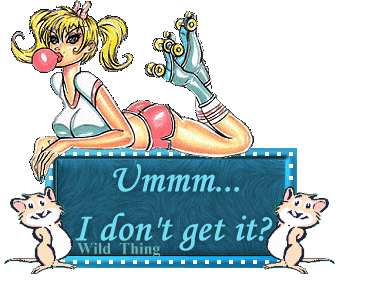 Wild Thing's comment......
I just don't get it, they are working overtime to make enemies when they could try to get along, try to fit in and appreciate living in the best country in the world. But nooooooooo, that would ease tensions, that would show that I might be wrong about them. Come on Muslims I dare you to prove me wrong when I say there are NO moderate Muslims.
It just never ends with these Muslims they want to have trouble, they want to complain and moan and whine. How about an organization FOR Muslims where they can send letters, make phone calls and get their outrage known of their being upset at the attacks on 9-11, the USS Cole and all the other attacks.
Oh nooooooooooo you mean they don't want to do that? You mean they don't have any outrage??? Wow, and I guess waiting for the fat lady to sing and ice to form in hell is out of the question too. Well double darn anyway.
Posted by Wild Thing at October 24, 2006 01:47 AM
---
Comments
It will get worse as more and more immigrate into America. I get pissed every time I just see one of them, but there is no one or group to defend my aggravation.
Posted by: TomR at October 24, 2006 11:52 AM
---
They get upset because, being moslem, they get the once over when returning from abroad. But when a moslem kills some innocent nun, priest, or teenage girls - sound of crickets. I don't care if they are inconvienced or their sensibilities are bruised.
Posted by: raz0r at October 24, 2006 07:04 PM
---
Tom I agree, it is going to get much worse. augh!
Posted by: Wild Thing at October 25, 2006 06:56 PM
---