« N. Korean Ambassador to UN Walks Out In A Huff | Main | Al Qaeda leader 'in secret CIA jail' »
October 16, 2006
Iran Not Budging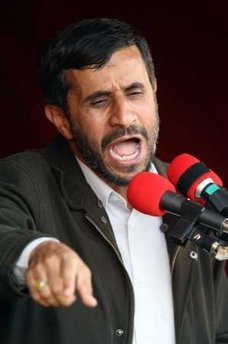 So what is happening with Iran? Are they deciding to do what has been asked of them. Does anything that is being done about North Korea effect the thought proeceess in Iran and their defiance?
Let's take a look at some of the latest information we have:
Start here to see the flow of what is happening................
* N Korea sanctions 'should sway' Iran
news.com.au

Tough U.N. sanctions on North Korea should help convince Iran to suspend its suspected nuclear weapons program, the U.S. ambassador to the United Nations said overnight.

"I hope the lesson they learn is that if they continue to do nuclear weapons they will face the same kind of isolation and friction" that North Korea now faces, Ambassador John Bolton said on CNN's Late Edition.
* Iran says sanctions threat part of psychological war
Tehran

Iran's Foreign Ministry said on Saturday Western threats to impose sanctions were part of a "psychological war" and the Islamic Republic was more determined than ever to pursue peaceful nuclear technology.

Iran's state television Web site said Foreign Ministry spokesman Mohammad Ali Hosseini described "the issue of imposing sanctions on Iran as a psychological war against Iran."

"The Iranian nation does not fear possible sanctions and -- more determined than in the past -- it continues its way toward the peaceful use of nuclear energy," he was quoted as saying.
* Israel calls for tough UN action on 'demented' Iran
JERUSALEM (AFP)

Israel's ambassador to the United Nations urged the Security Council to take tough measures against "demented" Iran for its nuclear program in the wake of North Korea's declared atomic test.

"The international community should learn the lessons of what occurred in North Korea," Danny Gillerman told army radio. "North Korea was only the preview. Iran will be the feature film, which, if no one takes serious action, will be projected throughout the whole world."

Gillerman called for "much harder sanctions to be imposed on a demented Iranian regime that seeks to destroy a UN member state (Israel), and totally denies the Holocaust, while preparing to perpetrate a second Holocaust."

But, "I do not anticipate more significant and firmer sanctions against Iran than those being considered for North Korea."

Israeli leaders called for the North Korean test to serve as a wake up call to the international community on the risks of nuclear proliferation and prompt a zero-tolerance policy with Tehran.
* Iran to pursue atomic work despite pressure: agency
TEHRAN (Reuters)
Iran's president said Tehran would keep up its nuclear activities despite Western countries' mounting threats and pressures, the student news agency ISNA reported on Sunday.

Iranian President Mahmoud Ahmadinejad was defiant at a meeting with a group of conservative officials on Saturday, saying Iran was determined to press on with its nuclear work.

"The threats and pressures against Iran's nuclear activities will not tarnish the will of the Iranian nation to continue its way (of achieving nuclear technology)," Ahmadinejad said.

"The nation will not be intimidated by the threats and will continue on its path vigorously," ISNA quoted Ahmadinejad as saying.

Iran's case has been sent back to the Security Council after it failed to halt uranium enrichment, a process the West fears Iran is using to develop atomic bombs despite Tehran's denials.

Iran has shrugged off the threat of sanctions in the past. Analysts say the world's fourth largest oil exporter, which is enjoying an oil revenue windfall, may feel it can cope with the modest penalties likely to be imposed initially.

Ahmadinejad said the request by Western countries for Iran to suspend uranium enrichment was illegal.

"If they succeed in imposing their illegal demand on us they will increase the pressure to impose extra demands," Ahmadinejad said. "By God's grace they will not be able to stand against the Iranian nation," he said.
* Iran Offers Russia and America a Package Deal
Global research.ca
Ahmadinejad makes an offer to take control of the entire Near East. Komersant reported that the Iranian leadership has worked out its own plan to come to a peaceful accord with the West. Teheran has made offers to Russia and the United States that would not only allow the Islamic Republic to keep its nuclear program but also to take control of the entire Near East.
In making his argument for why Iran and the West would do better not to quarrel, Mr. Ahmadinejad said, "the Iranian nation is becoming more powerful, stronger, and more steadfast by the day, while you are becoming ever weaker and more isolated."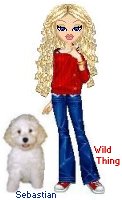 Wild Thing's comment.....
Both Almondjoy and Kim Il seem to be lunatics of the highest order that in a real world would be in strait jackets. Their form of insanity though is dangerous and concerning. And both countries will gladly martyr their civilians.
I don't have a clue how people like this can be even talked to. It doesn't seem to do any good. At least not so far anyway. They have no respect for life, behave like some mad comic book character that is out to destroy the world. There is no reality they can focus on to bring them around. The high they live on .... their ego's is impossible to penetrate.
Posted by Wild Thing at October 16, 2006 12:44 AM
---