« Bomb Iran Video ~ Turn up the Volume | Main | Chief of Staff Josh Bolten to democrats: GO POUND SAND! »
September 06, 2006
Wonderful World of Islam Video
Music : Louis Armstrong - "What A Wonderful World"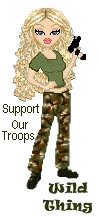 * Save the Soldiers ( supporting our troops in all their locations all over the world)
Posted by Wild Thing at September 6, 2006 12:47 AM
---
Comments
You look at the kids in the video and you have to realise that they are indoctrinated in the hatred of Radical Islam at a very young age. All they know is hatred as their means of salvation. We must realise that as these kids grow into teens and young men things are going to get worse as far as Radical Islam goes. There is a very fine line between Islam and Radical Islam.
We will know when all is lost when one of the official clergy of congress is a Muslim.

Posted by: BobF at September 6, 2006 09:30 AM
---
Bob your so right.
Right after 9-11 when I started to read about Islam and lilke all of us....found out how precious children are brainwashed and instilled with such hate it scared me more then I can say. To know that years to come these wee ones will be continuing the evil. How will it ever end.
Posted by: Wild Thing at September 6, 2006 09:55 AM
---