« Annan Denies Claim That He Told Iran to Ignore Uranium Deadline | Main | Bill Clinton Freaks Out ~ Better put some ice on that, Bill. »
September 23, 2006
Strikeout For The Troops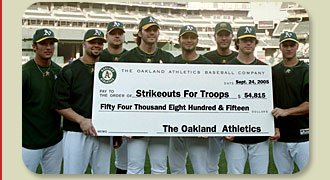 Barry's teammates present him with a check for $54,815.00. To benefit Strikeouts For Troops and help our wounded soldiers and their families.
Pitchers:
Barry Zito, Oakland A's
Dontrelle Willis , Florida Marlins
Jake Peavy, San Diego Padres
Shawn Estes, San Diego Padres
Curt Schilling, Boston Red Sox
CC Sabathia, Cleveland Indians
Danny Haren, Oakland A's
Matt Miller, Cleveland Indians
Tim Hudson, Atlanta Braves
Horacio Ramirez, Atlanta Braves
Chad Cordero, Washington Nationals
Rich Harden, Oakland A's
Kirk Saarloos, Oakland A's
Huston Street, Oakland A's
Joe Blanton, Oakland A's
Justin Duchscherer, Oakland A's
Brad Lidge, Houston Astros
Chad Qualls, Houston Astros
Russ Springer, Houston Astros
Dan Wheeler, Houston Astros
Trevor Miller, Houston Astros
Jason Hirsh, Houston Astros
Minor League Pitchers:
Errol Simonitsch, New Britain Rock Cats
Trevor Bell, Angels Rookie Team
Position players:
Alex Rodriguez , 3B
Chipper Jones, 3B, Atlanta Braves
Manny Ramirez, LF, Boston Red Sox
Jermaine Dye, RF, Chicago White Sox
Jason Kendall, C, Oakland A's
Nick Swisher, RF, Oakland A's
Mark Kotsay, CF, Oakland A's
Eric Chavez, 3B, Oakland A's
Mark Ellis, 2B, Oakland A's
Eric Byrnes, CF, Arizona Diamondbacks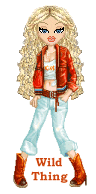 Wild Thing's comment....
This is great! I wish ALL the ballplayers would sign up for this. I am not sure if the list they have at their website is updated or not.
Posted by Wild Thing at September 23, 2006 12:47 AM
---
Comments
I gave up on baseball after the last strike but these guys have my admiration.
Posted by: Jack Hamilton at September 23, 2006 08:53 AM
---
Jack, Nick almost did the same about giving up baseball,he was so disgusted.
I agree these guys are wonderful to do this for the troops and their families.
Posted by: Wild Thing at September 23, 2006 11:42 AM
---
What they have done is very commendable and God knows the military families need all the help they can get.
Sorry but this noble gesture by 34 outstanding team members will not bring some of us back to the ball park after being burned by their strikes. Notwithstanding that Danny Glover's hugging Hugo Chavez on National TV is going to bring me back to a theater or to watch a Hollywood production. Charity and compassion are freely given not for their tax write offs or blatant publicity.
Posted by: Jack at September 23, 2006 11:49 AM
---
I am not a baseball fan, but I sure do like this program. How refreshing to see so many Americans and American groups supporting our troops, even if these people are not pro-war. So different from Vietnam.
Posted by: TomR at September 23, 2006 03:11 PM
---
Jack oh that Danny Glover he is horrible!!!! A real communist lover.
I think the other ballplayers should be ashamed of themselves for not being a part of this. Guess I have to be grateful for something and I am, but I want more of them to sign on.
Posted by: Wild Thing at September 23, 2006 03:52 PM
---
Tom yes it is different isn't it. I wish it was the norm for everyone to support our troops in all conflicts and wars.
Posted by: Wild Thing at September 23, 2006 03:54 PM
---
What a great program! I haven't heard of it before. Thanks for blogging it.
Posted by: beth at September 23, 2006 10:11 PM
---
Beth I am so glad it is an ok one for the neat thing you do at BSC. Thank you so much.
Posted by: Wild Thing at September 23, 2006 11:48 PM
---