« Tweedledum and Tweedledummer | Main | Go Electric Strawberry! »
September 26, 2006
Salute a Hero....Airman 1st Class Elizabeth Jacobson

On September 28, 2005, Airman 1st Class Elizabeth Jacobson was providing convoy security near Camp Bucca, Iraq, when the vehicle she was riding in was hit by an improvised explosive device.
"We're only on earth for a little while, so live life to the fullest and carry a smile."
-- Airman 1st Class Elizabeth Jacobson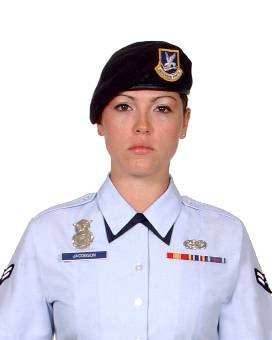 Airman Jacobson was raised in California, but lived here in South Florida before joining the Air Force. The Palm Beach Post tells us:
In Iraq, she was a security guard, surveying military perimeters from elevated guard towers. But relatives say the 21-year-old volunteered for a more risky assignment guarding convoys, a job that would ultimately kill her.

On Wednesday she died outside the Iraqi city of Safwan when a bomb exploded near her convoy, making her the ninth Iraq casualty from Palm Beach County or the Treasure Coast. Her death hit hard with relatives, even as they spoke with pride about her decision to leave behind the relative safety of guard towers for perilous duty on the open Iraqi roads.
"She could have stayed there, but she was trained to do convoy duty and asked to do that," said her stepmother, Alison Jacobson. "I think it speaks to her bravery."
Airman First Class Jacobson was the first female Airman killed in the line of duty in support of Operation Iraqi Freedom. I didn't know Elizabeth, but I wish that I had. Elizabeth sounds like the kind of person I would have liked to be my friend and I feel the loss of this bright and beautiful young woman who gave her all for her Country, and for my personal freedom.
Her resting place shall be in the Garden of Eden. Therefore, the Master of mercy will care for her under the protection of His wings for all time And bind her soul in the bond of everlasting life. God is her inheritance and she will rest in peace and let us say Amen.
Linda at Something.....and Half of Something, received an email from Elizabeth's Grandmother telling me there will be a Memorial for A1C Elizabeth N. Jacobson at Forest Lawn Memorial Gardens on Copans Road in Pompano Beach, FL at 5:30 on Thursday the 28th, 2006. Please attend if you can and if you can't attend, please leave a note for the family at the Elizabeth N. Jacobson Online Memorial. And please, spread the word!

Wild Thing's comment.....
This was a previous post about Elizabeth Jacobson when she was killed.
ONE MORE ROLL
We toast our hearty comrades who have fallen from the skies, and were gently caught by God's own hand to be with him on High.
To dwell among the soaring clouds they've known so well before. From victory roll to tail chase, at heaven's very door.
As we fly among them there, we're sure to head their plea. To take care my friend, watch your six, and do one more roll for me.
— Commander Jerry Coffee, Hanoi, 1968
* Something......and Half of Something
Posted by Wild Thing at September 26, 2006 12:45 AM
---
Comments
What a price America has to pay. Elizabeth Jacobson's life was more valuable than the entire Middle East. May all her dreams, and the dreams of all the fallen Americans, come true in their final rest.
Posted by: TomR at September 26, 2006 02:46 AM
---
Posted by: Billy at September 26, 2006 06:21 AM
---
May God bless her is all I can think of. She has the courage that makes this country great another hero to surround God's throne.
Posted by: Jack Hamilton at September 26, 2006 08:18 AM
---