« What Classic Movie Are You? | Main | Prisoners At Abu Ghraib Wishing Americans Were Back ~ LOL »
September 12, 2006
It's For The Children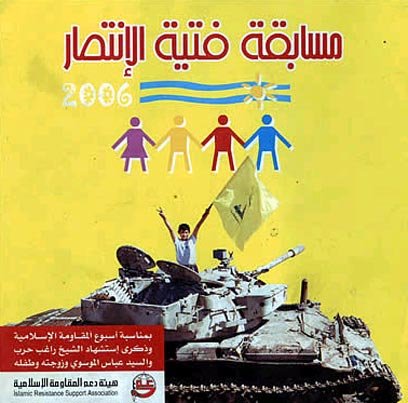 On tank from a young age (Photo courtesy of Intelligence and Terrorism Information Center)
Hizbullah trains thousands for children's suicide corps
Lebanese sources said Hizbullah has recruited more than 2,000 children to serve in its military wing. The youngsters are 10 to 15 years old and have received weapons and bomb training. The sources said the children are recruited at Hizbullah-sponsored schools and youth clubs in southern and eastern Lebanon. Fathers sign a waiver for their children to attend the Mahdi Scout camps and begin indoctrination and training. "They are literally sacrificed by their fathers.
Alongside weapons, rockets and explosives found by IDF soldiers in southern Lebanon, troops also discover booklets containing questions for children on terror group, its struggle. Goal: Conveying messages to youth, who will later become organization's future terrorists
Material collected by Israel Defense Forces soldiers in southern Lebanon – alongside the weapons, rockets and explosives – reveals a complex and rare picture of Hizbullah's contents and activities among children and youth, mainly in southern Lebanon villages which are considered its stronghold.
The kit was produced by the "aid authority for the Islamic resistance." Alongside the questions presented to the infants in southern Lebanon, there are also quizzes presented as a multiple-choice test. Alongside answers to questions like "the Risk game, Playstation or Atari," one can find answers like "Nissim Nasser, Samir Kuntar or Yahya Sahef" (the three prisoners which Hizbullah wants to see released).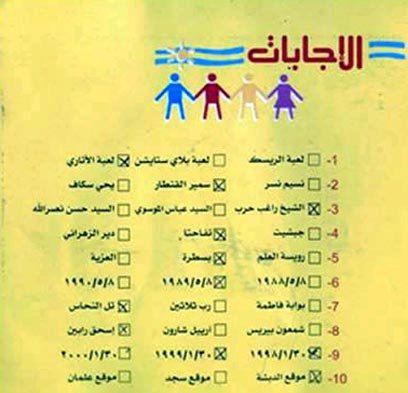 Questionnaire for Hizbullah children (Photo courtesy of Intelligence and Terrorism Information Center)
The document writers say that through a "simple" quiz, Hizbullah is assimilating its messages among the youth, in order to recruit its future terrorists. The quiz stresses a series of messages: The importance of the struggle against the Israeli enemy based on Hizbullah's "war heritage"; commemorating the Abbas Mussawi and suicide terrorist Asad Baru; the importance of the organization's political demands which legitimize its struggle against Israel and its refusal to disarm; and the demand to release prisoners, particularly Samir Kuntar, and "free the Shebaa Farms."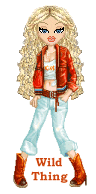 Wild Thing's comment......
Israeli soldiers take training in how to defuse bombs. Lebanese children take training in how to be bombs. So where are the UN and Amnesty international letters of outrage and condemnation??? Not a word!!
Islam is pure Satan. They do not love any living thing or being. I just cannot even imagine how a parent can want their child to be taught these things and also how they could ever want them to be suicide bombers.
Posted by Wild Thing at September 12, 2006 01:07 AM
---
Comments
As this war goes on, we are going to be discovering more and more how twisted, perverted and vile the minds of islam are. These are people fighting to close the minds of mankind to free and productive thought. They want time to standstill to the era of one of the earliest centuries.
Posted by: TomR at September 12, 2006 05:13 AM
---
I guess that gives new meaning to the term "Baby Boomers".
Billy
Posted by: billy at September 12, 2006 06:46 AM
---
What did they used to call them? Hitler Youth?
Posted by: BobF at September 12, 2006 07:56 AM
---
You have nailed it, where are the UN condemnations of this practice? Especially by The United Nations Children's Fund - UNICEF. What's even scarier is the indoctrination in our own schools, by our home grown lefttards.
Posted by: Jack at September 12, 2006 12:58 PM
---
Tom your right it is like they are from some place made up in a bad movie or something.
I never thought I would even hear of a thing called Islam, there was no need to in my little world. But as I learn about it it only makes me sick and angry that it exists.
Posted by: Wild Thing at September 12, 2006 03:21 PM
---
Billy it sure does, good point too. yeowie baby boomers with them takes on a whole new meaning.
Posted by: Wild Thing at September 12, 2006 03:22 PM
---
Bob is that what it was? I don't remember.
Thanks.

Posted by: Wild Thing at September 12, 2006 03:22 PM
---
Jack gosh I was so upset about this article I didn't even think about those in America that are here. You are so right, this is huge and we better be aware of what is happening. The lefties don't want to know or care.
Posted by: Wild Thing at September 12, 2006 03:24 PM
---
Were worried about Hezbollah training youths in the Middle East? Their training right here in America. Check this out.
The Weekly has learned that Chicago-based special agent Robert Wright has accused the agency of shutting down his 1998 criminal probe into alleged terrorist-training camps in Chicago and Kansas City. The apparent goal of the training camps, according to confidential documents obtained by the Weekly, was to recruit and train Palestinian-American youths, who would then slip into Israel. Recruits at these camps reportedly received weapons training and instruction in bomb-making techniques in the early 1990s. The bomb-making curriculum included the sort of explosives later used in the 1995 Oklahoma City bombing.
http://www.prisonplanet.com/another_fbi_agent_blows_the_whistle.htm
Two of the trainees are ultimately selected to fly to Syria, where they undergo more advanced training in making car bombs and throwing grenades. Ultimately, they are sent into Israel to launch attacks. Similar training camps take place in Kansas City and Wisconsin from 1989 through early 1991.
http://www.cooperativeresearch.org/context.jsp?item=a0193salahconfession
Posted by: BobF at September 12, 2006 08:17 PM
---
Bob..........OMG thank you so much for this and the links.
Posted by: Wild Thing at September 13, 2006 09:33 AM
---