« A-10's Great in the Offensive | Main | Coalition Forces...USA and Australian »
September 05, 2006
Iran In The News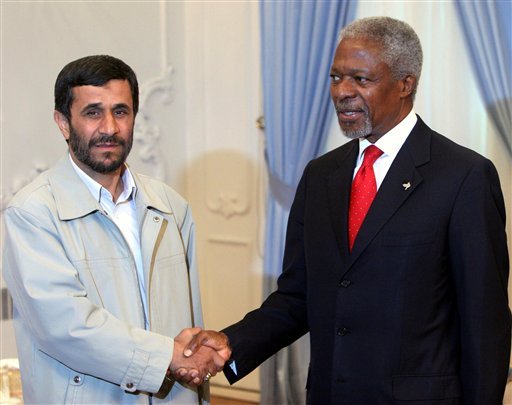 U.N. chief, in Iran, is snubbed on nuclear program and ignored over questioning of Holocaust
TEHRAN, Iran, (AP) -- The U.N. chief got little satisfaction Sunday at the close of his trip to Tehran, snubbed by Iran's leader over international demands to stop enriching uranium and ignored in warnings not to incite hatred by questioning the Holocaust.
In a provocative move on the final day of Kofi Annan's two-day visit, Iran announced it would host a conference to examine what it called exaggerations about the Holocaust, during which more than 6 million Jews were killed by the Nazis.
The move was sure to draw new international condemnation of Iran's stance on Jews. Hours after the announcement, Annan repeated his displeasure over an exhibition in Tehran of cartoons mocking the Holocaust that was opened as a response to Western caricatures of Prophet Muhammad.
"I think the tragedy of the Holocaust is an undeniable historical fact and we should really accept that fact and teach people what happened in World War II and ensure it is never repeated," Annan told reporters.
He commented after a meeting with President Mahmoud Ahmadinejad, but the hard-line Iranian leader didn't accompany the U.N. chief to the news conference.
Rest of article HERE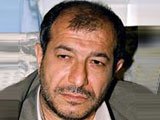 Defense Minister General Mostafa Mohammad-Najjar
said Iran is currently exporting military equipment to 57 countries in the world.


Iran demands withdrawal of U.S. troops from Iraq
Tehran, Iran, Sep. 04 – Iran demanded on Monday that United States-led forces leave Iraq.
"The occupiers must leave Iraq", government spokesman Gholam-Hossein Elham told reporters during his weekly press conference.
"At present, there is no excuse for the occupation of Iraq to continue", Elham said, adding, "Saddam no longer exists in this country. A government has been formed in this country and the constitution has been completed. There is no excuse for occupying Iraq".

Amir Taheri, Asharq Alawsat reported that Ali-Akbar Meshkini, the second most powerful Ayatollah in Iran, Meshkini said
........."Among all the governments in the world, the only legitimate government endorsed by the Almighty is the Islamic Republic of Iran." There cannot be give-and-take between "an extension of God" and an "illegitimate and oppressive regimes."
Ardeshir Dolat reported that Seyed Yahya Safavi, the head of the Revolutionary Guards Corps said
...."The Islamic world will soon become a major world superpower."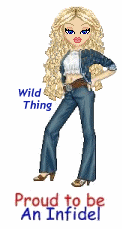 Wild Thing's comment.........
I think it is funny how President Mahmoud Ahmadinejad snubbed Annan. haha The UN is worthless, but we already knew that.
These Ragheads can not even design, manufacture and produce a decent automobile of their own, so Minister General Mostafa Mohammad-Najjar's claim that Iran "is currently exporting military equipment to 57 countries in the world" is (IMHO) pure BS
And that Gholam-Hossein Elham sounds like one of the USA's Democrats. haha
Posted by Wild Thing at September 5, 2006 12:47 AM
---
Comments
Chrissy
Do you think that Goffy anan would have visited Hitler?
Posted by: Jack Hamilton at September 5, 2006 07:55 AM
---
A booklet entitled "Al-Jihad" (holy war) was found in the possession of Hezbollah operatives during the latest conflict in Lebanon and is most likely being used by other terrorists preparing for the next attack against us.
The booklet, presents the Islamic teachings of Khamenei, an ideology based on jihad and shahada...
Be sure to read it in The Terrorist's Nightmare blog and post your comments here.
Also in this blog, read about the long relationship between Iran's defense minister and Imad Mughniya (commander of Hizballah's elite unit).

Posted by: Joe at September 5, 2006 10:46 AM
---
When Koffi Annan acts like a Cur in the presence of the enemy he rightfully should be treated as such. His eyes tell the truth, the scolded dog look, he's just an Islamic lap dog. The only way to stop Iran is if the United States takes the lead and strikes first. The other way is for the Moslem nations to band together and disarm Iran but that will never happen since they are all one and the same.
Posted by: Jack at September 5, 2006 01:13 PM
---
Jack H., I sure do. I think Annan would have done lunch with Hitler and loved every minute of it.
Posted by: Wild Thing at September 5, 2006 06:42 PM
---
Joe how anyone with a computer could not learn about these terrorists is beyond me. They truly choose to put their heads in the sand so to speak.
Posted by: Wild Thing at September 5, 2006 06:44 PM
---
Jack I agree, it is too bad that other countries like you said don't band together to put this jerk in his place. They could do it if they wanted to.
Posted by: Wild Thing at September 5, 2006 06:46 PM
---