« The Brink of Madness | Main | Truth About Islam From An Ex-Muslim »
August 07, 2006
What Did Murtha Know and When ~ It Matters!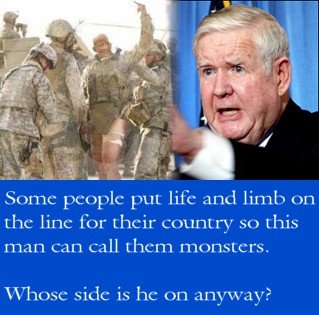 From Murtha Must Go blog
Information compiled by Leo Pusateri
When Murtha fired his shot heard round the world-- when he declared that Marines killed "innocent civilians" in "cold blood", he admitted that he had not read reports of the incident before making the charge, but claimed that he received his information from sources inside the pentagon. Back when Murtha first made his seditious remarks, according to the Army Times:
"I do not know where Rep. Murtha is obtaining is information," said Lt. Col. Sean Gibson, a spokesman for Marine Corps Forces Central Command in Tampa, Fla. "Thoroughness will drive the investigation."
Well, it may turn out that we may never know how Murtha got his information. But one thing appears for certain--Murtha received his briefing regarding the Haditha incident after he made his proclamation of guilt against the Marines!
WASHINGTON, Aug 3 (Reuters) - The head of the U.S. Marine Corps briefed Rep. John Murtha on the Haditha case after the vocal war critic publicly said Marines had killed innocent civilians in that Iraqi city, the Corps said on Thursday.

A group of Marines, while suspected in the killing of 24 Iraqi civilians, has not been charged, and official results from the military's investigation remain outstanding. A U.S. defense official said on Wednesday, however that evidence indicates Marines deliberately shot to death unarmed civilians.
Murtha, a Pennsylvania Democrat, is being sued by one of the accused Marines for libel. He had told The Philadelphia Inquirer that Gen. Michael Hagee had given him the information on which he based his charge that Marines killed innocent civilians.
But a spokesman for the Marine Corps said Hagee briefed Murtha on May 24 about Haditha. Murtha had made comments on the case as early as May 17. On May 17, for example, he said at a news conference, "Our troops overreacted because of the pressure on them and they killed innocent civilians in cold blood." (emphases mine)
A spokeswoman for Murtha was not immediately available.

Posted by Wild Thing at August 7, 2006 09:04 AM
---
Comments
Congresswoman Diana Irey has a nice ring to it.
At least if she gets into office she won't have Nancy Pelosi's puppet strings attached.
Posted by: Jack at August 7, 2006 12:02 PM
---
Jack that's for sure. Irey is working hard to get there. If she wins and I hope she does,I think it will be a real shock to Murtha......I love it.
Posted by: Wild Thing at August 7, 2006 07:13 PM
---